[ccfic caption-text format="plaintext"]
By Daniel Curtin
Hometown Weekly Reporter
Author Michael Tougias gave a talk about his new book, "Above and Beyond," to dozens of people at the Walpole Library on Tuesday, June 12.
The book, which is focused on President John F. Kennedy and the U-2 pilots during the Cuban Missile Crisis, is one of 28 books Tougias has authored or co-authored. Tougias is a New York Times best-selling author whose book, "The Finest Hours," was adapted to the big screen in 2016.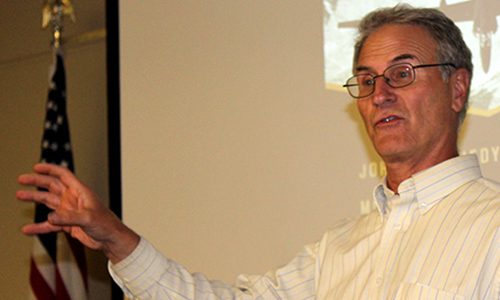 For his Walpole appearance, Tougias prepared a PowerPoint presentation and kept the audience enthralled with his unique presenting style.
"My author talks are different than [those of] other authors," Tougias said. "They often read from their books. I figure you can read the book. I like to do it like a movie and make it edge-of-your-seat so you don't know what's going to happen next."
His newest book follows the stories of three U-2 pilots and their daring missions, as well as President John F. Kennedy as he tries to prevent war breaking out against the Soviet Union.
In Tougias' talk, he mentioned several little-known incidents that showed how close the world had come to war during the Cuban Missile Crisis in 1962.
Herb Simmons, who attended the presentation, was about 32 years old when the Cuban Missile Crisis was underway. He and his wife had just had their first child. He now remembers how people were feeling during that time as events were unfolding.
"We came so close - about half-an-inch close, I would say. We lucked out. As I remember, they were building shelters and they told people about hiding under desks," Simmons said. "That's the way it was during that time."
Tougias talked about the sacrifices and risks that the U-2 pilots were taking, but also mentioned that they knew the importance of those missions. He also talked about the immense pressure that must have been on Kennedy at the time.
"I was thinking about the pressure on Kennedy, [which] must have been unreal. I believe he was only 43 years old at the time, which to me is pretty darned young to have the fate of the world on your back," Tougias said.
Part of the talk revolved around Kennedy's handling of the death of U-2 pilot Major Rudolph Anderson, who was shot down over Cuba with surface-to-air missiles. The event almost lead to war. Many of President Kennedy's advisors pushed for airstrikes to be launched on Cuba's air defenses, but Kennedy wasn't ready to abandon diplomacy. Doing so, he believed, could lead to all out war.
"For me, the purpose of the book was to highlight these little-known incidents, particularly the death of Rudy Anderson, that helped save our country. On a personal note, people always say to me: 'you love to write.' Not really. It's still hard work, but what I love is the research and the interview process. I can do that all day long," Tougias said.
Edwin Winslow, who attended the talk, brought a picture of the Khrushchev family and a letter signed by Khrushchev himself. Winslow, who is interested in history, thought that the talk was very insightful.
"I thought it was good. It was very informative and provided a lot of information I didn't know as well," he said.
After the presentation, Tougias took questions from the audience, then signed books for people in the back of the room.