[ccfic caption-text format="plaintext"]
By Michael Flanagan
Hometown Weekly Sports Editor
Following a tough 3-0 loss at the hands of Hockomock powerhouse King Phillip (15-2) on October 12 to snap their eight-game winning streak, the Walpole High girls volleyball team has responded by winning its next four games to climb atop the Bay State Conference standings with just four games remaining in the regular season slate.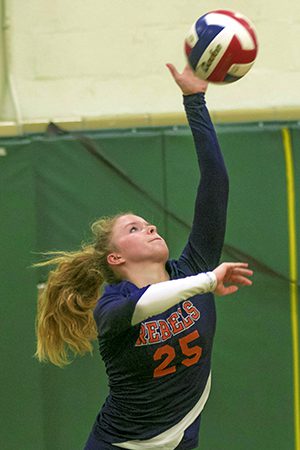 The Rebels (12-4, 6-2) took down Milton (3-1) on October 14, followed by a shutout victory over Bishop Feehan (3-0) in a non-conference matchup on October 17. The Rebels continued their winning ways on October 18 at Dedham (3-0) as well as on October 20 against Braintree (3-0), and have failed to drop a set in three consecutive matches.
Abby Hile and Abby Rae have each been a key contributor to the four-game win streak for the Rebels, with Hile accumulating 30 kills throughout the four matches (averaging just over seven per match), all while Rae has been an assist machine for the Rebels, notching 19 throughout the streak and also snagging 33 digs.
Coach Lisa Cyr says that the Abby-pair played their best game of the season during the Rebels' 3-0 defeat of Bishop Feehan, which qualified the Rebels for the state tournament.
"Abby and Abby both had their best performances of the season on offense," said Cyr. "They each played strategically and applied constant pressure on Feehan's defense, which resulted in positive results for us on the scoreboard."
Cyr also credited her team's defensive effort and ability to work as a team following the win over Feehan.
"Andrea Traietti and Wynter Conlon were outstanding on defense," said Cyr. "They were not intimidated by Feehan's strong offense and helped save a lot of points for us at the net. Morgan O'Brien and Olivia DiPasca also had key blocks that allowed us to close out sets. The biggest plus was that we were able to get this win as a team with everybody contributing their part."
The Rebels continued to see great production from Rae and Hile in their next two wins over Dedham and Braintree, but Cyr says that players such as Meghan Koenig, Nora Mortali, and Danielle Sheehan also deserve recognition for their contributions throughout all areas of the floor during the streak, but especially from the Dedham/Braintree games.
"Nora and Wynter (Conlon) played very well on defense in our win over Dedham," said Cyr. "The aggressiveness on offense brought by Meghan Koenig and Danielle (Sheehan) was a huge factor in our ability to build comfortable leads in the first and third sets against Dedham and allowed us to control the tempo of the match."
With the state tournament just about two and half weeks out, the Rebels will look to close out the regular season on a positive note when they host Norwood on October 27 before traveling to Newton North the day after.