A bit of a 'the thrill of victory, the agony of defeat' moment as the DS keeper fails to stop a Medfield goal.
By James Kinneen
Hometown Weekly Reporter
The Medfield girls' soccer team brought out the intimidation eyeblack for their big matchup against Dover-Sherborn on Tuesday night. But it was their constant pressure that was really intimidating. And although some halftime adjustments had the Raiders playing much more competitively as the game went on, in the end it wasn't enough, and the Warriors ultimately took the game 4-2.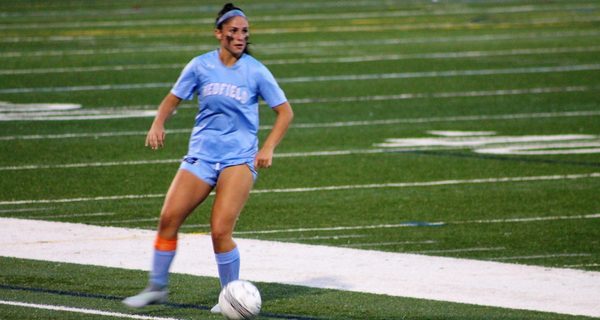 About eight minutes in, Medfield scored their first goal when Kaitlyn Barton put one in the back of the net. Medfield kept up the pressure throughout the first half, culminating in a Harper Foscaldo goal at around the eight minute mark when Dover-Sherborn's goaltender couldn't handle the cross and Foscaldo knocked in the rebound.
Down 2-0 at the half, things were looking rather grim for Dover-Sherborn. Coach Evren Gunduz knew they wouldn't quit, but that they couldn't keep letting Medfield do what they were doing, or the results would be more of the same.
"We had to change," he noted after the match. "They forced us to make a change for how they were playing and we took some risks in the back line to get some numbers up, and I think that our team just believes they're always in it and that's part of our culture. We don't look at the scoreboard, we just focus on how we're playing. If we're not playing well, we adapt to fix it, and I think our team realized we're still in a soccer game. It doesn't matter if we're down 2-0. We still have a chance. We just have this belief that we're always in the game."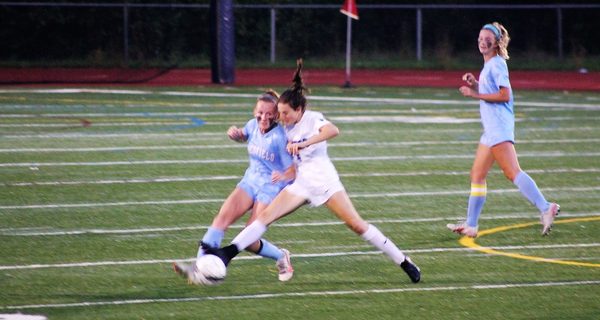 Although Shannon Burns put in her own rebound to put Medfield up 3-0 with about 35 minutes to go in the game, Dover-Sherborn came back strong. Waverley Sumner put in her first goal two minutes later, and suddenly Dover-Sherborn found a working formula. With nineteen minutes left, Sumner added a second, very pretty goal on a breakaway. Her teammates sprinted into the net to bring the ball to midfield in hopes of preserving enough time to complete the comeback.
Unfortunately for the Raiders, Dover-Sherborn could not find that third goal, growing desperately aggressive as the minutes ticked away. A stoppage-time goal from Medfield's Kelly Blake sealed the deal. The Warriors handed the Raiders their first loss on the year, 4-2.
When pressed on what his overall thoughts were after moving to 6-1-1 on the year were, Coach Everen Gunduz had no excuses. He just acknowledged how good Medfield is.
"Medfield's a great team. I think Medfield plays tactically sound in their 3-4-3. They really overwhelm the flanks and cause matchup problems for teams, and in my mind they're the best team in Division II this year."
Applauding Waverley Sumner, who he called "a heroic player that wills things to happen and has a heart that's always on fire," Coach Gunduz explained that despite losing their first game on the year, the team wasn't down and were more focused on growing from the game than ruminating on the result.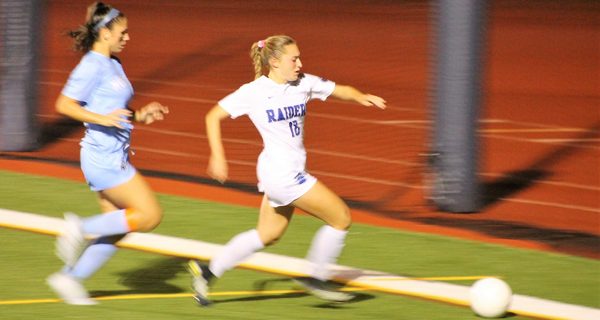 "I think the biggest thing is they realize they didn't play well, and we didn't coach well. So as a team, meaning coaches and players, the message is very simple: we're just focused on growth. I told them regardless of the scoreboard, the good news is we can get better. And they're all in on that growth process because in our program we don't really look at wins, losses and ties, we just look at trying to be better tomorrow than we were today. Our biggest competition is who we were yesterday. So this is a great opportunity for us to get a lot better than we were today. They were actually pretty positive about that."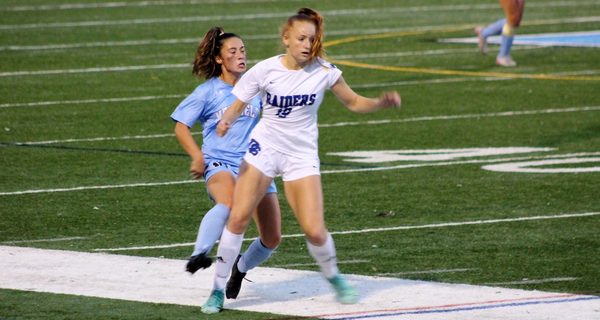 The Warriors were certainly excited about their win. With a postgame celebration that involved bowling over their goalie as the bench players ran onto the field, the game certainly meant something more than your average regular season win to the team. Moving to 6-1-1, with their lone loss coming to Westwood, Coach Michael LaFrancesca explained that the team was celebrating so hard because beating a team of Dover-Sherborn's caliber means they must have played a great game.
"Medfield and DS is a rivalry every year. But that's a really strong team - every year we battle back and forth. They're well coached. We have to be on our A-game to beat them, so it's exciting when you beat them."
While it rained before and late in the game, LaFrancesca said that the weather didn't play a huge role.
"This turf was pretty dry. The ball does slide a little bit, and we try to take advantage of our outside speed by putting the ball wide and trying to bring it in, but they're just an amazing team."
When asked who stood out to him, instead of pointing out any individual performacnes, LaFrancesca talked about his team's ability to pressure Dover-Sherbron, and how that was a huge part of their gameplan.
"It was a team victory. Everyone played hard, and pressured. That was our game plan, was to pressure. Pressure high, put the balls wide try to control the ball on the outside and then bring it back to the middle."