This header would have put DS ahead late in the game, had it not been just a bit too high.
By James Kinneen
Hometown Weekly Reporter
While it's a cliché to say that either team could have won when talking about a close game, there's no other way to describe the Dedham girls' soccer team's razor close, 2-1 stoppage time victory over Dover-Sherborn on Thursday night. Had Dover-Sherborn caught a few breaks, they absolutely could have won. Had Dedham capitalized on a few opportunities, they would probably have won by more than one goal.
Playing in front of their home crowd, Dedham looked very good early in the game. They were pressuring the Raiders and causing a few defensive mistakes from Dover-Sherborn. In the 17th minute (seventeen minutes left in the half), when a Dover-Sherborn defender played it back to the goalie, who gave it back to her, only for the defender to kick it out of bounds under heavy pressure. While the Raiders had a couple chances of their own, in the final few minutes of the half Dover-Sherborn's goalkeeper and defenders really had to step up. In the ninth minute (nine minutes left in the half), Courtney Mahoney had to slap a ball over the crossbar that was dipping in. Then at the 4'45 minute mark, Dedham's forward outran a defender and had a clean shot at net that Mahoney punched out of bounds.
But it was in the first half's stoppage time that Dedham came closest to taking the lead.
The Marauders had a two on one situation when their forward sent a beautiful pass to the middle of the box. Dover-Sherborn looked dead-to-rights, only to see Tessa Broderick come sprinting out of nowhere to stop the shot. Judging by their light applause, the crowd might not have realized what a huge play it was in the game and what hustle it showed - but Mahoney knew. She ran up behind Broderick and gave her a hug. Thanks to that effort, at the half, the game was tied, 0-0.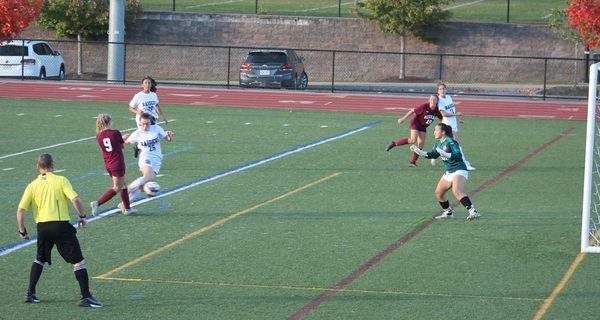 Dedham scored off a cross pretty quickly into the second half to go up 1-0. Dover-Sherborn responded with some heavy pressure, and a really pretty set piece off a free kick that saw Waverly Sumner take a quick pass to the corner, only for her cross to fall inches short of Natasha Ceol's foot. After an Eloisa Luckzow goal made the game 1-1, things got very tight.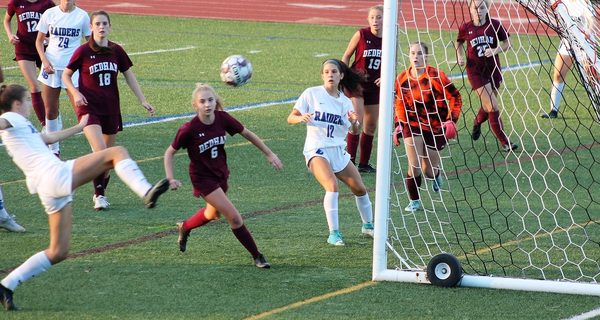 With just about ten minutes left in the game, Rachel Herman's header sailed just over the crossbar on what would have been a huge goal. After Dover-Sherborn took a timeout with just over eight minutes left in the game, Dedham had a late corner that saw a Dover-Sherborn defender save it off the line when a header sailed past the goalkeeper. It was a great effort, but was likely forgotten soon after because just a few minutes later, in stoppage time, one of Dedham's very fast forwards would score on the counter, claiming the game for the Marauders at 2-1.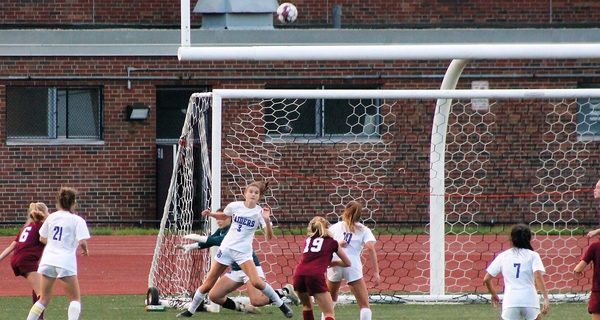 After the game, Coach Evren Gunduz applauded Dedham for their play, noting, "Dedham is just a phenomenal team and they're hard to break down, so any time we get to battle with Dedham they raise our level of play because we have to play our best to compete with them."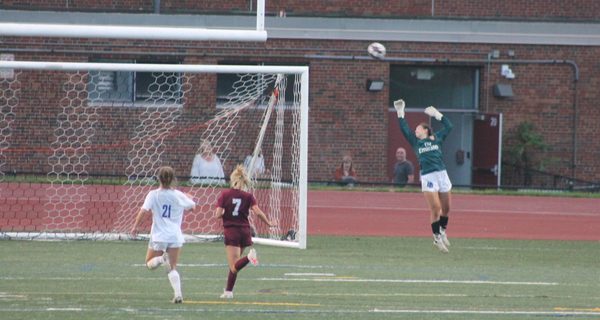 Coach Gunduz explained the difference between the first and second halves, where Dover-Sherborn went from on their heels to on the attack, by explaining, "I just think our players dug in a little bit harder in the second half and played with a little bit more purpose. And for us, that just allowed the ball to tilt in our favor. But at the end of the day it was just Dedham's day." However, when pressed on any players who stood out to him, he pointed to the play of one of his midfielders who played a huge role in the second half turnaround.
"Natasha Ceol is one of our midfielders who, in the second half, played like she got shot out off a cannon. She was winning every 50/50 and played with a lot of passion and heart. We needed her to step up to gain some momentum. A lot of our momentum in the second half came from the wins she was getting in the midfield."
Dropping to 10-3-2 on the year, Coach Gunduz explained that while the loss hurts, he wasn't upset about how his team played. Sometimes, it's just the other team's day.
"I look at a game like that and think, 'this is why soccer's such a great sport,' because either team could have ended up with a 2-1 victory. Both teams had a chance when it was tied up to get one. They got it and they earned it. That was a phenomenal goal by number nine. So it stings, but if you've been around this game long enough you understand that's how it goes sometimes, and you just have to tip your hat to them."