There were plenty of close calls, but ultimately no goals for the Raiders.
By James Kinneen
Hometown Weekly Reporter
While a matchup against Medway was Dover-Sherborn soccer's first game of the year, on Wednesday night, it looked like the officiating crew was the rustiest team on the field. While Medway would ultimately beat the Raiders 2-0, it's hard not to think how different the game would have been had the referees called a couple incidents in the first half.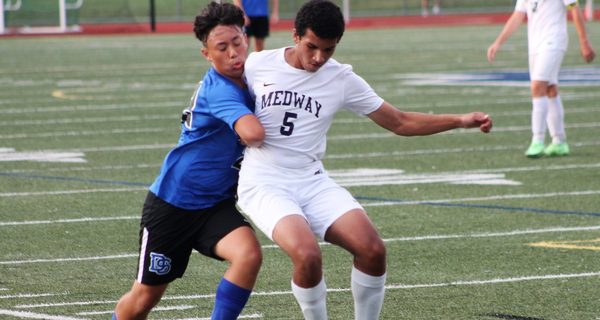 In large part because of the tenacity of Luke Loeffler, who seemed to be running harder, playing more aggressively, and on many occasions just wanting the ball more than the Medway defenders, Dover-Sherborn seemed to be dominating the first half. But after a Max Heredia shot sailed over the crossbar, Medway would score a goal twelve minutes into the game.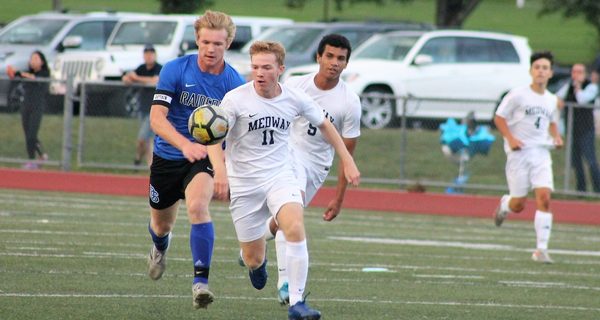 Still, Dover-Sherborn went on a dominant offensive stretch that saw the ball remain on Medway's side of the field throughout the first half. At one point within a five minute stretch around the twenty minute mark, there was a collision, a pretty obvious shove of Alex Goodness, and a trip of Harrison Smith - but the whistle never blew.
Because Medway kept trying to counter, they didn't possess the ball deeply in Dover-Sherborn's end of the field very long, so we can't really compare the calls Medway was getting in its attacking zone to those Dover-Sherborn was.
While Dover-Sherborn had a few opportunities late, mostly out of set pieces, the half ended with Medway up 1-0.
In the second half, a Mateo Montemayor header went just wide in the 28th minute before the Medway goaltender almost let in a goal by mishandling the ball himself. After a corner kick in the 26th minute resulted in nothing for the Raiders, Medway scored on the counter and made a "shhh" motion to the Dover-Sherborn student section.
Dover-Sherborn might have gotten frustrated by the refs and the cockiness of the gesture, because a few bad Raider fouls and a yellow card came soon after. Still, while both teams took timeouts late in the game, not much happened and Medway won 2-0.
"It's Medway. Every year we battle with those guys," Coach Joe Gruseck explained after the game. "They play well. They have a history there and they do what they need to do. They've got some good players. They had a good game plan and they executed well. Hats off to them. They deserved to win tonight."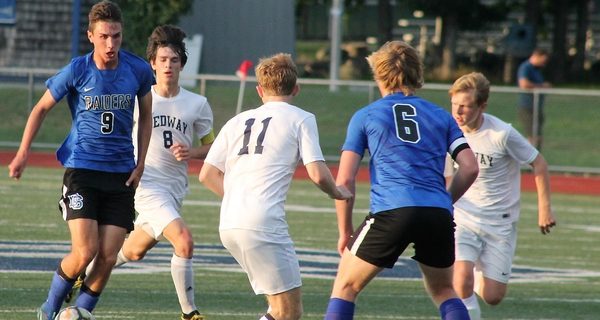 For positives, Coach Gruseck acknowledged the play of Harrison Smith, Luke Loeffler and Max Heredia. He also noted how pleased he was to get back to regular soccer after a year of playing with masks on, having to do kick-ins instead of throw-ins, not allowing direct free kicks, and a host of other COVID rule changes.
"Back then, to be able to step up on the field and play was more of what it was about: bigger and more important things - more of the social, emotional and well-being of everybody last year. But we're happy to be back to regular soccer, that's for sure"
But while the team would have liked to start the season off with a win, going forward, Coach Gruseck's message to the team was that they shouldn't panic, since it was only one game.
"It's one game. With the new rules and stuff the tournament seems years away, but it's around the corner. So, we've got some work to do but we'll be alright. We'll be alright."