Despite having only thirty minutes, the event was able to include speeches, singing and traditional dances.
By James Kinneen
Hometown Weekly Reporter
Sunday afternoon at Needham Town Hall, ICON (Indian Community of Needham) a secular nonprofit organization aimed at "celebrating and preserving the culture and heritage of India and surrounding South Asian countries; fostering friendships and unity among community members; advancing the educational, cultural, and charitable interests of the community; and representing the community to the people of Needham Ma, USA and beyond," held its first Indian Independence Day celebration. Featuring music, speeches, dancing and flag raising, the free-to-the-public event brought large swaths of Needham's South Asian community to the steps of Town Hall, whereas most years they would have had to make the trip all the way into Boston in search of a celebration.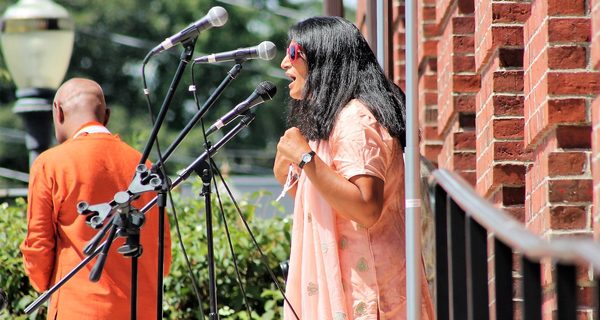 Founded in 2019, the group considers itself to be very new, particularly because they essentially lost a year to COVID-19 when people couldn't gather in large groups. Before that, as ICON president Sakina Saif-Mulla explained in her introduction, ICON had been involved in "Sandwich making for the Generic Ministry, volunteering by ICON kids at Cradles to Crayons, our wildly popular and sold-out Diwali and Holi festivities, book donations to our elementary schools, and advocating for inclusion of Indian holidays in our school handbook." They also raised seven thousand dollars for pandemic relief charities.
With in-person activities returning to Needham this year, ICON decided to hold a celebration of Indian Independence Day. But with Needham Farmers Market still running at the Town Hall, ICON had only about a half an hour for their celebration before the market's band took the stage. But pointing out that it both brought more of a crowd to the farmers market - and that the market brought some people who might not have known about the Independence Day celebration to it - ICON Treasurer Vipul Bhushan explained he was happy with the spot.  
"It seemed like it was a great partnership opportunity with the town and the farmer's market. The weather cooperated beautifully, but it's a good way to bring our community together and to provide connection opportunities with the rest of Needham, so we're really happy to be here."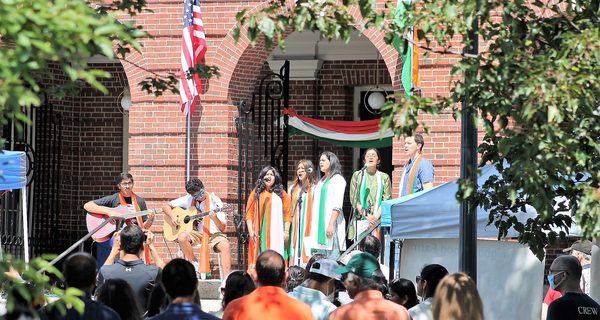 Within those thirty minutes, there was a flag raising ceremony (on August 15, 1947, India's first Prime Minister Jawaharlal Nehru hoisted the National Flag of India above Delhi's Red Fort, so flag hoisting is a big part of the day's celebrations); the playing of both the Indian and American National Anthems sung by Vidya Krishnan, Soumi Das, Nicholas Butler, Smriti Rao, and Karthik Balasubramaniam; the singing of "We Shall Overcome"; speeches from three Needhamites involved in public service in Needham; and some traditional dancing.
Saif-Mulla, who explained organizers wanted speeches to be varied, largely focused on what ICON (who didn't solicit any donations at the event, instead hoping to recruit new members as well as educate the community) does as an organization. Bhushan mostly talked about Indian Independence Day and India itself, explaining that India is home to  "22 official languages, thousands of dialects, the source and home of many of our world's religious traditions, a stunningly diverse physical landscape that ranges from the icy Himalayas to the tropical forests of Kerala, and with hundreds of complex and finely balanced cuisines. India has the world's second largest population and fifth largest economy."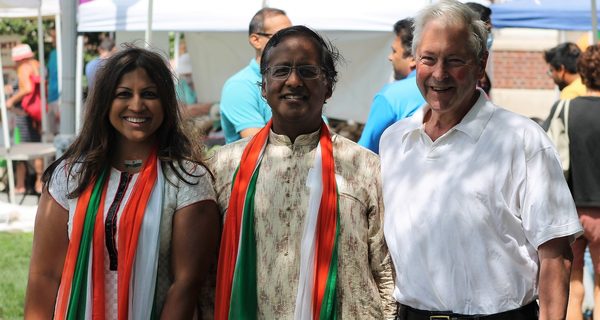 But since ICON is focused on Needham's Indian community, it was great to hear from some of its members about their experiences living here. Lakshmi Balachandran, the first woman of color ever elected to the Needham Select Board, in particular talked about how she grew up in Needham, where she was the only girl of Indian descent. This year, after being on one of the Fourth of July parade floats, she was recognized on the street by a boy of Indian descent, showing how important representation can be in even the smallest ways.  
Although short from a time perspective, the sheer size of the crowd, the number of Indian flags flying, and the profusion of traditional Indian attire showed how important an event it was in Needham.