Live plants, like these flowers are selling especially well as more people have time to garden.
By James Kinneen
Hometown Weekly Reporter
If eating healthy, fresh and local produce is part of keeping a healthy immune system, then it only makes sense that the Needham Farmers Market was open for business this weekend. But while it was outside, the market had a bunch of new safety restrictions they did not have in years past.
The first was a ban on reusable bags. A woman stood at the entrance-way and made sure nobody was trying to bring cloth bags into the market, which caught a couple of people off guard. There was also a ban on pets, the encouragement of using credit or debit cards rather than cash, and the use of lane markings to make sure everyone was heading in the right direction.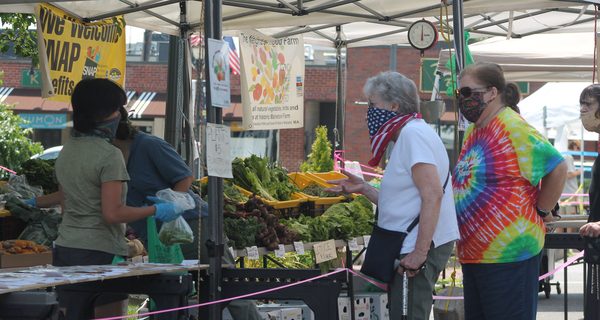 While these are the less obvious rules, there were many that should, nearly five months into the pandemic, go without saying, posted on signs around the venue. These include staying home if you're sick, wearing a mask over your nose and mouth, and practicing good social distancing.
But, the rule that most effected the market was not being allowed to touch one's produce before buying it. With a line of tape keeping shoppers from infringing on the fruits and vegetables, one of the vendors, Jack Kinder, said that was the big change - but that people had been pretty good about it.
"Basically, it's just the masks and the social distancing. Like, we can't have people grab their own fruits and vegetables, but other than that, not too much has changed. Sometimes people try to grab their own vegetables, but they're pretty understanding when we tell them they can't."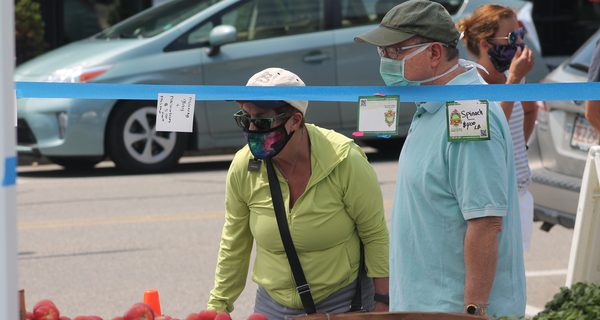 This sentiment was echoed by Market Manager Phu Vo, who said that while they have strict guidelines, so far, everyone has been respectful.
"We have the guidelines issued by the BOH, the Board of Health from the Needham Farmers Market. Those are strict guidelines we have to follow. We have signs everywhere saying to make sure to be six feet apart, and to wear a mask. Generally, people are very friendly and we haven't had to enforce the rules in any strict way, but if it got out of hand, I would have to be there and say something."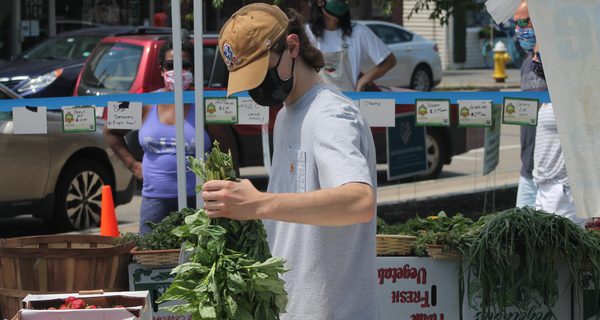 But, there have been some negatives for the market because of COVID-19. Unfortunately, Vo said there have been fewer vendors this year compared to last, but that he hopes they will return soon.
"In general, this year has had less vendors, but I'm getting information that more vendors are going to be coming in the coming weeks, so we do expect to have more and more vendors. We have two artists this year, though, which is new."
As for other changes, patrons noted that more people were pre-ordering things, and buying live plants so they could grow their own produce - or spend more time gardening while stuck at home. Still, while social distancing and masks are important, focusing on improving one's overall health might be the best COVID defense of all. To that end, the fresh, local produce offered by the Needham Farmers Market would come in very handy.