A man on stilts passes candy out to the Westwood Day crowd.
By James Kinneen
Hometown Weekly Reporter
Because of the COVID-19 pandemic, there was no Westwood Day last year.
But with the vaccine allowing the state to open up and get back to normal - or at least close to it - this year, Westwood Day came back in full force, with the booths, musical performances, talent demonstrations, and most importantly, crowds of people Westwood has come to expect from its signature event.
Taking place behind the high school, the day kicked off with a 5K race at 9 AM that featured about 400 combined children and adults.
But that was just a prelude to the real events of the day, like some of the more unique demonstrations. On top of taekwondo, the police showed what their dogs can do, while the fire department built two mock rooms to demonstrate how much better one with a modern sprinkler system will fare in the event of a fire.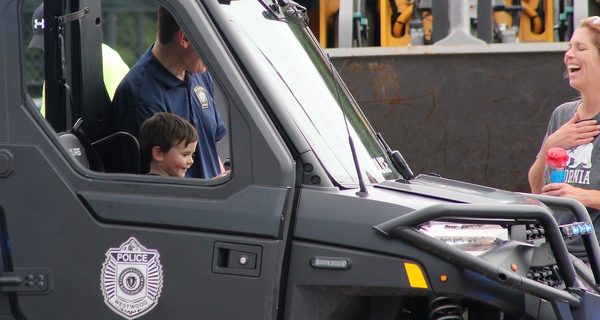 Westwood High volleyball players had a net set up and were practicing, while there was a cornhole area, Nerf guns to shoot at a target, and a man on stilts walking around distributing candy and handing baseballs to little kids. In an area of blow up toys, there was a bow and arrow to shoot, and a bounce house where kids tried to knock each other off a platform by throwing a large "boulder" at each other.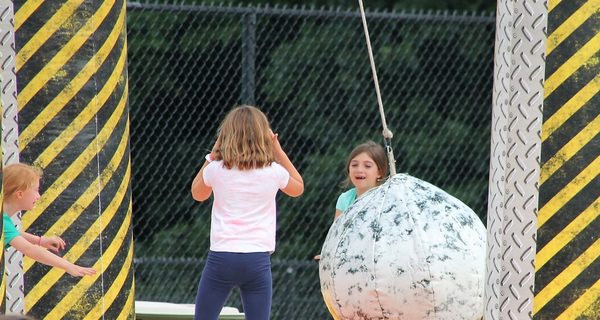 Many bands played at the event, ranging from a bunch of middle school-aged kids to a group of senior men and women who performed fifties rock songs, including the Mickey Mouse Club theme song.
Given how many businesses have shuttered and how many labor shortages there are, it was a bit surprising to see how much this year's Westwood Day looked like Westwood Days of old. But Director of Recreation Rich Adams explained that while it was a bit of a challenge setting up the event after a year off, overall, he felt everything went well.  
"It was a challenge because we had to remember everything we did. Of course we have notes and a playbook, but like anything else the further away from something you get, the more you have to relearn. We have had some staff turnover, so they've had to learn things, as well. But we had a great day and everything's gone well, so whatever we did, I think we did it right."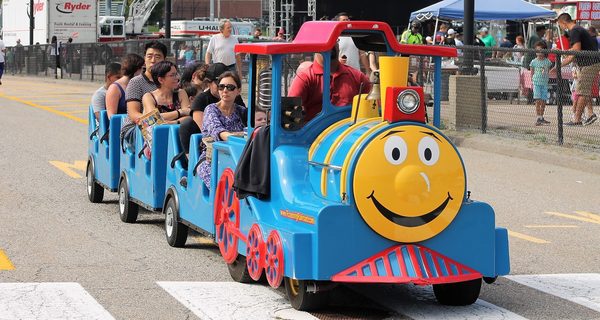 He did note that the day usually features a petting zoo, but that had to be scrapped because the company they usually employ said they weren't doing it, noting it had to do with COVID. But while there is always the concern COVID fears will keep people away from any crowded events you set up these days, Adams explained that he felt they'd be okay based on participation rates he's seen in Recreation Department events all summer.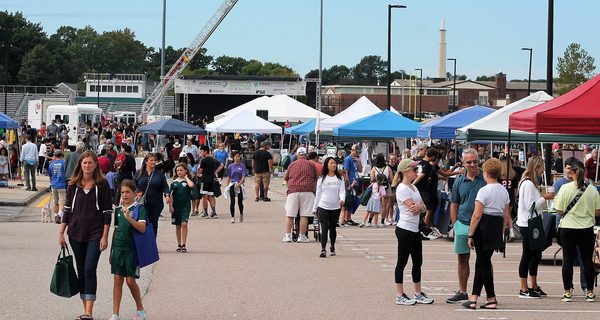 "I'm going to be honest with you - obviously [the potential for under-attendance] was in the back of my mind, but I have to tell you from the participation we've had in our summer programs and fall programs, I truly wasn't worried about it. I felt confident that we were going to get a good turnout, especially if we had good weather. And thankfully, we had great weather. It's hard to say because we don't have an aerial [photo], but I would say it's at least as much as we've had in the past."
A year after the pandemic scuttled it, Westwood Day was back and successful as ever.