The Medfield State Hospital grounds added a picturesque backdrop to the car show most don't have.
By James Kinneen
Hometown Weekly Reporter
Last year COVID-19 put the brakes on the Medfield on the Charles Antique, Classic & Custom Auto Show. But on Sunday afternoon, the nineteenth annual iteration of the event rolled into the Medfield State Hospital grounds with cars ranging from the old Ford Model T's to the newest Corvettes and everything in between.   
Shortened by an hour this year (it's usually from 9 a.m. - 3 p.m., but this year it was from 9 a.m - 2 p.m.), on top of the cars themselves, there were vendors selling food, merchandise like custom license plates, model cars and Hot Wheels, and the musical stylings of Dee Jay "Cruisin'" Bruce Palmer.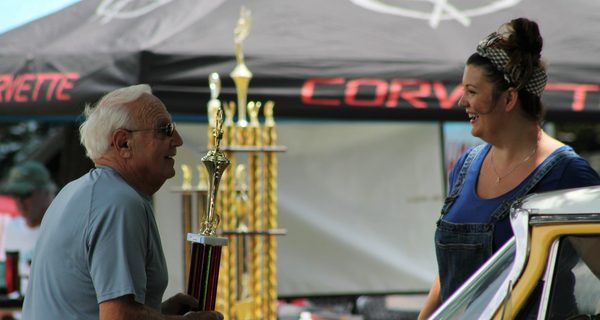 But while there are many car shows, Medfield on the Charles is different, and in many ways better, for a few reasons. While it was very hot on Sunday afternoon, which would have been brutal on an open, paved parking lot, there were plenty of shady spots around the hospital grounds.
When pressed on what he likes about the Medfield State Hospital Area, show organizer Charlie Harris first joked "I like John Thompson, the guy who runs it," before explaining, "but really the layout. Everyone has come up to me saying they love having the different fields and the shade. It's a very unique kind of setting instead of the normal kind of flat surface. It's semi-picturesque, if you want to look at it that way."
While from the entrance it looked like cars were going to be segregated by maker - since there was almost an entire island of nothing but the Chevrolet sports cars - Harris explained that wasn't the case, and the Corvette section was only because "Corvette guys are fussy guys who like having the shade and the flat surface."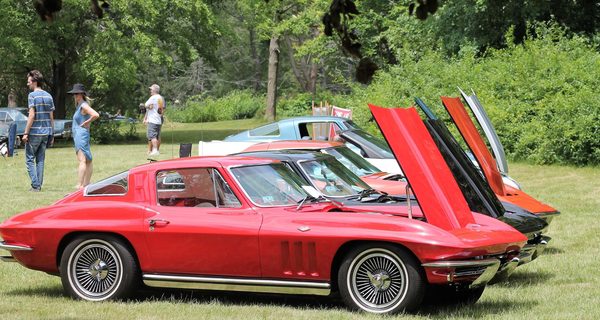 While two years ago the show had around 840 cars, Harris estimated this year's version had in the high 700s. This was in large part because Harris had a much shorter time to prepare the show.
"Two years ago, we had the best numbers we ever had - and I only had four weeks and three days to prepare this year's show - so these are very, very good numbers, but they're not as strong as two years ago."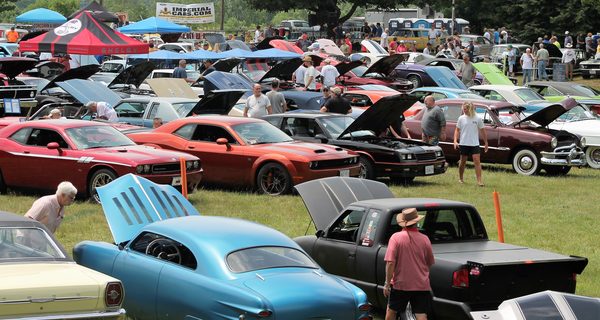 While Harris said there were cars that had come all nineteen years, one of the day's Top 100 prizes went to a rookie. Weston's Terry Carter has a 1944 Ford one-and-a-half-ton truck, which could only be purchased by someone affiliated with the war effort in the 1940s, on which he had used a Marmon-Herrington Conversion.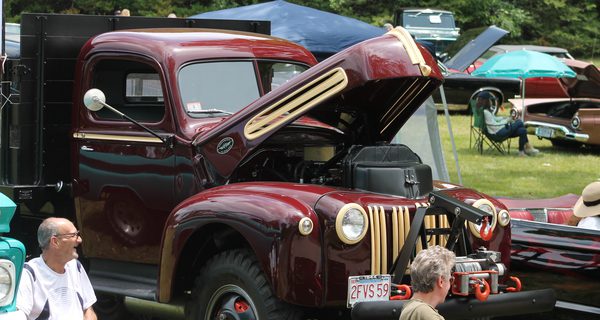 If Revere's Louis Adreani is willing to let the salt air threaten its finish, his 1969 Pontiac GTO would look awfully cool cruising down Revere Beach. He explained it's a 69 GTO with Judge graphics, the first year the Judge option package was offered (the name "The Judge" is a reference to a catchprharase in Rowan & Martin's Laugh-In).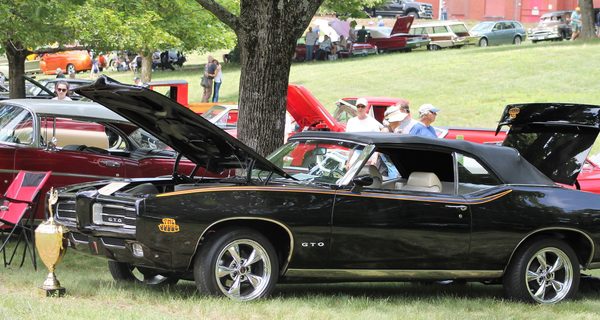 As for the show, Adreani explained, "this is a lot bigger than the usual, local ones in the neighborhood. I'm enjoying it, it's a nice show. It's very relaxing and the people are nice, so I'll probably come back again next year."   
Barring another unforeseen shock like COVID-19, Harris will be running show number twenty.
"I enjoy the heck out of putting this show on and I've gotten hundreds of compliments today, so it's good for me, it's good for the town, it's good for everybody," Harris declared. "Everybody enjoys it."