Will we see this picture again, with a "2021 Champions" banner lying across the front of it? The Orioles sure felt that was a possibility.
By James Kinneen
Hometown Weekly Reporter
"I think we'll go 17-0, as long as we actually get to play seventeen games."
"We're going to win it all."
"The only thing that can stop us, is us."
Considering they were only a half hour into their first team practice, at least ten minutes of which were spent gathering for a group photo and answering some of my questions about the upcoming season, the fifth and sixth graders that make up Dover Parks and Rec's Baltimore Orioles weren't short of confident predictions Friday night at Chickering Field. And while going 17-0 might be a bit lofty a goal, given all the events they've missed due to COVID-19 and what they've been put through over the last year, who's to say they couldn't do it?
In "Field of Dreams", James Earl Jones famously declared that "the one constant through all the years, Ray, has been baseball." That speech is now a bit dated, because, unfortunately, it was COVID-19 that rolled over America like an army of steamrollers. Because of the pandemic, last year, the Dover Parks and Recreation baseball season was cancelled, meaning it's been nearly two years since some of the young ballplayers have played in this league. While some players said they were "super rusty," some said "not at all," while some weren't the least bit concerned, since "there's some part of baseball where you're, like, natural at it, and after a practice or two it kind of comes back." According to Coach Charles DeBevoise, whether through club leagues in the summer or just practicing on their own, these young players care too much about the sport to halt their development with inactivity.
"These boys are so devoted to the sport that they've been finding a way to play," he explained. "Plus they've had two more years to grow, improve their coordination, improve their strength, so they're ready to go. And some of these kids have already been playing this season on club travel teams."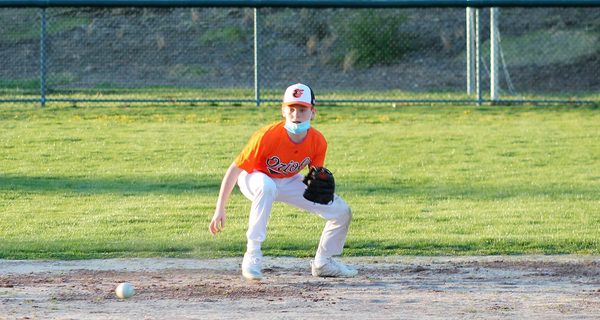 The team also wasn't too concerned with losing games due to COVID outbreaks. One player noted that "I don't see that happening, with all the vaccinations happening."
Coach DeBevoise, meanwhile, explained they're more concerned that inclement weather could cost them a bunch of games.
While this is the first year this particular team has played together as a unit, many individual players on the team said they'd played together before. This led to one Oriole arguing that at this point, he believes the team's overall speed is its greatest strength, as it will put pressure on the opposing team's defense.
Although it was so early in the season that less than nine athletes were at practice, and a baseball ended up deep in the parking lot before any player had even picked up a bat, don't expect Coach DeBevoise to tamp down the Oriole's expectations.
When it was noted that his team was very vocal about having championship aspirations, he was pressed on whether he shared them, too.
"Of course" he said, "I'm as competitive as they are."