By Lauren Schiavone
Hometown Weekly Staff
There's no place like home!
Westwood Recreation provided a home away from home for young thespians with their Musical Theater Camp production of "The Wizard of Oz" on July 21. A forty-two page script modified the original story to an abridged version to fit the week-long itinerary. Directed by Scott Gagnon with musical direction by Nolan Dupont Love, Westwood is sure to be impressed with this production of everyone's favorite tale in the land of Oz.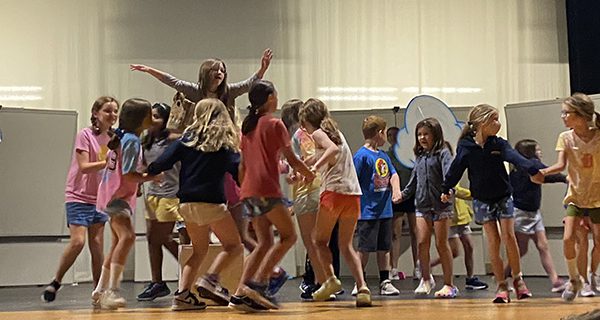 Monday through Thursday marked the entire production schedule, with a full run-through on Thursday and a performance on Friday afternoon rounding out the week of camp. Actors buzzed around the stage with immeasurably energy and excitement, ready to take the stage. Gagnon mentioned the actors were impressively off-book the day after scripts were given to them.
Nolan Dupont Love, recent Emmanuel graduate and music director, guided vocal warmups and set up pre-show music; he had every track lined up meticulously on his laptop. A fan of lighting and sound design, he was interested in theater as a whole and noticed how each mechanism came together. "We want to make sure everyone's having fun and learning at the same time."
Children learned singing techniques and choreography, of course, but also picked up a new assortment of valuable skills. Props, like the witch's broom and the wizard head, were all handmade by campers and counselors. Costumes were conceptualized through children's visions as they borrowed from the wardrobe to make their characters come to life.
Director Gagnon shared his philosophy of why theater and the arts are imperative. "Kids care most about telling the story and getting up in front of people. The skills they pick up early are great for them down the road — talking in front of people, getting over shyness, working with a team. The reason parents send their kids here is that they have the chance to work together on a big project and something they can be very proud of."
Theater camp continues throughout August, with many more opportunities for children to work together to create. Westwood Recreation is on Facebook and further information can be found online at https://www.townhall.westwood.ma.us/departments/recreation