With a mixture of plastic and burlap bags, the group set out from Twin Post Road towards Hale Reservation.
By James Kinneen
Hometown Weekly Reporter
If you've spotted giant bags of trash laid out on the sidewalks of Westwood this week, you may have wondered what's going on. But while your mind may wander to teenagers dumping beer cans or people getting rid of items the trash won't take, it's actually the exact opposite. From Saturday the 17th to Saturday the 25th, in honor of Earth Day, Westwood Community Trails and Hale Reservation teamed up to clean the town.
With locations ranging from almost all the schools in town to the Bubbling Brook area, there were no shortages of places Westwood residents could volunteer to clean. If you were looking to help, once you'd signed up and adopted a location to clean, your first stop should have been to Hale Reservation. Just past the entrance gates, organizers had bags, gloves and equipment sitting outside for anyone to grab.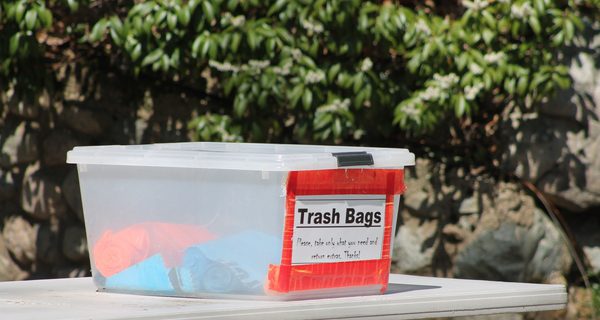 While she acknowledged that unlike in the seventies, people tend not to be purposefully littering, Hale's Paula McLaughlin explained: "We do this once a year, so there's unfortunately never a shortage of trash."
But while there may be a lot of trash, there are also a lot of people willing to pick it up. While looking at the list of places to volunteer, McLaughlin acknowledged the list of places to pick up trash was almost full, as "there's no shortage of people who really want to roll up their sleeves and maintain Westwood's beauty."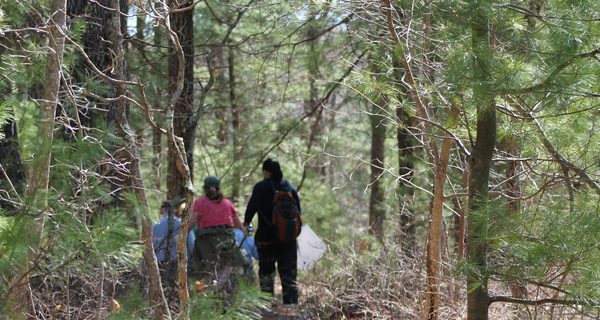 One group of those willing people met at Twin Post Road on Saturday morning, looking to take part in an extensive three to three-and-a-half-mile hike that would, according to Westwood Trails' Richard de Rayna, "go along six different Westwood green spaces and clean up whatever we see along the side of the road or in the green spaces, which are Sen Ki, across High St, to the Sheehan Field, then over to the Buckmaster Field, and then down some of the roads towards the Senior Center and then the Thurston Middle School Field into Lyman Pond Reservation, and then we're going to double back and cut through First Baptist and St. Margaret Mary and then go through the Baker area and pick up whatever we can find."
While it was not his first year taking part in the event, de Reyna did say it was his first time doing this specific, extremely extensive hike. While COVID didn't allow the group to do so last year, the year before that, the group managed to pull eight bags of trash out of the Lovell Woods alone. To say the least, they had their work cut out for them, with COVID-19 meaning some of these places may not have been cleaned in two years.
Luckily for Westwood, while there may be new trash piles every year, there are always selfless town residents willing to clean their hometown.