By Lauren Schiavone
Hometown Weekly Staff
The Westwood Young Women's Club (WYWC) recently presented a lively family gathering on the lawn of the senior center as the Stacey Peasley Band took the stage on Monday evening, July 11.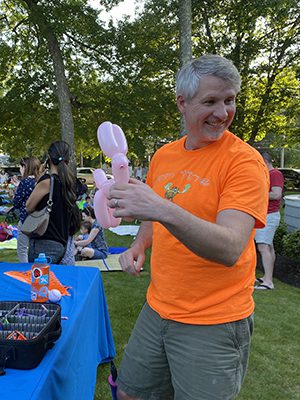 The band started off strongly with the appropriately-titled "Summer Day". The upbeat tune had everyone dancing and tapping their toes in celebration of the season. "Fun to Do" required listening ears from the audience, as Stacey had children clapping hands, stomping feet, jumping high and getting some energy out. "At the Parade" encouraged children to play instruments, with some even towing along ukuleles and tambourines from home.
Amidst the performance, Peasley shared her songwriting roots. "Fun Fun Fun", for example, was written when her now-seventeen-year-old was little. The song expresses how fun making new friends and connecting with others is.
Peasley then reminded those in attendance that some of our closest friends are actually family. The next song, "Together", celebrated family as everyone jumped around and showed off their dance moves.
The finale, "Dance Party", had everyone in attendance on their feet, while the band's closing remarks reminded everyone they're never too young — or old — to follow their dreams. Case in point: guitarist Bill picked up his instrument for the first time at age nine, while Stacey started at 35.
"The Westwood Young Women's Club is a community organization with the mission to meet other women in town and participate in community events," Stephanie Lancia, member of WYWC and event planner, said as she admired the turnout on the evening. "And foster community togetherness," she added.
To that end, the WYWC delivered — not just in terms of the vibrancy of the event itself, but in fostering community togetherness. Throughout the excitement of the concert, WYWC members accepted donations at their table for Diaper Circle, an organization that takes unused diapers as donations and redistributes them to families in need across New England.
The WYWC will present two more concerts this season: the Bubble Music Man will arrive at the COA gazebo on Monday, July 25, before Vanessa Trien and the Jumping Monkeys take the stage on Monday, August 1. The club will again be collecting on behalf of Diaper Circle at both events; donations are encouraged.
The Stacey Peasley Band has music on Spotify and Apple Music, among other streaming outlets. You can also keep up with them on Facebook and Instagram.
For further information about the Westwood Young Women's Club, visit www.wywc.org.