Emily Parks outlines her recommendations for a return to in-person, five day a week learning.
By James Kinneen
Hometown Weekly Reporter
On Thursday night, the Westwood School Committee unanimously approved a motion to send all of Westwood's students back to school for in-person learning, five days a week, starting April 5, eliminating the hybrid option for students unless they are actively being quarantined for COVID-19. Before making the decision, superintendent Emily Parks outlined the rationale and science behind the choice.
Parks first talked about teachers' vaccinations. Apparently, parents have been emailing her and saying they'd help teachers get appointments for vaccinations, with Maya Plotkin pointing out the parents have helped over ninety teachers so far get vaccination appointments.
But vaccinations weren't as important as the declining case rates Parks pointed out. She noted that now that Westwood has nearly a year's worth of available COVID data, they've found that even when student cases go up (as they did in January, a month that produced half of WPS' overall COVID cases), there is no corresponding spike in teacher and staff cases. Contact tracing has shown school is not a good disease vector, with most cases coming from within homes, indoor gatherings or mask-less carpools, and only two outbreaks tracked to Westwood's preschool and Thurston Middle School.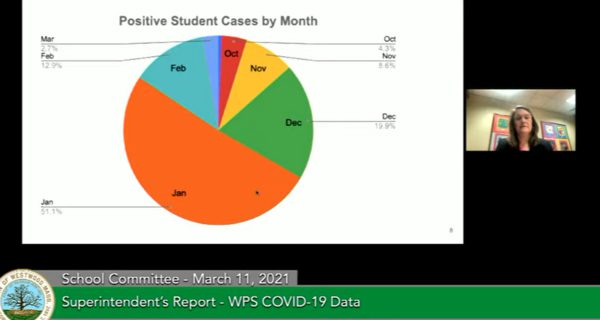 While returning to in-person learning will make six-foot distancing impossible, Parks explained that studies have shown no great benefit to six feet of distancing compared to three and pointed out that while the CDC may still recommend six feet of distancing, that includes states that tend to not enforce mask-wearing as well as Massachusetts, making distancing much more vital.
That's not to say she regrets any decision centered around six feet of distancing she made in the fall. Parks pointed out that when she had to make decisions about the fall reopening, the virus was still poorly understood. "I was leaving my groceries in the garage overnight," she said. "We've learned some things."
Students form grades 4-12 will be able to attend school remotely if they're quarantined with COVID-19, but Parks explained some students have taken the hybrid model to mean they can show up when they want to and go remote when they feel like doing that instead. In favor of a shorter school day, high school lunch is gone, while middle school kids will be eating outside in what Parks compared to a wedding tent, whenever the weather allows.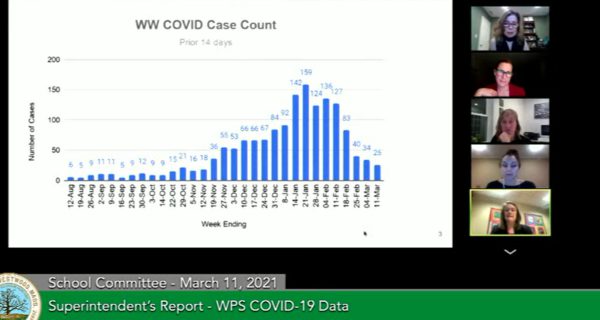 While new information is available, a familiar issue has struck Westwood's COVID response: lack of testing. But while nationwide, a lack of available tests might have been one of the biggest problems early on in the pandemic, that's not what's holding Westwood back. Westwood recently began their testing program inside the school, and while other schools have seen participation rates in the sixty to seventy percent ranges, at every grade level, Westwood's is in the thirties.
Part of this unwillingness to join the testing program may originate in the idea that getting tested could result in a positive test and a forced quarantine, so parents and students might feel like they're better off not taking the test. Parks noted that since they can't randomly sample the student body (which could achieve the same results with much smaller numbers of participants), she'd really like to see the numbers of volunteers go up.
With vaccinations on the rise, COVID cases going down, and a much better sense of where the virus does and doesn't spread, the Westwood School Committee has decided it's safe for students to go back to full time, in-person learning.