While the heat kept some older yogis away, the crowd was sizable.
By James Kinneen
Hometown Weekly Reporter
While many people saw the footage of the explosion in Beirut, Lebanon, with the United States dealing with civil unrest, COVID-19 and a fast-approaching presidential election, its victims may not have received the support they would have during a calmer news cycle. But on Sunday afternoon, a large crowd gathered to raise money for the St. George Hospital in Beirut by doing yoga.
Hania Khuri-Trapper organized the event, called "Namaste Beirut," and explained why she wanted to help that hospital specifically, when so much of Beirut was affected.
"We are benefitting St. George Hospital University Medical Center. It's in Beirut, Lebanon, and was hit severely by the explosion from August 4th that rocked the whole port of Beirut. It's right in the center of Beirut and it got severely damaged. They lost four of their nurses, they lost twelve patients and one visitor, and a lot of the hospital was destroyed. They were doing surgeries with cell phone lights and stuff like that, trying to make do and serve their patients."
Before the yoga class began, Khuri-Trapper read a letter explaining the issues the hospital is dealing with. The 400-bed hospital had to turn into a field hospital, caring for those injured in the explosion. They estimate they will need to raise $40m to resume their mission of providing excellent healthcare services to the community.
"We're not raising forty million," Khuri-Trapper noted, "but we'll try."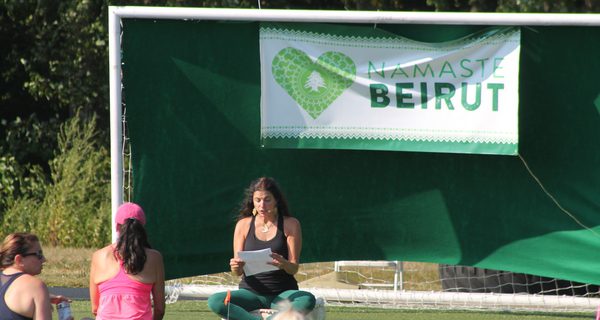 For Khuri-Trapper, the explosion was personal on a number of levels. She was born in Beirut, but also had family that had their windows blown out from the explosion.
"I'm Palestinian originally, but I was born in Beirut, so I have family there who are all safe, but their windows were blown out. It was just really devastating to the city. They'd already had an economic collapse and COVID and everything else, so this, on top of all that, was just too much. A lot of lives were lost, so we were trying to do what we could here. I'm a yoga teacher in the area, so I thought why not put a yoga event on and get all my people to come. And we could do it safely, with social distancing. We're all fourteen feet apart when you go back to the end of the mat. We have DJ Teeenie Z; Christina Zinno, who's a Westwood resident, and she's going to be playing some really cool and funky Arabic beats; and we're going to do this nice class."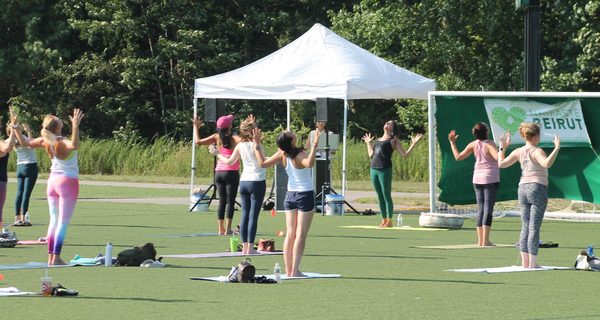 As for how much money was raised, the event was not especially expensive, however Khuri-Trapper is hoping the she will get more money in the next week from people who watched on Facebook Live, or heard about the event but could not come.
"Everyone paid just twenty dollars to attend, so that's not a big amount. But we're encouraging people to donate. We're going to be on Facebook Live, and we're encouraging people to donate for the next week. They're donating to me, basically right now, and I'm going to wait until the end of the week and send a big check to St. George's."
While the heat kept some people away, Khuri-Trapper was happy with the turnout.
"It's been amazing. I only started this a week ago and in like five days, it was sold out. We also had a waitlist, and a few people mentioned that it was too hot for them because they were older, but everyone else seemed to show up, so we have an amazing turnout. All the mats seem to be filled."