Francesca Lodovico performed two of her own original songs, "March Won't But April May" and Press Start."
By James Kinneen
Hometown Weekly Reporter
Sunday evening, September 6, outside of the gazebo off Harding Street, just ahead of the rain showers, Sophia Zhao held the Young Musician's Benefit Concert to raise money for both Westwood Performing Arts and The Prodigy Program. Featuring nineteen musicians performing for around two hours, the diverse array of songs ranged from Bach's "Cello Suite No.1 in G Major" and Leo Delibes' "Flower Duet From Lakme" to "All Star" by Smash Mouth and "Shallow" by Lady Gaga and Bradley Cooper.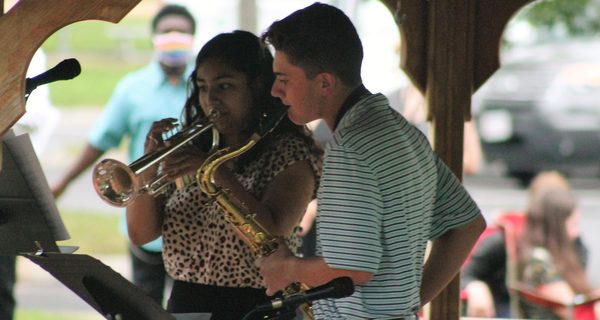 This range of music reflected the wide range of performers, from classical musicians to piano-playing singer/songwriters, all the way to a very talented fourth grader. Zhao explained that she recruited people to play the event, but allowed them the freedom to play whatever they wanted.   
"This project was part of my SIPP Project, which is the Senior Independent Project Program at Westwood High School, which allows a student to explore a topic they're passionate about. I always knew I wanted to do something related to music, and as a former Prodigy Program student myself, I wanted to do this. So I put up flyers everywhere and contacted Hometown Weekly, and recruited some high schoolers. When I had everyone come perform I wanted them to play anything they wanted to share."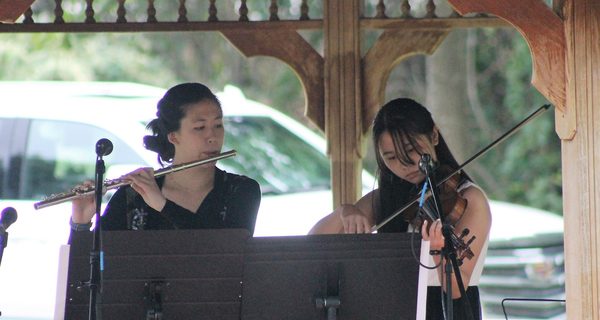 Begun in 1991, The Prodigy Program is Westwood Public Schools' music lesson program, which provides music instruction to the Westwood educational community via lessons in wind, string, percussion, voice and piano lessons.
The night began with Sonali Gopal. Lucy Vitali and Maggie Dullea performing "Ketchum, ID" by Boygenius, though Maggie and Sonali would come back to perform Boygenius member Phoebe Bridgers' "Graceland Too" a few acts later. Zhao herself joined violinist Angela Yang to perform Gabriel Faure's "Pavana, Op. 50", though Zhao would also perform "Aria from Sonata for Flute and Piano" by Otar Taktakishvili.
Back-to-back Fleetwood Mac performances came next, first with Sarajane Ortega performing "Landslide" before fourth grader Maya Safi took the stage to sing "Dreams." Safi moved on to sing "Shallow" and "Castle on a Cloud" from "Les Miserables" after. Hannah Conant, then opted for a song from a musical everyone in the crowd would know, when she sang "Let it Go" from Disney's "Frozen."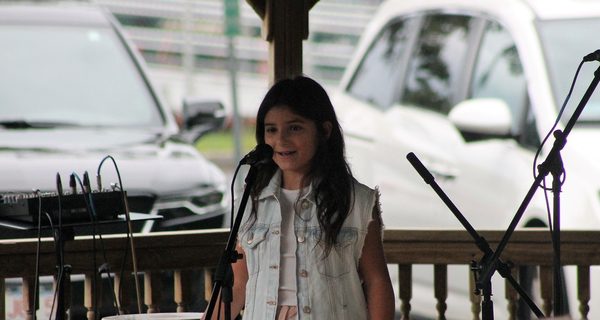 While it seemed like the instrumental fare was more highbrow - though less well-known - than the singing performances, Tara Mastandrea and Frank Papetti reversed that trend by performing a trumpet and tenor saxophone rendition of Smash Mouth's "All Star." 
The night's most original performance was Francesca Lodovico's renditions of "March Won't But April May", and "Press Start." Who wrote those? She did. Lodovico sang and played piano on two of her own songs, which prompted a fan to yell out "What's your Soundcloud?" when she had finished.
While Zhao said she didn't have a specific thing she wanted the Prodigy Program and Westwood Performing Arts to do with the money she raised, she did note that if people weren't able to attend the concert and donate in person, they could mail checks to the WHS Performing Arts Department at Westwood High School, 200 Nahatan Street, Westwood MA 02090.
It won't be the same as hearing these talented musicians and singers perform, but it might guarantee there will be more Westwood-led artist's concerts to attend in the future.