By James Kinneen
Hometown Weekly Reporter
On Friday afternoon, I was driving seventy miles per hour and cars were passing me like I was standing still. Whether it's the historic lack of traffic, the new age demographics of who is (and isn't) leaving their home, or everyone wanting to spend as little time as possible outside of their house (even if the virus isn't going to find its way inside a moving vehicle), Route 128 was a tense ride until I hit exit 20-B. I wasn't especially surprised to read that someone had set the new "Cannonball Run" - that is, a coast-to-coast drive - record, days later. On Friday, there were plenty of amateurs trying to set the South-Shore-to-Metro-West equivalent.
So, as I made my way trough the streets of Wellesley toward my eventual destination of the Carisbrooke Reservation Trail, it was nice to drive the empty streets at a slow pace. Unlike on the highways, the number of joggers and cyclists crossing the streets slows drivers down significantly - and this is to say nothing of those cruising around with the sole intent of fighting off cabin fever.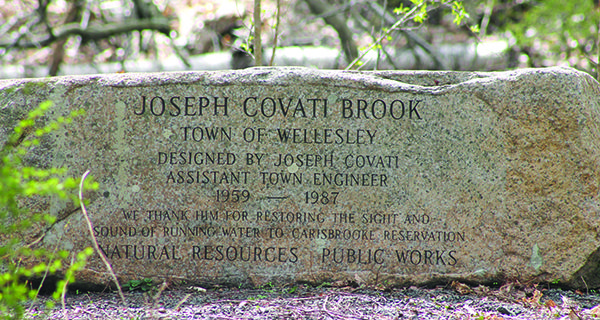 The Carisbrooke Trail is at the end of Glen Brook Road, which makes accessing it a little bit tricky. There's not really a parking lot, just the end of the road where concrete turns to dirt, along a resident's lawn covered in little plastic poles to keep drivers from making a three-point turn on the lawn. It felt a little invasive parking sandwiched between two homes, which was made worse knowing that, odds are, both those homes are packed with bored people looking for anything to watch other than Netflix.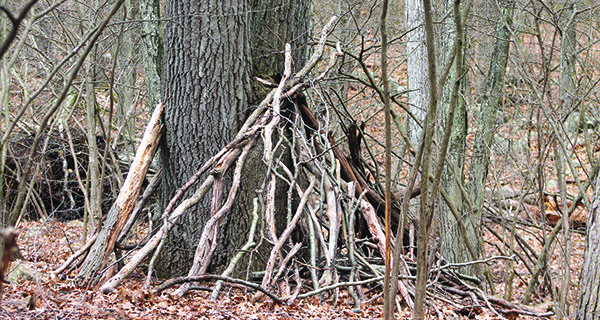 Still, it was a very pleasant walk. The trail I took was very short (about a half mile), but consistently crossed over running streams of water. The transparent water pouring over the rocks was too appealing to not reach down and taste about halfway through, even though I wasn't especially thirsty. Lots of people think that you can drink any running water and be safe. That's wrong, mainly because it's impossible to know what is going on upstream (what if an animal died in the water?)
Would I have risked it two months ago? Probably not. But the entire concept of risk is different now, and I just survived "Fast and the Furious: Yankee Division Highway." So, whatever - I drank the water. It was good.
(Editor's note: despite the intrepid actions of its risk-taking reporter, Hometown Weekly does not suggest or condone imbibing the water of the brook.)
One of the interesting things about the trail is that you're almost in people's backyards for a lot of the time - but that's mainly because the trees are still bare. In the summer, this place would feel magical to a kid whose house borders it. How do I know? Because I've lived it.
My childhood home backs up to a couple of trails that lead to the local reservation. While you're never more than a couple hundred yards away from various roads and yards, in the summer when the foliage disguises the proximity to civilization, it can feel like you're in the middle of nowhere.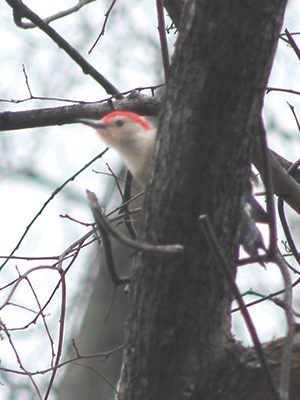 We've brought my nieces and nephews back there and watched as they felt the sudden rush of the (presumed) danger of being in the middle of the woods. In reality, every trail leads to a suburban road, mechanic, or pizza shop.
We've pointed out (pretty obvious) deer tracks in the snow and seen the kids feel like they're big game hunters in the jungles of Africa, tracking a legendarily hard-to-find game animal. In reality, deer are everywhere around there, to the point that Lyme disease is becoming a problem. We've run into others and seen them concerned that wildmen live in the woods, living off the land, part hermit and part survivalist. In reality, it was the guy who lives up the street testing out his new snowshoes.
The point being: while, to an adult, the trail isn't very long, it still presents ample social distancing opportunities. There are ribbons on many trees, and the ground is littered in shoe-prints and paw-prints from both the Wellesley and Weston sides. To a kid, this place could be so much more.
When I was done, it was time for that three-point turn. It went poorly, likely providing a mix of "look at this fool" amusement and "he better not drive on my lawn" tension for the houses nearby.
But even if I drove directly on their lawns (I didn't, thankfully) a few tire marks are a small price to pay for what living near the Carisbrooke Reservation Trail, especially to a child, could provide.