By Stephen Press
Hometown Weekly Editor
April 29.
A little over a month ago, just as social distancing in Massachusetts became the law of the land, I set out for a drive around Hometown Weekly's communities. The aim was to take in the changes that had occurred, and to record the thoroughly surreal moment.
Now, the plan is to retrace my steps and see what's changed, if anything, in a month's time. The agenda is the same as before: I'll head from Walpole center up Route 27, through Medfield and into Sherborn. From there, I'll jump on 16 towards Wellesley, pick up 135 from there into Needham center, and then roll down Chestnut and Dedham Street into the heart of Dover. Finally, from there, I'll head down Walpole Street towards 109, follow it into Westwood, double back to Nahatan Street, and jump on 1A back to Walpole center.
The mission begins as I reach Walpole center. A month ago, I was shocked by the emptiness of everything. Back then, my left from Main Street to Elm Street required no waiting, as there were so few cars on the road. While traffic is nowhere near its pre-pandemic levels, I am, for the first time I can ever recall, pleasantly surprised as I'm forced to watch a line of cars headed in the other direction, preventing me from making an immediate turn. Even braking at the subsequent four-way stop sign provides a point of comparison: there are actually other vehicles approaching the intersection. This would have been inconceivable during my late March drive.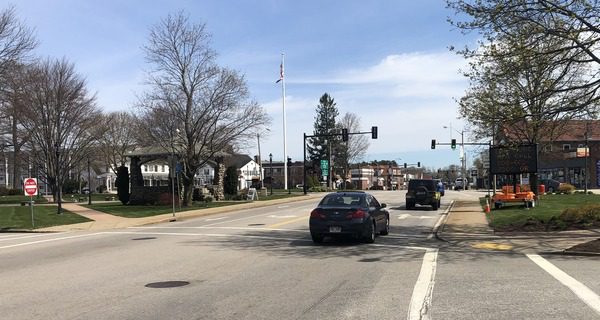 Heading down Route 27 towards Medfield center, there are more subtle differences. The most obvious one is the change of season. Spring has sprung, so to speak, and there are signs of it everywhere. I notice petals from cherry blossoms, swept across the street by the wind. In the moment, they take on the character of tumbleweeds in an old western, underscoring a sense of isolation and emptiness. They are, however, a great deal more attractive than tumbleweeds.
It's a decent metaphor for my drive on whole. These communities have temporarily ground to a halt, but they have done so gracefully.
To that end, I'm encouraged to see an uptick in responsible human activity. There are more cars out, and far more people. Walkers, runners and bicyclists are back, albeit properly socially-distanced, and often masked. Granted, today is a bright, sunny day; my first round-trip was conducted on a dreary, rainy morning. I'm certain, though, that weather alone cannot account for the increased traffic, both in terms of pedestrians and vehicles.
As Medfield center nears, I notice banners hung along the road, congratulating graduating seniors for whom these days would have represented the last of their high school careers. While my stop downtown does not present the same traffic "woes" that I experienced in Walpole, it's nonetheless more alive than it was a month ago. More cars are in the parking lots, and traveling in both directions on 109. Vehicles fill their tanks at the gas station. An individual waits to cross the intersection at Spring and Main.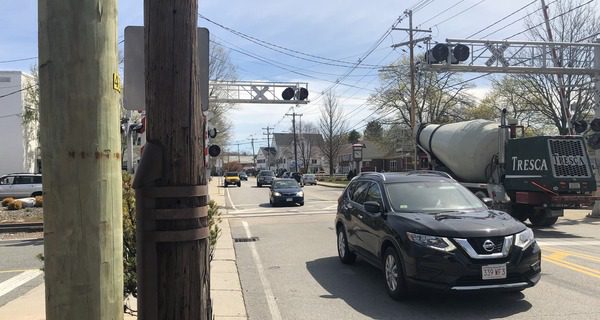 The vibe is similar as I head into Sherborn. During my first "grand tour," a police SUV, its lights flashing, was parked in Town Hall lot. Today, there are five vehicles in the lot, looking conspicuously normal. It's not as full as one might expect for 11 a.m. on a Wednesday, but there's nothing particularly amiss about the scene, either. Nearby, there are outward signs of reaction to the pandemic. A banner in front of the Unitarian Universalist Area Church informs congregants of online services - a familiar sight that I will see from many more faith communities along my way. The town center, while by no means bustling, is absent the funereal silence that overwhelmed my visit in March. A signboard by the Peace Abbey reads "social distancing is love" in bold letters.
Meanwhile, in Wellesley, there's a noticeable increase of activity on Central. No, it's nothing close to its pre-pandemic heyday. On the other hand, it's a long way from what I found a month ago. On the same street corner where I once shared an awkward long-distance greeting with the only other pedestrian in sight, a mother and her children walk together as a smattering of cars pass by. If you look at the scene from the right angle, and at the right moment, you can almost convince yourself that everything's returned to pre-COVID normalcy.
In Needham, more signs of increasing adaptation confront me, the first being a literal one: an electronic message board announcing a newly-drafted resolution mandating that pedestrians in town wear protective masks in public. As I park at the intersection of Great Plain Ave and Chestnut, a family crosses the street, the kids swinging from their parents' held hands. I head to the town common for some photos. A man and his dog sit nearby on a park bench, curiously glancing over as I gather my story assets. It seems reassuringly familiar to me - as does the lengthy wait I experience as I attempt to cross Great Plain Ave to return to my vehicle.
Off to Dover center, which retains its normal level of dignified quiet, wholly distinct from the sickly silence I found in March. I notice a marked difference from my last visit as I ascend the steps of the Dover Town House for a photo of the green. Aside from the fact that it's physically greener, there are more signs of life everywhere. A landscaper makes his way around, beautifying the grounds. Noisy birds congregate in the shrubs, keen to let me know when I've come too close. Vehicles pass with far greater frequency than they did before; whereas the photos I took here last month were entirely devoid of cars, this time around, the majority of my shots contain at least a couple.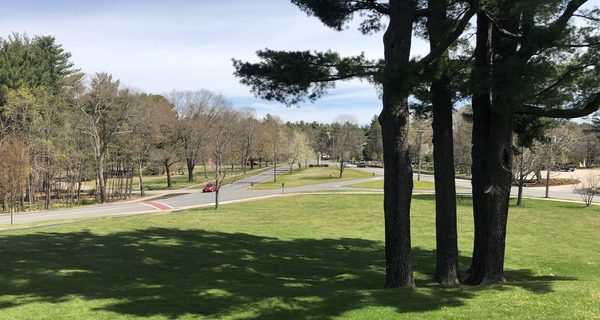 My stop in Westwood is arguably the most radically different of them all, and understandably so - a public works project has temporarily increased the amount of activity here. In the spot where I once stood to take a photo of an empty High Street and its surrounding lots, there are parked cars and a fair amount of activity. I sit for a moment to observe before realizing that a road project alone cannot account for the increased numbers of passers-by. The officer directing cars and trucks around the construction has plenty of work to do; he's waving several vehicles along at a time, as he scans the road for more. Back in March, I noted several traffic officers looking at a loss as they did their jobs amidst a complete absence of motorists. Those days now seem behind us.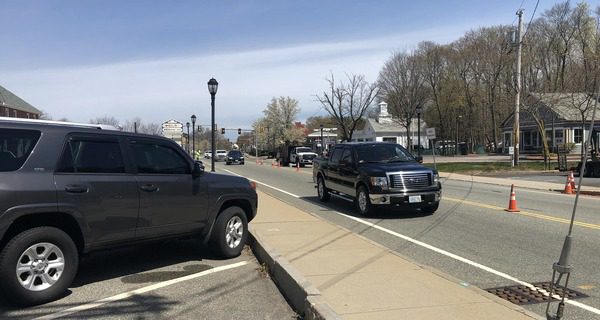 Back to 1A, which will take me back to Walpole, and then home. In my head, I start processing everything I've seen today, attempting to string together observations common to each community.
For the moment, though, all I can think about is music.
In what now feels like another life, years ago, I worked and learned alongside composers and producers whose job it was to either create or select the most fitting piece of music to accompany whatever film was placed in front of them. Consequently, the impulse to seek the most tonally appropriate tune for all of my life's moments has become an inescapable one. Usually, I can come up with a generous handful of options for any situation - from a cocktail party to a cruise down the highway, there are always bountiful choices, in disparate genres, that would make perfect sense.
What struck me about my first "grand tour" was that the only piece of music that came into my head was the sparse, ominous piano composition that plays in the background of "The Godfather" as Michael Corleone walks through a shadowy hospital, searching for his father.
Heartwarming fare, right?
This time around? As I make my way through Walpole and take the same final glance in the rearview mirror that I did the last time, I'm struck by how normal it all looks. There are telltale signs of the pandemic everywhere, of course. It's just that the pervasive sense of fear is gone, replaced by a steadfast resilience. Perhaps this is how it felt in WWII-era London, or Madrid during the Spanish Civil War, or stateside during one of many polio epidemics that afflicted the nation before 1953. We place those eras, and the often-heroic individuals who lived in them, on a pedestal; we watch films about them, we read books about them, we refer back to their examples in reverential terms. In our haste to lionize them, we sometimes lose sight of the fact that they were mortals whose lives were disrupted by events far greater than themselves. They responded to their moment.
Is it so far-fetched to suggest that this is our moment?
From what I can see, these communities are collectively reacting to COVID-19 in a manner befitting the examples set for them by those heroes of the past. Gone is the overwhelming sense of uncertainty and darkness that cast its pall over my last tour through these towns. This time around, my head is again filled with musical options - a sign that some level of normalcy, or perhaps simply acceptance, has returned. I exhale as Walpole disappears behind me while I cue up the appropriate song to take me home.
Here comes the sun. It's all right.