[ccfic caption-text format="plaintext"]
By Katrina Margolis
Hometown Weekly Reporter
The Wellesley Public Library hosts a myriad of events for children during the holidays. None of these are more exciting or revered than the annual Lego Village set up by Needham local Nick Tatar. The beautifully intricate exhibit was up for the week before Christmas, for anyone to come and see. While the Village itself was up the entire week, Nick came in a few times throughout the week to run the train for those who were interested.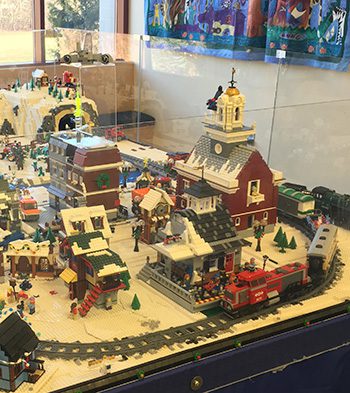 "This is just his hobby. The past few years he's come and set it up for us at Christmas time," the Children's Librarian said. "This year he's just here - he used to take it around to other places but this year it's just here." The village includes buildings, trees, people ice skating, and a fully functional train track entirely made out of Legos. The work itself is an impressive piece of infrastructure, however, it is also beautiful.
If you missed the Village this year, Tartar will be setting it up once again for the enjoyment of all next year around the holiday season.