An extremely animated team, Westwood isn't shy about celebrating after their biggest points.
By James Kinneen
Hometown Weekly Reporter
After a four-set loss to Hopkinton on September 20th spoiled the Westwood girls' volleyball team's chances at an undefeated season, last Monday night, it was the Wolverines' turn to oust a team from the land of the unbeaten. They did just that, beating the previously undefeated Medway Mustangs in in three sets (25-20, 25-23, 25-20).  
The first set was a tight one, tied at 11-11 until the play of Emily Liu broke it open. After two unreturned serves and a tremendous diving return from her that dropped untouched on the other side of the net, Westwood began to roll. Eventually, they took an 18-14 lead on a Meredith Dohrety block. With the Wolverines up 24-16, Medway deserves all sorts of credit for coming back and putting some scoreboard pressure on Westwood to close out the set. Eventually, though, a Shelby McKim kill gave Westwood the set, 25-20.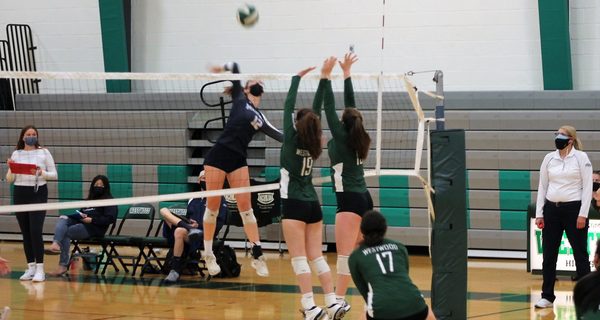 The second set played out in a pretty similar manner to the first. It was tied at 13-13, but then Westwood took over. Eventually building a 24-18 lead, again Medway refused to go down. This time, they got it as close as 24-23, until their server put her serve into the net to lose the set, 25-23.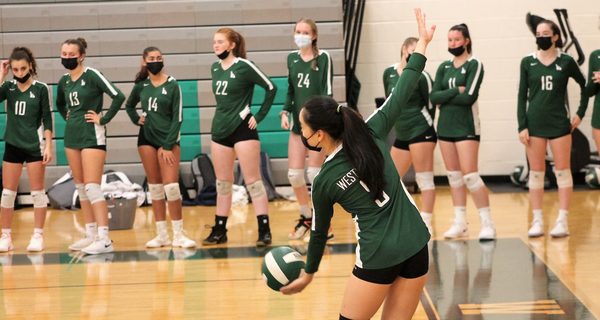 Facing the daunting task of coming back to win in five sets, Medway didn't go down easily. In fact, they built a 19-17 lead. Unfortunately, they would muster only one more point over the entirety of the set, losing 25-20 to give Westwood the match.
"This game was a tough one," noted coach Jennifer Murphy after. "It was against some of our main competition of the TVL this season, but the girls fought hard. We were a little slow to start and a little slow to finish at times, but they did great when they needed to."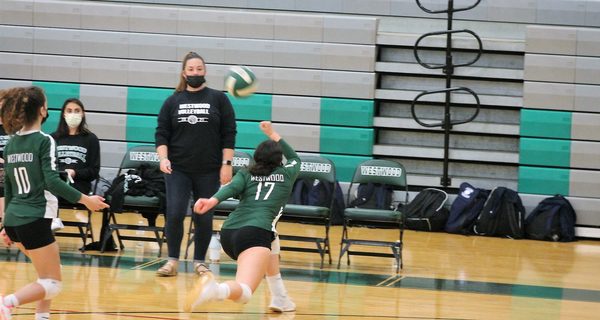 Murphy, whose team roster has only one underclassman on it, applauded the play of two of her seniors and one of her juniors.
"To me, Meredith Dohrety, who is an outside and a captain, stood out just for her energy and her intensity. I feel like it brought us through. Shelby McKim, our middle, is a really smart player and they had a tough time defending her, and then Christin Cann as well, she's a very smart player and did a great job finding those holes."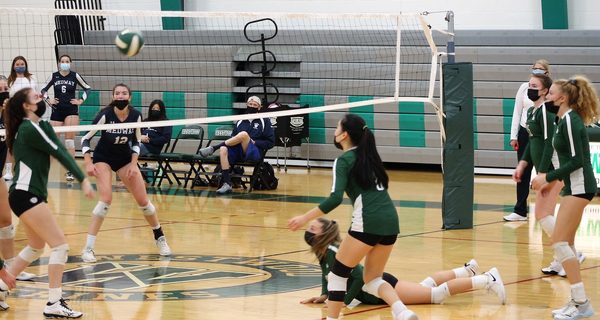 When pressed on what she thought of Medway refusing to stop fighting despite often being one point from losing the set, she pointed to the fact that they were undefeated and were going to do everything they could to keep it that way.
"I know Medway was undefeated coming into this. so they really wanted to keep that record going, and we have our own goal set we were working towards, so it was important for us to win in three."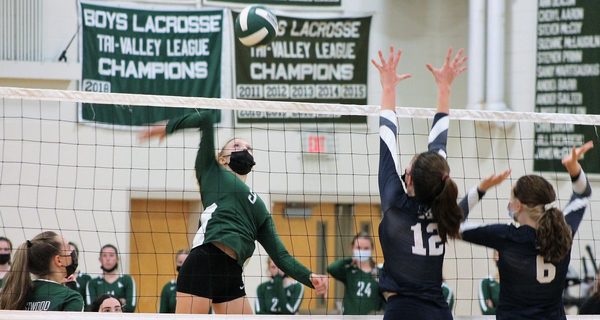 Murphy explained that winning in three sets is important both to the team's goals and for tournament seeding, should a few teams al have the same record. But while the coach wanted to keep the individual players' goals in-house and didn't go too deeply into what the team's goals are, there was one she was wiling to acknowledge.
"We are certainly trying to go 19-1."