A nice 'tackle' by the Philadelphia Eagles' defensive back.
By James Kinneen
Hometown Weekly Reporter
Even before COVID-19 put a stop to a variety of football leagues, flag football was a growing sport for those concerned about their children receiving head trauma playing traditional football, or for kids who become too heavy for youth football regulations. To fill that void, the NFL created NFL Flag Football for kids wanting to play football without having to get hit. Westwood hosts the Bay State No-Contact Flag Football League for kids from Kindergarten to eighth grade. While they play on a variety of fields in Westwood, on Sunday, the league was playing on the Xaverian Brothers High School football field.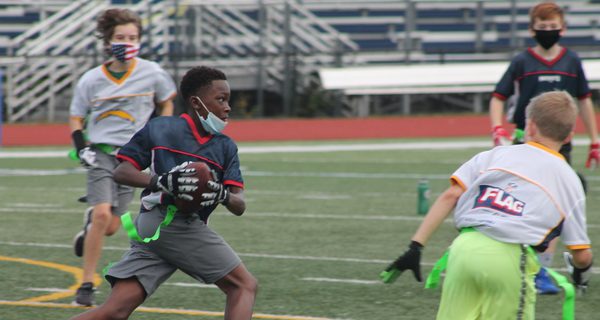 The coach of the sixth grade Philadelphia Eagles, Chris McDevitt, noted how lucky the boys were to be playing on such a nice field. But when questioned on the big difference between this league and the kind of flag football you see in collegiate intramurals or just in the backyard, he noted how well organized and structured the league is.
"This is extremely well organized. The referees add that level of structure and organization, and I think that's great, but to be frank, like I tell these kids, it's not that different than playing in the backyard. We draw up a play, I show them the play and there's an intended target, but that doesn't mean that's who it has to go to. So they have the freedom to sort of improvise and do it on their own. That's what we love about it."
There are some pretty notable differences, though. While you probably spit out "one Mississippi, two Mississippi" as fast as you could for a pass rush, in this league, there is a rush line seven yards off the line of scrimmage from which kids have to start if they plan on rushing the passer. There is also a zone, five yards from the goal line, from which players can't use a running play; they have to pass the ball from between the five yard line and the end-zone.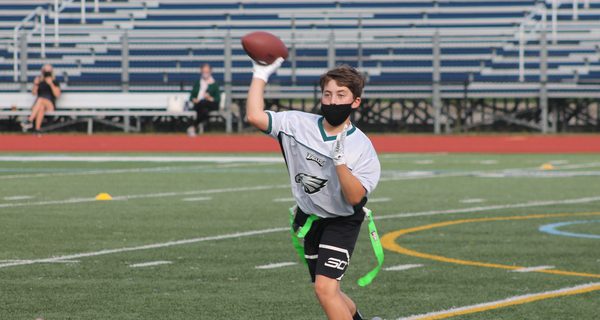 The first thing you will notice, however is that the teams are playing horizontally on the football field. This caused confusion about which cone represented what, with players sometimes stopping at the five yard "no run zone" marker, thinking it was the goal line. One would think that using the actual Xaverian end-zones and yard markers would be a better option - however, while only two games were being played on the field, the alignment was a COVID-related change. Usually, there would be four games going on the regulation football field at one time, so the kids play horizontally. Interestingly, from Kindergarten to eighth grade, the field size never changes.
"Everyone plays on the same size field," explained referee Matt Schoenan. "There are different rules for the young kids as far as rushing the quarterback, but the field size is always the same."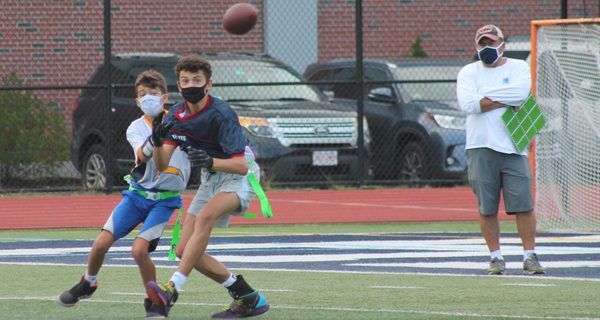 Coach McDevitt noted that he coaches both a sixth and eight grade team, and that some of his eighth-graders plan to try out for their high schools, transitioning from flag to tackle football. But when pressed on what the big COVID-related difference to the game is, he quickly pointed out that having to play in masks is nothing compared to not getting to play at all.
"Clearly, the masks and the distancing are the big differences. It stinks not having as many fans, but at the same time, if it's this or not play, we'll take it. We understand everyone's doing the best they can and we're just trying to do the same and enjoy it. We're glad to be out here."