Coach Molly McGill pointed to the play of Drew Hussar as a highlight in a tough loss.
By James Kinneen
Hometown Weekly Reporter
With Medway hanging images of their senior football players along the fence and various JV athletes trickling into the bleachers, the Mustangs' field hockey team stormed back, going from down a goal to Dover-Sherborn at the start of the fourth quarter to winning the game, 2-1, in regulation. The devastating loss dropped the Raiders to 6-4 on the year.
There were long stretches of the game where not much happened. In fact, the first quarter was scoreless from both teams, and there was nearly a scoreless second quarter, thanks to some nice play from both goalkeepers. However, with just twenty-three seconds left until the half, Dover-Sherborn senior captain Nicole Mayer put in a shot off a rebound, and Medfield took a 1-0 lead into the locker room.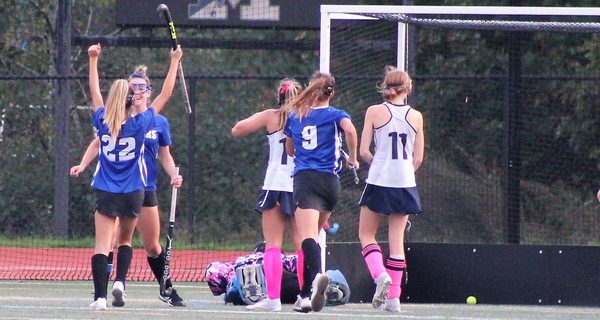 Again, the third quarter was one with no goals. However, if Dover-Sherborn looks back on the game, they will likely realize it was the time they should have stretched their lead. The Raiders were applying all sorts of pressure on the Medway end, including a long series around the 4:35 mark during which Mayer had a couple of shots that were miraculously saved from point-blank range.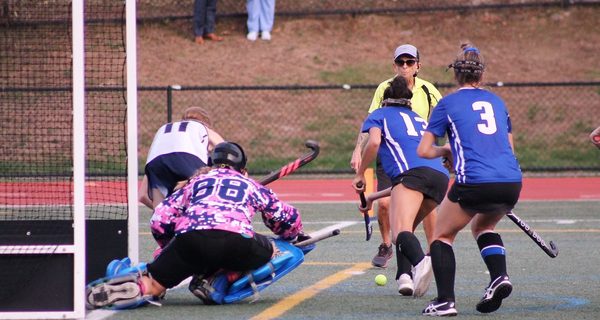 The fourth quarter was where the game turned for Dover-Sherborn. After once again having a bunch of shots on goal around the 13-minute mark, Medway scored at 10: 17 to tie the game. Dover-Sherborn didn't hang their heads, though - instead, they forced a couple of corners and had a few shots on goal.
With around three minutes left in the game, despite Dover-Sherborn being in control of the ball for so long, Medway scored again and didn't leave the Raiders much time to try and answer. After a very quick couple of minutes, Medway took the match, 2-1.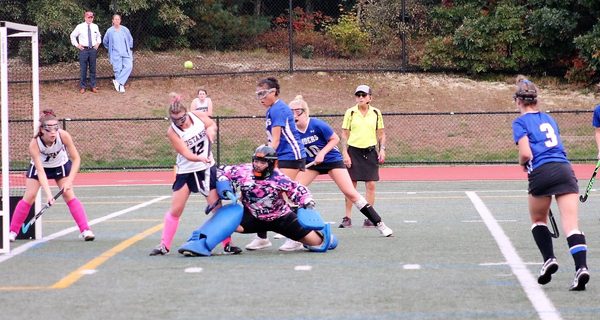 After the game was over, a dejected coach Molly McGill explained, "I'm just frustrated. We had the lead the whole game, only to give up two good goals from Medway. I give them credit but to give up those two goals in the final quarter is definitely not something we planned to have happen. We need to keep moving forward, and we can't dwell on it. But that's not a game I wanted to lose."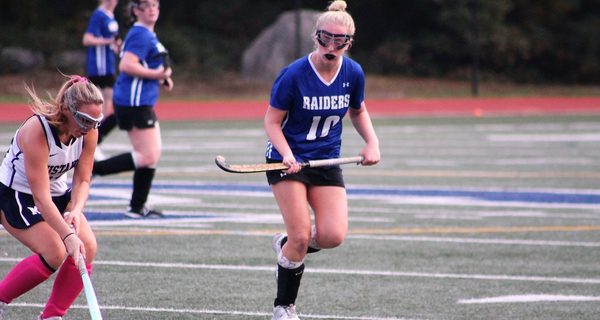 Coach McGill pointed to the play of Drew Hussar and Izzy Friedel as the individuals whose performances stuck out positively for her, though after such a disappointing loss it didn't seem like there was much positivity on the Dover-Sherborn sidelines.
At the time of print, the Raiders will return home to Nora Searle Field this week for games against Dedham and Norwood, respectively.