Dover-Sherborn's defense caused all sorts of problems for Millis, who ended the game with 27 turnovers.
By James Kinneen
Hometown Weekly Reporter
With five and a half minutes left in the third quarter, the Dover-Sherborn boys basketball team led Millis, 36-27, in a game that was still reasonably close. But after Dover-Sherborn went on an offensive explosion and Millis fell apart, the Raiders would ultimately finish Tuesday night with a dominating, but humane, 71-38 victory.
In the first quarter, Dover-Sherborn ran out to a 10-0 lead off a corner three; a Benjamin Teich steal and layup plus the foul; a Nicholas Rinaldi steal and pass to Lucas Rinaldi; and Timothy Dillon powering one up over a pair of Millis defenders. Millis would answer with a three of its own and some nice offensive possessions, but Dover-Sherborn's tenacious defense caused eight turnovers in the quarter, which would end with the Mohawks (there's a push to retire the name and indigenous imagery is set to be removed from Millis' home gym), trailing 14-9.
Millis started the second quarter with a three, but an Evan Skeary steal led to a Teich three, before Skeary himself scored off a pretty drive and an athletic finish. Down 23-14, Millis tried a couple of deep threes, but didn't hit many of them. It is sometimes said that a bad shot is the other team's first pass on a fast break. Millis learned this fact the hard way, with a few of these ill-advised shots leading to transition opportunities for the Raiders, including one that led to an easy Benjamin Chittick layup. On the other hand, two deep threes in a row from Nicholas Rinaldi had the Raiders up thirteen points, 34-21, at the half.
There were no real stars in the first half for the Raiders. Instead, their defense took the spotlight and led to some balanced scoring, with three of their players having six points and two having four, at the break.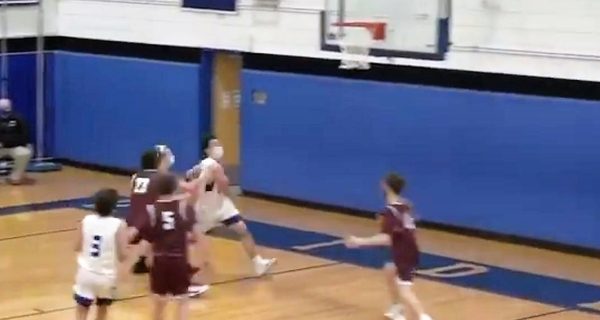 Sloppy offense from Dover-Sherborn gave Millis a 6-0 run at the start of the third quarter, culminating with a Raider timeout at 5:43 as Dover-Sherborn held just a single-digit lead, 36-27. This was the last time the game would be remotely close. With Millis dropping into a 2-3 zone, Dover-Sherborn immediately carved it up with some nice ball movement that culminated in a three. Then a Millis player pulled a Fred Brown (Google it, young people), getting confused and throwing the ball directly to Evan Skeary, who was fouled on the ensuing layup and hit one of two. Then, Millis threw it away trying to hit their man in the corner, and Benjamin Teich hit a three against Millis' scrambling and sloppy zone defense.
If their deep threes were any indication that the Mohawks were prone to some high-risk decisions, the no-look pass attempt late in the third was the real proof in the pudding. It looked cool, but was easily intercepted, which led to Dover-Sherborn points until, to cap off the disastrous quarter for the Mohawks, Brian Olson swatted their final shot attempt of the quarter. After three, the score was 47-29.
The reason this game's score looks so bad is because of how hard Dover-Sherborn's backups played. After Nicholas Rinaldi had a nice pass in transition to Lucas Rinaldi for two, then Skeary had a nice drive punctuated with an and-one, the game was 55-31. Both teams went to their bench, but Benjamin Chittick had some nice plays and kept hitting his free throws, while Zachary Spellman drove and scored, as well. Credit should go to Dover-Sherborn for how hard they kept playing - not any shame for "running up the score." They weren't pressing or trying to embarrass Millis, their backups just played really hard and Millis was sloppy.
In the end, Dover-Sherborn's defense forced Mills to turn the ball over 27 times. Led by Luke Rinaldi's 13 points, Dover-Sherborn had nine players score on the night, with five players scoring in double digits.