At first singles, Robert Ozerdem finishes a point at the net with a very pretty drop volley.
By James Kinneen
Hometown Weekly Reporter
According to coach Jon Kirby, the Dover-Sherborn boy's tennis team had won 85 regular season matches in a row going into their Thursday night bout with Norwood.
"We don't talk about it a lot" he said, when asked how much pressure it puts on his players game in and game out, especially with the streak now encompassing more than an entire high school class, "But, I'm proud of it. It goes back, I think, six years at least."
While it would have been a much more compelling story if the streak had ended at the hands of the Norwood Mustangs, that simply was not going to happen. Instead, the streak moved to 86 and the team moved to 6-0 on the year, despite sitting some of their best players.
"My captains have been immense," Kirby said before the match, when asked who has stood out to him on the year. "Danny Pomahac is a senior, and he was the MVP of the league two years ago, obviously we didn't play last year, but he's not playing today. And Cam Moghaddam plays third singles, but he's got the day off too, since I'm trying to get other guys in."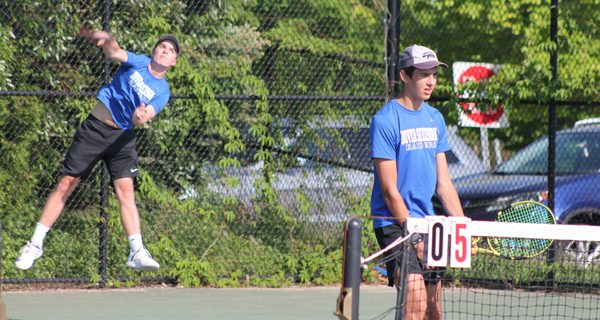 Coach Kirby acknowledged it was a bit of a risky move to sit some of his best players and move others around, but he was willing to roll the dice and depend on some new guys to step up.
"It's a little risky because you're taking sure points off the board, but I have confidence in the depth of the team. Robert Ozerdem, a junior, is going to move up to play first singles, and newcomer Josh Martinovitch is a sophomore who's playing second. Another newcomer, Cole Hadar, is going to play third singles, he's been playing first doubles but today he's going to be a singles player. So, it's nice getting other guys in the lineup and doing other things."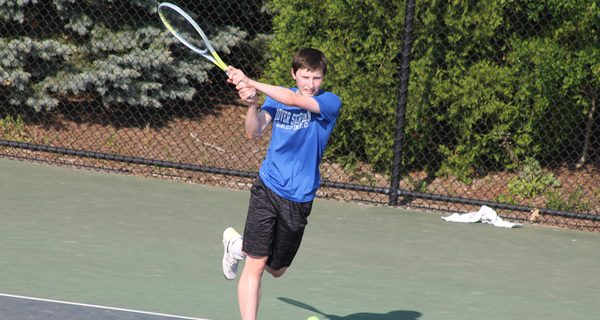 It ended up not being that much of a risk, since Dover-Sherborn had the three matches they needed to beat Norwood extremely quickly, barely losing any games, never mind sets or matches.
When pressed on what makes Dover-Sherborn tennis such a dominant force, Coach Kirby joked "Coaching," before noting: "No, it's tennis playing families. These kids grow up playing tennis with their families." Kirby, in fact, coached Jagger Grace's mom when she played in high school. "I am the golf coach, too, and I feel fortunate that these two sports are so popular in the town. To be a good varsity player at anything, you have to come in having played a lot, and they come in as ready players. I think the word gets out that if you want to be a high school player, you'd better get at it; if you want to make these teams, you have to play this much; and if you want to play on these teams, you have to play even more. It's all about preparation."
While it might be easy to pin the Raider's success on the town's median income in a sport that trends toward the affluent, Hometown Weekly has a surprising bit of proof of the team's drive to be their best.
As part of a story on fall athletes preparing for an uncertain season, I ran into Cole Hadar and Josh Martinovitch practicing their tennis skills on the high school courts. Keep in mind this was in September, when it was hugely unclear if there would be any sports played this year, never mind a season eight months away. Yet, there they were, working on their skills.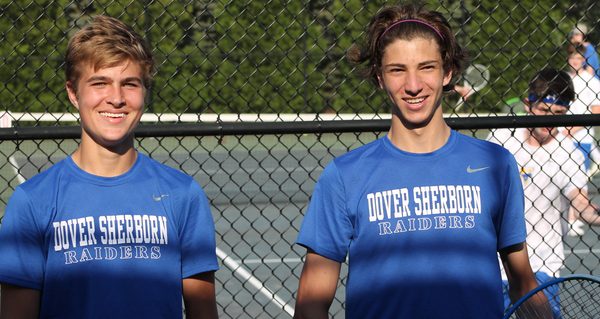 "Hopefully it will happen," Hadar told me then. "If it does, we should do well."
Its happening. Both players easily won their singles matches against Norwood.
And as it has for at least six years, the team is doing very well.