While Derek Roman pitched well, pitch count rules played a role in his being pulled from the game.
By James Kinneen
Hometown Weekly Reporter
What was a 3-1 Norton game going into the fifth inning on Wednesday night would ultimately end up a dominant 13-1 Norton victory just three innings later, after Dover-Sherborn collapsed defensively and couldn't manage to get their hitting going. With the loss, the Raiders dropped to 1-3 on the season.
Starting pitcher Derek Roman was doing well when he was pulled at the start of the fifth inning. Dover-Sherborn had just stranded Ethan Lynch on third base, and Roman hadn't shown signs of fatigue, so it seemed an odd move at the time. After the game, when pressed on whether he should have stuck with Roman longer, Coach Steve Ryan explained that the decision was in large part due to pitch count rules.
"These pitch count rules really make it a little difficult," he explained. "So, he was at a spot where we wanted to get him out of there so we could bring him back on Monday."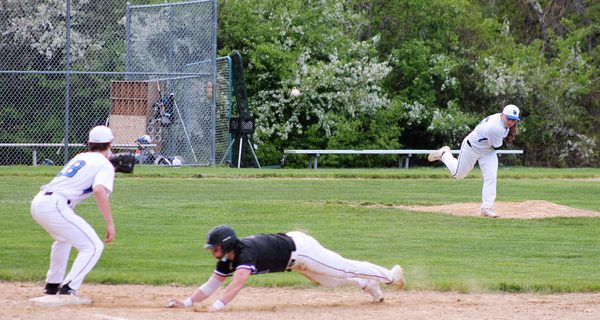 New pitcher Kyle Pucci ceded a couple walks and gave up a couple hits, which, combined with some fielding issues, gave Norton a 6-1 lead. Dover-Sherborn had some tough luck in their at-bat as well, when a runner had to deal with a dropped fly ball in shallow center field that led to him being thrown out at second. A groundout later and it was 6-1 going into the sixth inning.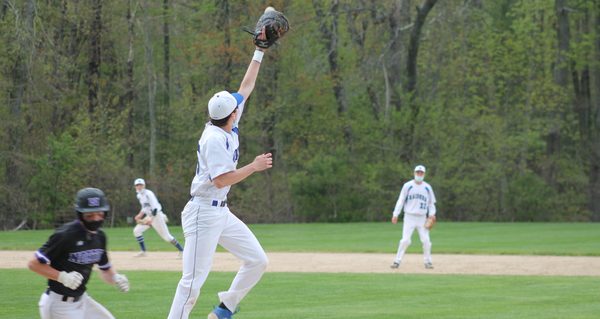 In the sixth, Dover went to Jack Potter, who walked the bases loaded. A fielding error and a couple hits followed, and just like that it, was an 8-1 game. Dover-Sherborn brought in Brian Olson, but the bleeding and bad luck continued as a single bounced off Olson's foot with the bases loaded, until finally, a groundout ended the inning with the score at 13-1.
In the seventh, Dover-Sherborn could not mount a comeback, instead going groundout, groundout, fly-out to end the game.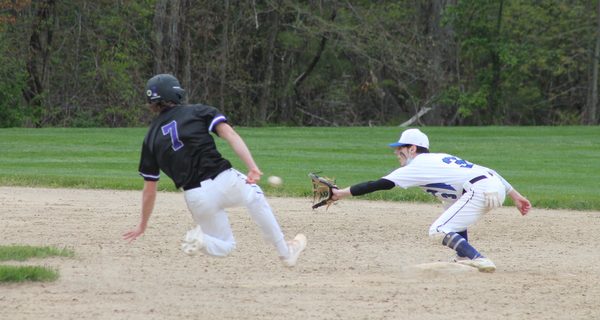 Despite an undoubtedly rough loss, Coach Steve Ryan wan't in despair after the game. Instead, he pointed out that Norton is a good team, and that while the final score was extremely lopsided, for the vast majority of the game, the Raiders were extremely competitive.
"I'll give credit first of all to Norton - they're a good team. The rest of it is that we've got to get that compete level to where we're going to come out and throw strikes, and we're going to put the ball in play when we've got guys in scoring position. We know that's a really good team, same thing as when we played Dedham the other day; these are two top notch teams and we hung with them for four innings. We've just got to be able to depend on our bullpen more to carry us through. But if we can compete with these two teams, we can compete with anybody in the league."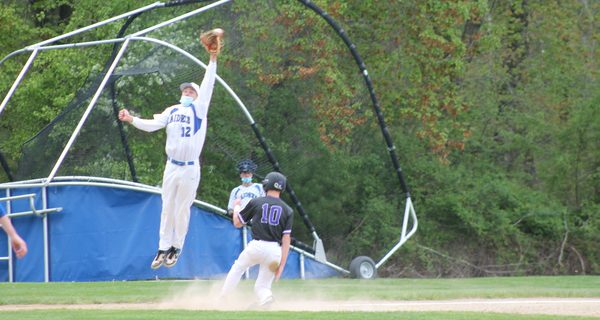 While this was a game to forget for the Raiders, overall, Coach Ryan was feeling pretty good about his team.
"I like our guys" he said. "They gave a great effort, they're pretty good athletes, and I'm confident in what they can get done."