By Lauren Schiavone
Hometown Weekly Staff
Last Tuesday ended the school year in Medfield, and staff at Medfield Public Library wasted no time organizing events and programs for the warmer months.
The first of these events was a festive Summer Reading Kickoff, which featured an outdoor Rhyme Time, a visit from storyteller Big Ryan's on the Gazebo, and a close encounter with some very adorable baby goats.
Head of Teen Services Erica Cote decided an outdoor animal event would help bond families and drive traffic to the library for a fun and unusual experience.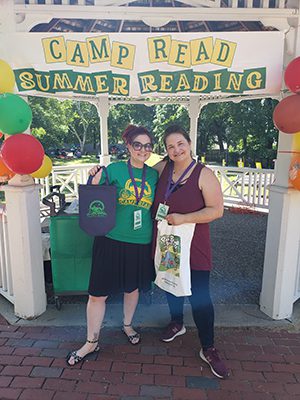 Head of Children's Services Bernadette Foley was amused by the attendance. "We get a huge turnout of kids," she said, "a great turnout for teens and an adult program. Our teen following increased lot last year."
Cote aims to foster a love of reading year-round. Explaining the swag bags the library gave out on the day, she said: "We have reading logs - a challenge for kids, teens, and adults doing summer reading and summer community activities. To promote being outside [and] community service, there are prizes available for that."
The adult programs are fairly new and have increased visibility in the summer months.
Farmers from Chip-in Farm, based in Bedford, assisted the baby goats in attendance. "We have nine goats from seven different litters," one commented. "They have between one and three babies." The goats are fainting goats and Nigerian dwarf kids born in May 2022.