By James Kinneen
Hometown Weekly Reporter
With the economy taking a severe downturn and record high numbers of people unemployed, services that help the needy are becoming more and more vital every day. And, with the COVID-19 outbreak putting a new emphasis on social distancing, virtually every industry in America has had to shift in some way.
With these two facts in mind, the question arises as to how the Medfield Food Cupboard (MFC) is adapting to both its increased importance to the community in the face of a recession, and the disruption to its usual operations in the face of the pandemic.
Interestingly, so far, the MFC hasn't seen a huge uptick in the number of clients it's serving, despite the rise in unemployment numbers. The Food Cupboard does, however, anticipate an additional need for emergency food - and emergency food is available to any Medfield resident in need of temporary assistance due to unexpected circumstances.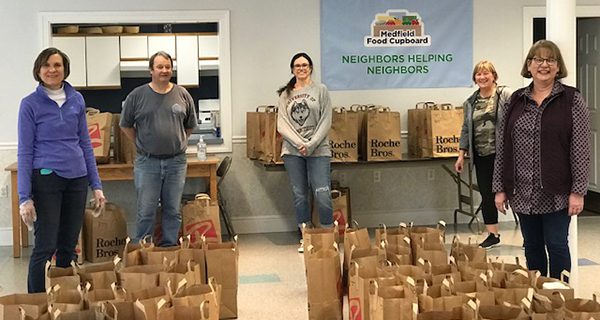 That's not to say the MFC hasn't gone through many changes. Community food drives and donations have been temporarily suspended, and food is now being primarily sourced from the Greater Boston Food Bank and local grocery stores. "We are fortunate to have long-standing, reliable relationships with these partners who are helping us meet the demand for food for our clients" noted Co-President Tracey Rogers. The way the Food Cupboard gets food in the hands of clients is also different. As Co-President Susan Gorog explained, "The Food Cupboard's physical space is closed to clients, so we are now offering curbside pick-up service. Clients receive pre-packed bags filled with fresh, frozen and shelf-stable items brought directly to their cars."
With the implementation of these changes, Food Cupboard volunteers are working diligently. With volunteer safety a priority and a focus on social distancing, that work is now falling to a smaller group of volunteers.
The Cupboard continues to run smoothly in light of these challenges.
"Our entire distribution model had to be quickly adapted. Our volunteer staff did a remarkable job of figuring that out and making it work successfully. Last week, we packed 580 bags for clients, without any disruption of service. The strong support of our volunteers and the generosity of our community made this possible. We are so grateful."
If you would like to make a financial donation, which is the best way to support the Food Cupboard at this time, you can send a check to Medfield Food Cupboard, PO Box 172, Medfield, MA; or visit medfieldfoodcupobard.com to donate through their website.
Residents in need of food support are encouraged to contact the Food Cupboard at (508-359-4958).