Cars were staggered in the parking lot, so you could see the screen without one directly in front of you to block your view.
By James Kinneen
Hometown Weekly Reporter
With COVID-19 shutting down any chance for large groups of people to gather together in a theater or auditorium, Dover-Sherborn Middle School had to come up with a different way to allow people to experience their new musical together, as a community. In unprecedented times, their answer came in the form of a blast from the past: a drive-in movie.
Yes, on Friday and Saturday night the Dover-Sherborn Middle School parking lot played host to the world premiere of "DSMS Zoomsical," a musical presented via Zoom and produced, conceptualized and directed by Claire Mackay, written and edited by Mackay, Kate Leavey, Ardys Flavelle and Geoff Herrmann, featuring the musical direction of Flavelle and Herrmann.
But while these were the credited creators, the unique aspect of how the musical was filmed meant the cast was much more heavily involved in its creation than they would have been had it been under more traditional circumstances.  
"We worked and rehearsed with kids over Zoom, as well as gave them a lot of resources they could do on their own, like practice tracks and things to listen to," Performing Arts Chair Geoffrey Herrmann explained. "But then they really became their own little producers and cinematographers using their phones to record themselves, to check their recordings and then to upload it to us. We put it all together with some professional and student editors, and basically just made a film."
The musical focused on the frustrations of dealing with the pandemic from a middle schooler's perspective, ranging from the mild annoyances of having to hear a classmate crunching Doritos on their Zoom microphone and birthday parties being moved to drive-by celebrations, all the way to more serious issues like not having seen your grandparents in months and pandemic related financial issues forcing entire families to sell their homes and move in with relatives.
As the program's director's notes explain, "In reaching out to the student directors, I asked them to send me stories about what they were experiencing right now. I made just one condition: that they be honest about their feelings, the good, the bad, and the funny. I was blown away by their honesty and the fabulous material they sent me. So, with creative input from Clare Whitaker, Lauren Kelly, Marisol Saenz, Izzy Taylor, Amelia Hodson-Walker, Oliver Morgens, Charlotte Beuhler and Jenna Eiten, and with the amazing editing skills of my cousin, Kate Leavey, I created a story and indulged in some of my favorite musical numbers to assemble The DSMS Zoomsical."
"I think what's cool about this one is it's really a super ensemble show," Herrmann added. "Every single kid has a really unique part that really works together, more than just being like 'Here's the stellar kid and the rest of the cast,' which is what I love about it as a teacher."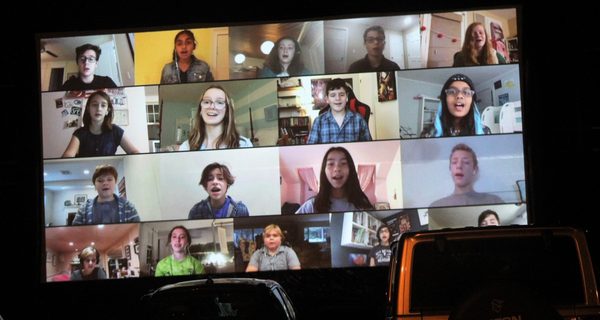 Some of the songs were customized, like a "Hard Knock Life" rendition that joked about some of the frustrations of being stuck at home, while others, like "My Shot" from "Hamilton," remained in their original form.  
But while many drama departments have created things via Zoom during the pandemic, it was this live showing that made Dover-Sherborn Middle School's endeavor so unique. Rather than just hold it over the internet, Herrmann thought the drive-in would be a great way to get the community together to enjoy art as a group.
"We easily could have streamed it - and streaming is, of course, still available - but part of this is the community aspect and bringing the community together to enjoy art. We wanted to find a way to do that instead of just being stuck at home, so we figured a drive in is both a safe and such a fun way to do it, and that was Claire Mackay's brilliant idea."
This was the first time a drive-in was ever held, so a local company was hired to run the projector and set up the radio station that provided the audio for the event, although the student crew did build some of the stage and was helping with as much as they could.
About 70 cars were at the "DSMS Zoomsical" world premiere on Friday night, although it will be available to stream if you missed it.
But Herrmann made it clear this was a fun, one-time thing, not the future of Dover-Sherborn Middle School drama. As soon as they can get back to doing live, in-person theater, they will get back to doing live, in-person theater.
"When we're allowed to do in-person theater again, we're going to do it, because the experience of performing theater live, for the kids, is just an indispensable thing. But this is a really cool, unique detour where we're not just coping and doing something that's not quite theater, we're creating an entirely new experience that they never would have had. So, while it might be fun to do a drive-in, we'll definitely be going back to doing live theater.
"Arts are hurting in this time," Herrmann later added, "and this is our unique way around it. But if there's any way you could support arts at DS or arts around the state or around the globe, now is the time to do it."