A Jaguar pounces on the ball en route to a 4-1 win over Franklin.
By James Kinneen
Hometown Weekly Reporter
Motivated by their team motto, "dreams don't work unless you do," on Saturday morning, the Westwood Jaguars, the fifth grade girls team of Boston Area Youth Soccer (BAYS) took over in the second half of their game against the Franklin Strikers to cruise to a 4-1 win. And most impressively, they wore their masks correctly the entire time they did it.
Franklin's lone goal of the game came on a penalty kick, as Westwood's defense stymied almost all their offense. Three quick goals in the second half doomed the Strikers and gave the Jaguars the win. After the game, Coach Precillia Redmond declared: "I'm super proud of these kids and their effort every week. They're playing really well as a team."
They are, but why are they called the Jaguars?
When I asked Coach Redmond, one of her players interrupted: "We couldn't think of anything else." This jokester scored a second-half goal and had, by far, the strongest leg on the team, so she was allowed this transgression - although Coach Redmond disagreed, arguing that they chose it because "jaguars are fast, fierce and strong."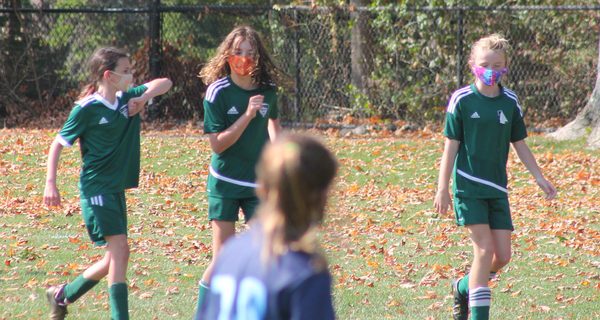 Having been to several BAYS games featuring older athletes, it was very nice to see kids actually wearing their masks correctly. Almost everyone in other games had their masks under their noses, and sometimes under their chins; these fifth graders consistently wore them perfectly. "I think it's just become a new habit like anything else," commented Coach Redmond, "and it's become such a habit that they're used to it. The girls love playing soccer and they know that's a rule we have to abide by to be out here and have fun."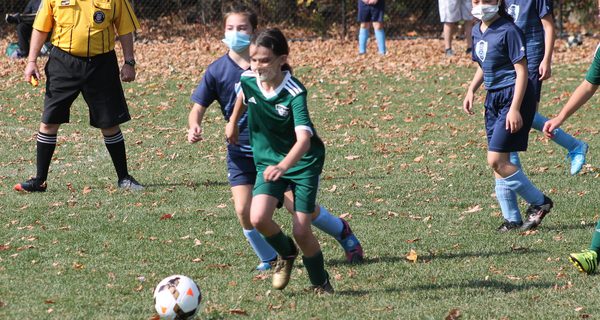 Outside of the masks, the most interesting COVID-related change is that the game is played in four quarters, which allows for mask breaks and for players to rest more. This is especially important because the team sizes are smaller, so teams have fewer substitute players. Coach Redmond said the kids actually prefer these smaller teams, because they get to know each other better and get more playing time.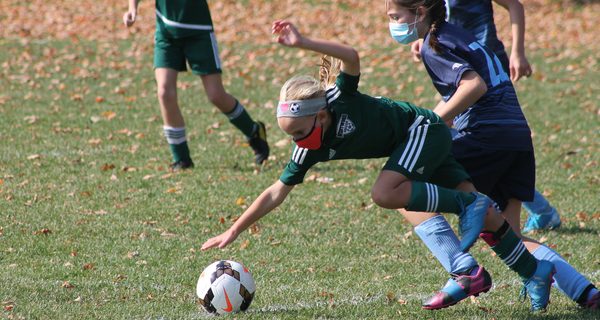 Nobody opted out on the season because they felt unsafe playing, but one thing that did feel untidy was the number of leaves on the field. With the far end of the Deerfield School field covered in trees, some free kicks were more reminiscent of difficult golf shots, with the ball getting a good lie on top of the leaves.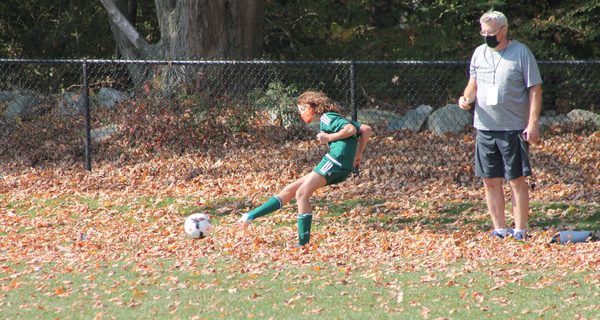 The players didn't mind, though. They said they were just happy to be back on the filed playing the game. In fact, they're so full of pent up energy that, very cleverly, Jaguar practices are held on Wednesdays - that's the day the kids are stuck in front of a screen doing remote learning all day.
"We do our practices on Wednesday afternoon, for exactly that reason. It's everyone's fully remote day, so it's a great opportunity to get the kids running around. They're so excited to show up at practice that day, when they've been Zooming it up all day."
They let out plenty of that pent-up energy zooming past the Strikers on Saturday, too.