The hot tub came with a Hoyer chair for Will to get in and out of it.
By James Kinneen
Hometown Weekly Reporter
As of about a week ago, there is now a hot tub in Will McHugh's yard, thanks to the Make-A-Wish Foundation. But while the famed charity made his wish come true, because of Will's choice, they funded a project that will be enjoyed by many members of the Westwood community.
Will has an extremely rare diagnosis called lissencephaly, a brain malformation categorized by parts of the brain's surface appearing smooth. Will is non-verbal and does not have control of his extremities. One of his doctors, Dr. Casey, nominated him for a Make-A-Wish wish, and Will's father, Bill, was contacted by the foundation. When they sent a volunteer to discuss options, Bill had one in mind.
"Volunteers from Make-A-Wish came by and did a needs analysis, where they set up a meeting and got to know us," he explained. "I will never forget the gentleman saying: 'The world is your oyster. You ask and if we can do it, we will grant it.' My personality is a lot of joking and being humorous, so I said, 'that's awesome, Will always wanted to take his father to play golf at Pebble Beach.'"
After breaking the ice with some humor, Bill explained that Will loves swimming and animals, including his pet dog, so Make-a-Wish arranged for him to swim with the dolphins in Key Largo. Unfortunately, when COVID-19 hit and travel became unfeasible for Will, they needed to find an alternative idea.   
"He has a couple loves: one of them is water and swimming, and another of them is animals. We have a great pet that is almost like a therapy dog, even if it's not classified as a therapy dog. So initially, we were scheduled to fly down to Key Lago to an amazing sanctuary where a lot of military guys coming back from service with PTSD go, and we were going to swim with the dolphins. We were all excited. Will's never been on a plane, and he was cleared for a plane ride, but then the pandemic hit. There's a lifespan on these awards - they gave us like a year, but he couldn't get on a plane unless there was a vaccine out, and we thought: 'who knows when that's going to be?'"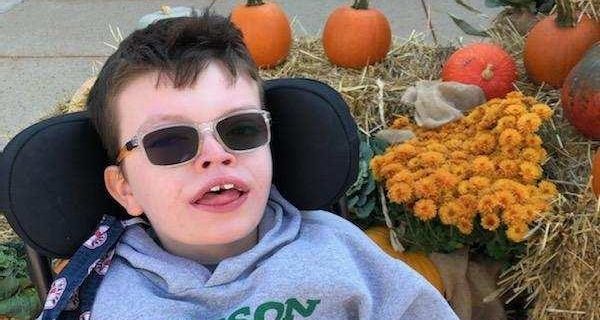 Will actually has a third love: helping people. So when the organization suggested instead building a hot tub for the family, complete with a Hoyer Chair lift to get Will in and out of it, the McHugh's jumped on the idea - not only because Will would like it, but because it was something he could share with the community.
"They came up with another solution, saying 'what if we awarded you a hot tub?' It was a no-brainer, because instead of going away for a week, with just the three of us taking photos and telling stories, now we have a hot tub that we can share. His big thing is helping other kids and helping other people, so other kids can benefit from it. He's integrated in the Deerfield School, where half the day he spends with likeminded kids like himself and half the day he spends with the regular class. So, he gets to share the hot tub with all these kids, and his special group of kids - Peter, Katie, and Brooke, to be specific - and he can go in and use it."
While there were some setbacks - in large part due to everyone wanting a hot tub during COVID lockdowns and not wanting to go to public pools anymore, creating a supply and demand issue in the hot tub market - thanks in part to Westwood electrician Kathy Reilly, the hot tub is now installed and functional. While there's no official number, McHugh said he's seen invoices that show the project cost north of twelve thousand dollars. But McHugh wants everyone to know that while it was Will's Make-a-Wish, it's really for the community.
"We have a Hoyer lift chair that's mounted, and carpentry had to come out and mount it so we can put him in it. It rotates and puts him into the water, and then we can take him out of the chair in the water or leave him in the chair, whichever he prefers. But it's an ideal situation, because he gets to connect and have connections with other kids, and families, and other people can use it. Will enjoys sharing and helping other people, so his wish is to help other people, and he is able to do that through the hot tub. It's in his backyard, but it's really for everyone."
While COVID-19 threw a wrench into the McHugh family's plans, in terms of his Make-a-Wish choice, the need to change may have been a blessing in disguise. A hot tub he can share with his friends for years is likely better than one week of swimming with dolphins.
And, yes, probably even better than a round at Pebble Beach.