By James Kinneen
Hometown Weekly Reporter
Roxbury's Reggie Lewis Center hosted the Tri-Valley League's indoor track meet on Saturday night, February 2. The meet featured teams from Westwood, Dover-Sherborn, Medfield, and their conference opponents.
While there were many gifted athletes and innumerable great performances in Roxbury, a few did stand above the rest.
For the Medfield Warriors, the highlight was likely runner Ryan Eng, who won the 55-meter dash (6.75) and set the MHS record in the 55-meter hurdles (7.71). Although his friends were egging him on to say something braggadocious, Eng instead remained humble.
"I worked hard this season," he remarked, "and I'm glad it paid off. On to the next meet."
Medfield also enjoyed dominant performances from Riley Drometer, who took first place in the girls 600 meter run (1:41.79) and Jordan Wilson, who took first in the girls two-mile run (11:41.21),
For the Westwood Wolverines, shot put had some highlight performances. "The team has been working their tails off all year, and it's great to see them improve," said coach Tom Baird. "After seeing their performances, overall, I'm a happy camper."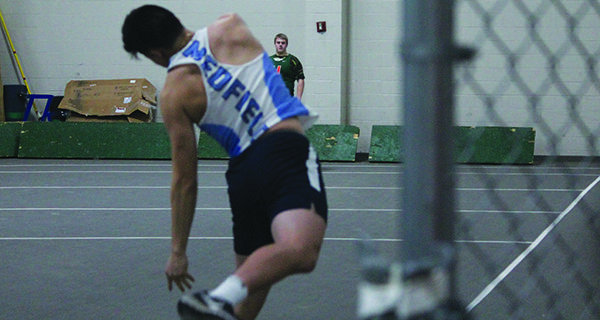 Baird should have been happy, particularly with the 40-foot personal record launch from Liam Dullea, who started the year throwing only 32 feet. Captain Will Solomon also had a steady performance, topping out at 34 feet, and Brandon Loughnane also achieved a personal record at the meet, where he placed second overall.
Westwood also received strong second-place performances from Dawnesha Dyer-young (girls 55 meter hurdles; 8.80), Jack Deehan (boys 600 meter run; 1:26.35), Zach Conant (boys one mile run; 4:30.94), Jane Krumsiek (girls 600 meter run; 1:42.27), and Sarah Conant (girls 1000 meter run; 3:06.68).
For Dover-Sherborn's 300-meter runner, Sam Lytle, while the races were competitive, they were also a great opportunity to spend some time with other track athletes in a fun way. He noted that while there is still intense competition among the athletes, they're in it together. "We're all trying to win, trying to be fast," he commented. "But it's fun to get the guys out here together. We know a lot of the kids from the other towns, so while it's a competitive atmosphere, it's still fun."
The athletes from Dover-Sherborn looked like they were having the most fun, ranging from the 4x200 relay team, who warmed up with some pull-ups on the bleacher railings and told Hometown Weekly they wanted to "run hard and finish strong," to the high-jumping duo of Danny Bennett and Will Brown, whose highest jumps may have been when they leapt in the air and collided with each other to celebrate a teammate's success.
Oliver Fried, meanwhile, supplied his Raider teammates with plenty to cheer about: a dominant performance in the boys one mile run. Fried took first with a time of 4:28.40, crossing the finish line before Westwood's Zach Conant. Fried's teammate, Noah Guarini, finished close behind in fourth with a time of 4:41.19.
On a bitterly cold Friday night, the Reggie Lewis Center played host to some top-notch high school athletes. And while the competition was fierce, the camaraderie and friendship on display was just as prominent.