The group spots the beaver while the guide attempts a photograph.
By James Kinneen
Hometown Weekly Reporter
After the adults had drank their beer and the kids had eaten their chips and run around the field, Trustees tour guide Susan Eastland delivered the crushing words to the gathered assortment of families that signed up for the guided beaver hike on Friday night: "We're probably not going to see any beavers."
Initially, there was disappointment, before everyone seemed to come to the understanding that it was still interesting to be given a guided tour of both Rocky Woods and the beaver dam on Echo Pond.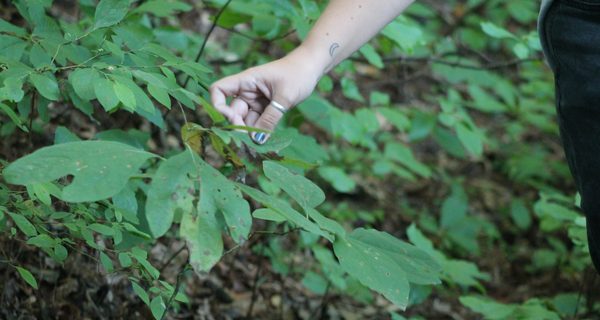 First, Eastland introduced the assembled to some of the plant life in Rocky Woods. She stopped to show everyone some sassafras, noting that it was once a key constituent of root beer, as well as how its leaves look like dinosaur footprints. She pulled down a tree branch and explained that it was witch hazel.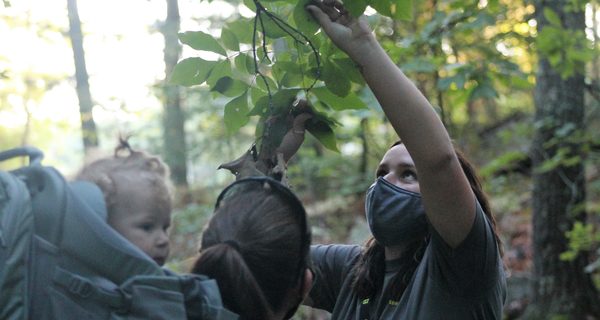 Along the pond, there were some animals she also pointed out. As they are often traditionally depicted in cartoons, a large number of frogs made a home of a grouping of lily pads. The kids were excited to see the animals - so excited, in fact, that it seemed a guided frog hike would have been just as enjoyable for them.
Finally, the hikers made their way to the beaver lodge, and even though the kids weren't exactly tiptoeing around, there was a beaver. Loud, heavy splashes were the first things heard as the beaver ducked under the water. As soon as a few people had spotted it swimming in the lake, though, everyone grew quiet. The critter began to swim more freely.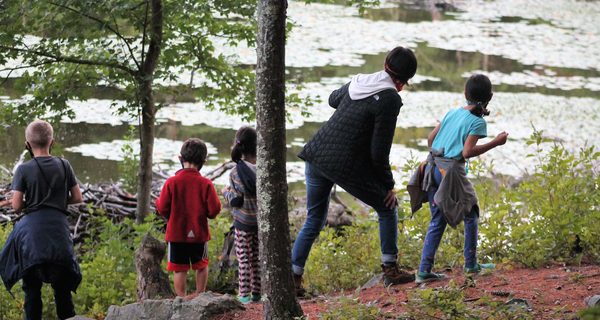 Eventually, the group made its way to the other side of the pond to get a clearer look at the beaver. At this point, a little boy asked his parents if they could try and catch it. Dashing his 18th century fur trapper dreams, his mom said 'no.'
As excited as everyone was initially, eventually, the beaver was just kind of swimming around and the hysteria waned after about an hour. As it was growing darker in the woods, the cue to leave was likely when another child asked his parents: "Is it going to eat a tree now?"
Hiker Samantha Hollenbach explained how well she thought the day went, declaring: "We were hoping to see a beaver in its natural habitat, and expose our children to it. It was a great overall experience. We got exercise, we saw the beaver. We're happy and the kids were happy."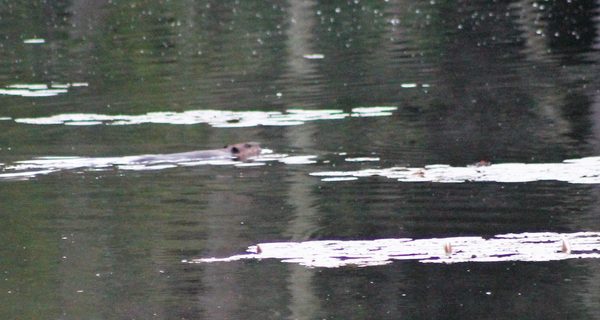 Tour guide Susan Eastland noted that it was her first guided beaver hike, and that due to COVID, the group was smaller than usual. Had the beavers not been out - which she really did expect; she was not tempering expectations when she said they wouldn't be - she would have given more of a guided hike of the woods.
"We could have walked more, for sure. I wasn't expecting them to come out since they are nocturnal animals, but they probably heard us coming and were up already, and that was the slaps against the water: they were warning us to stay away. I have a random assortment of woods knowledge, and I had some more Trustee knowledge I could have thrown at them. Just kind of random woods stuff is normally what we do for our guided hikes."
With camping now an option at the Rocky Woods, if you'd like to go to Echo Pond yourself before dusk and see if you can spot the beavers yourself, you're allowed to. You could also participate in one of the many other activities the Trustees have in store.
"There's a whole bunch of stuff going on," confirmed Eastland.