Through November, local photographer Rick Fink Jr. is presenting his collection of 12 fine art prints at Starbucks in Medfield showing the inside of the Medfield State Hospital. These images are the store's latest installment on the "Art Wall," which features a different artist's work each month.
"We are excited to include these photographs of the Medfield State Hospital as part of our store's commitment to showcasing local artists," said Tamra Saegh, Medfield Starbucks store manager. "People can come and see what it looks like inside the hospital. It is amazing to see how much the buildings have deteriorated. The pictures are both beautiful and eerie at the same time. We think people will really be impressed with them for both their aesthetic qualities and historical significance to Medfield."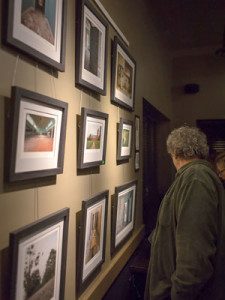 Mr. Fink took the pictures while researching mental health and institutions in graduate school four years ago. Mr. Fink shared a presentation of his research along with the collection of photographs with locals during an opening reception held last week.
"Several people at the reception had a story to share about the hospital. Whether they were a former employee at the hospital or a lifelong resident of Medfield, everyone was eager to share their insights and perspectives about this place" said Mr. Fink. "I think the neglect, decay, and emptiness inside these condemned buildings evoke a sense of nostalgia for some and a degree of mystery for others."
The reception at Starbucks was well attended by fine art enthusiasts, artists, and a curious public. Chuck Ferullo, an established area photographer who recently had a show at the Medfield Public Library and will be featured at the Zullo Gallery later this year, was impressed with the hospital pictures.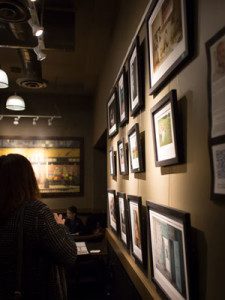 "I find he has a good eye - he pays attention to detail, and has a good understanding, a good feel, for color. He knows what he is looking for, as evidenced by his success in managing to create a unified theme out of these dozen photos," said Mr. Ferullo. "Maybe even more impressive in my mind, though, was the way in which he conquered his own self-doubt to not just mount this exhibit, but to construct the whole display from scratch, beginning with the raw lumber, and continuing through the printing and matting, and the result is a very unified look."
The 12 photographs are displayed in three sizes, 16"x10", 8"x10", and 5"x7". All prints are made with Epson Ultra Chrome pigment inks on Cansol rag photographique 100% cotton paper and are matted and framed by the photographer. Limited prints of each image are available for sale through the Medfield Holiday Stroll on Friday, December 1.
Rick Fink Jr. draws his inspiration from gallery visits, lectures, and reading. He is a member of the Photographic Resource Center at Boston University and a past member of the Boston Photography Center. Mr. Fink also provides freelance photojournalism services and event and portrait work. To see his work, visit rickfinkjrphoto.com.