While they'd like to be with their friends again, a pair of cousins enjoy time together at the now open Metacomet Playground.
By James Kinneen
Hometown Weekly Reporter
With it becoming increasingly clear outdoor activities are not a primary source of widespread COVID transmission, Medfield opted to open their fields and playgrounds this weekend. And, while the parks and playgrounds weren't crowded the way they would have been last summer, there were plenty of kids and adults trying to fight cabin fever or work on their athletic skills.
At Metacomet Park on Saturday, a family was playing doubles tennis just before the rain came in. "We were very happy to have the tennis courts reopen, because we love playing as a family," Heather Krauss explained between sets. When I asked if the long layoff had left their skills a little rusty, her husband, Adam, was quick to respond soon after shanking an ugly backhand into the net.
"Oh yeah, definitely" he smirked. "We're usually really, really good."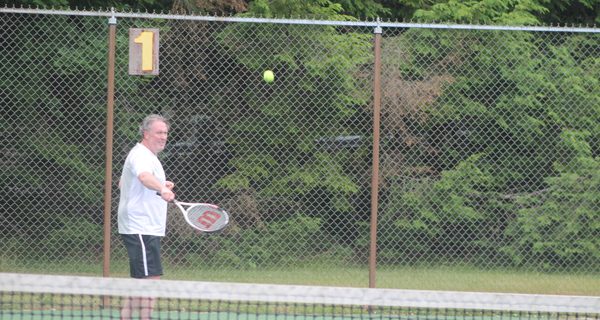 In the baseball outfield, a few Medfield Warriors were practicing for whenever lacrosse season begins again, firing ball after ball into the back of the net.
"We're just doing some practicing, getting back out here and preparing for next year since our season got cut short this year," Michael Vachon explained. "We didn't even have one. We were training all year for it, so it was tough. Everyone here just loves lacrosse, though, so everyone wants to keep playing. Everyone wants to get back out there",
"Now we're just focusing on the summer, then next year's lacrosse season, just trying to elevate our team that much more," teammate Samuel Hedges added. "Our captains for the 2020 season did a really good job of motivating us the entire time. Nobody lost track of the main goal of a state championship, so everyone's still been working at it."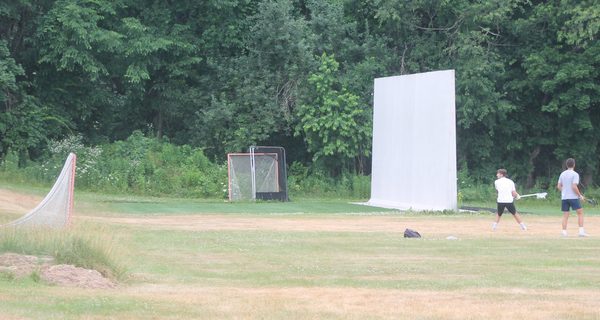 On Sunday, both Hinkley and Metacomet playgrounds had a few families socializing together. At Hinkley, a woman named Irena said that she lives nearby, making it tough for kids to have to pass by, but not get to frolic on the playground, almost daily. Still, as far as what her family missed, it was the socializing far more than the playground itself.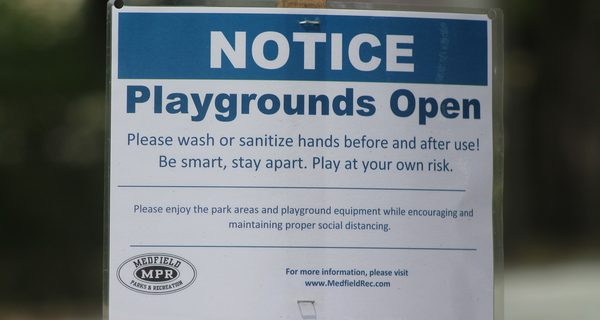 "We've missed socializing with friends" she explained. "It's also the weekend. We've seen more people at this playground before, so I'm sure some people don't want to take the chance, but it's nice to see friends."
At Metacomet, Erin Schneider was the only person at the playground, along with the pair of cousins she was looking after. "I have no concerns. They use hand sanitizer before and after," she declared when pressed on whether being at the playground made her nervous. She argued the heat, more than fears of the virus, was what was keeping other families away.
After noting that without the playground, her kids opted to "Play a lot of videogames for the older ones, do a lot of puzzles, board games, and go outside and play for the younger," she also declared that the lack of friends was what the kids really missed.
"I think they miss their friends. These guys are cousins, but I think they both really miss getting to see their friends."
Having been out of school for so long, and with the future of youth sports and summer camps uncertain, hopefully the reopening of playgrounds lets kids socialize with their peers again.