By Lauren Schiavone
Hometown Weekly Staff

Westwood's Council on Aging art instructor, Brenda Goldman, recently led a group of artists in using their talent to bring attention to Ukraine. Seniors from the Westwood and Holliston COAs of varying talent levels, from beginner to advanced, lent their skills to the exhibit, which was on display through the month of June.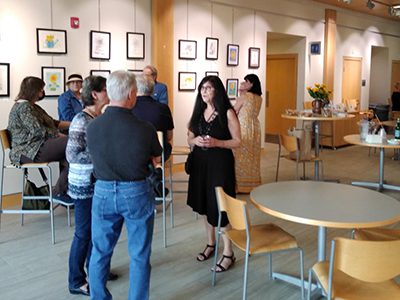 While the subject matter was consistent, the specific expressions differed: detailed grayscale graphite pencil sketches; colorful blue and yellow watercolor paintings; paintings of sunflowers in a watering can; sunflowers against an American flag background; a bird perched on a sunflower.
"I started this right after Ukraine was attacked by Russia in March of this year," Goldman said of the foundation of the exhibit. "I decided to have students in my classes contribute. We felt that since the sunflower is the national flower, we would honor the Ukraine in a way we could show our feelings and support with our artwork. During the course of several weeks of drawing and watercolor classes, a dozen were initially featured — and now over thirty artists and fifty two pieces are in the exhibit."
Goldman began adjusting classes to bring them online throughout the pandemic, and worked with students over Zoom. She set up a camera facing her workspace and showed her process of sketching a piece from a photograph. Keeping this in the classroom today, Goldman's setup features her iPad projected on screen for all to follow along. Goldman received a BFA from Maryland Institute College of Art close and uses it to guide her students with an interpretive, patient, and encouraging style. "A lot of that training is in my mind. I bring that with me. I try to teach with the techniques I used in school, but have fun doing it. We're here to have fun, but I want you to learn good skills and come out with good results."
Artists have always gotten involved and made unifying statements. Goldman aims to motivate students; she thrives when they express themselves, both in and out of class. The participation in the exhibit was astounding; each image spoke passionately about the subject and shows the level of empathy these artists possess for the Ukrainian people. The exhibit ran through the end of June, and Goldman notes there is another upcoming exhibit featuring her COA students in November at the Westwood Library.