Ned Richardson, the Grand Marshal of the event, speaks about his time in two different branches of the military.
By James Kinneen
Hometown Weekly Reporter
While it was originally scheduled to be held at the New Westwood Cemetery, because of rain, Westwood's Memorial Day ceremony was instead celebrated under a tent at Thurston Middle School. Noting the event's changes, the day began with Chris McEwan talking about how much there was that could be complained about, from the weather and lack of parade, to there not being the big flag flying off a Westwood ladder truck and the lack of school bands. "But we're here" he said "and that makes it all good."
The Westwood Girl Scouts led the Pledge of Allegiance, Father Paul Soper gave an invocation, and singer Dan Clark was introduced. While many things about the event were different, McEwan joked about how many years Clark had been performing, calling it the "umpteenth" time, which Clark responded by calling it "an umpteenth honor."
Clark talked about Katharine Lee Bates' climbing of Pike's Peak, which led to the creation of the poem that would ultimately become the song he sang, "America the Beautiful." Then, McEwan introduced Jonathan Cook, a Civil War re-enactor who works for the Westwood Fire Department, talk about the history of the Gettysburg Address, before a young Needham student read it.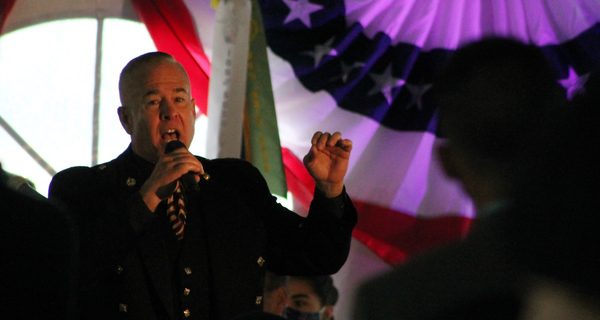 Cook noted that the address came at a crucial point in our nation's history, one in which the Confederacy had briefly managed to invade the North. Growing tired of the war, a large anti-war movement in the North was spreading and riots over the draft were occurring in New York. As Cook explained,
"The people needed to be reminded of what this war was about, and why we needed to persevere and preserve this Union the brave citizen soldiers were fighting and dying for."
Boston's own Edward Everett was the keynote speaker at Gettysburg, and spoke for two hours, only to be overshadowed by Lincoln's short speech that provided "a stirring reminder of the price that has been paid and importance in honoring this sacrifice."
After the speech was read, Clark gave a little background into the hymns of each military branch, before asking veterans to raise their hands when he sang the one for the branch in which they served.  
Senator Michael Rush, an Iraq veteran, spoke alongside his young son, James, who accompanied him to a few ceremonies on the day. He made note of the sacrifices of Gold Star families, including Gold Star mother Christine Devlin, who was at the ceremony. Later, Rush quoted General McArthur's saying: "I do not know the dignity of their birth, but I know the glory of their death. They died unquestioning, uncomplaining, with faith in their hearts and on their lips, the hope that we would go on to victory. Always for them, it was duty, honor and country."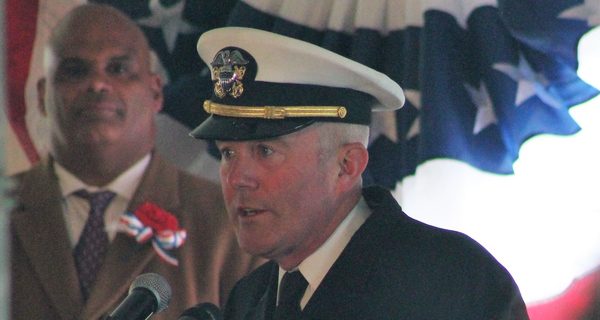 Representative Paul McMurtry spoke next, before Michael Walsh talked about how he drove by the National Cemetery in Bourne on Route 28, before asking the crowd to "pray for their families, because for their families, every day is Memorial Day." Soon after, Walsh spoke of how we should become more united as a country, by being a little nicer to our fellow Americans.
McEwan noted that one veteran in the crowd raised his hand twice while Clark was singing the military branch hymns, having served in both the Army and Coast Guard. That was Ned Richardson, a Suffolk Law grad who served as an Army artillery crewmen, Russian linguist and JAG core member, who was named the day's Grand Marshal, despite there being no parade.
Richardson was very humble, immediately pointing out he was not shot at, and won't pretend he was ever in the kind of danger those folks experienced. Still, he served in Berlin after graduating from the Army Language School in Monterey, California, where he studied "Russian, Russian and more Russian." In an attempt to clarify the work he was doing, he explained they were an intercept site, just like the USS Liberty and USS Pueblo.
As for the Coast Guard, Richardson noted that "like a good, traditional Irish American, I was looking for a government job" when he saw an ad for the Coast Guard. He went to Governor's Island and worked on oil pollution and maritime safety cases, as well as a few disability boards.
"It was an absolute privilege to wear my country's uniform," he declared after outlining his long military service. "I don't regret a minute of it. I learned something every day. I learned about my fellow countrymen. I learned about the world. I would not trade it for anything."
When Richardson left the stage, McEwan joked: "I was on a submarine for ten years and nobody shot at me, either," before telling Richardson, "but what you did, you were in a place of more danger and importance than you give yourself credit for."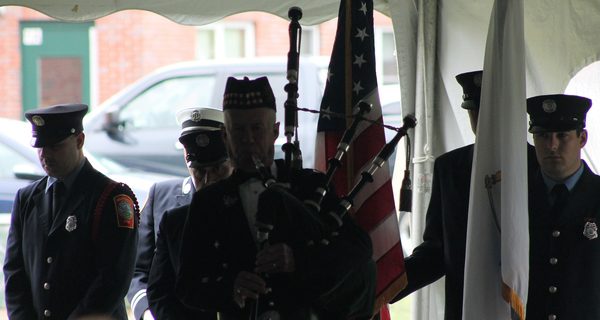 Richard Paster read General Logan's order that established Memorial Day, the National Anthem was sung, and the ceremony ended with the playing "Amazing Grace" on the bagpipes, the music trailing off as individuals walked to the parking lot.