[ccfic caption-text format="plaintext"]
By Rama K. Ramaswamy
As the community anticipates the 28th incarnation of the Wellesley Education Foundation (WEF) Annual Spelling Bee, casual observers might find themselves with a question:
The WEF co-presidents are Erica Recht and Susan Ryan. The co-VPs are Maria Chase and Victoria Ostler. The 2017 Spelling Bee co-chairs are Eunice Groark and Rebecca Cahaly. But who are the members of the team that put together the list of words that will be featured?
WEF board members Yolanda Tong and Lisa Hicks, with the help of former spelling bee team members Ann Rappaport and Pamela Posey, are all too glad to describe the intriguing, behind-the-scenes process of being the wordsmiths responsible for this year's study guide.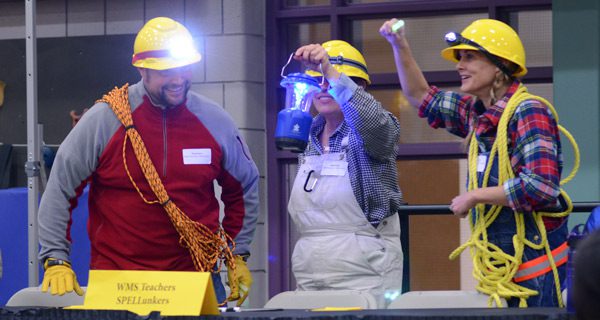 "We get together and go through all the lists and categories in the current study guide," explains Tong. "Having former spelling bee team members is very helpful, as they've sat up there at the bee stage and have experienced the process. We choose a variety of easy, intermediate and difficult level words. With just 25 seconds to spell, three members on a team and nerves, even your easy or intermediate words may become your difficult. We try to be topical to make it fun. Then we look up definitions, pronunciations, and make up sentences - all put together in a top secret slide presentation and binders for the judges. I'm afraid to even let my family see these," Tong admits.
She also makes it a point to thank Susan Clapham and KC Kato, "who took on this project for the years before us."
"One criteria we used was thematic - which words have particular resonance given current events?" adds Pamela Posey. "The challenge is always trying to balance the easy/familiar with the 'what the heck is that word?'"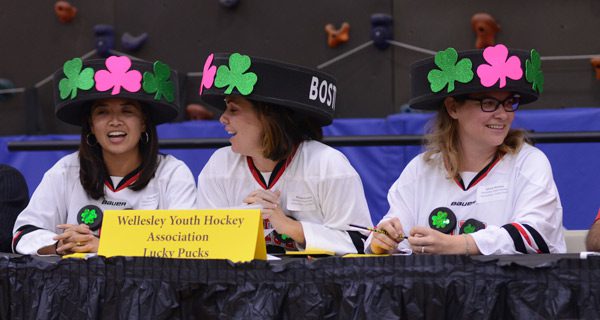 Yolanda hopes that "each speller comes away with at least one favorite new word they learned. We do each look up about 40 new words. It's been fun, as some are archaic words from classic literature, some are scientific terms, and some just entertaining. Last year my fave word was psephology - the scientific study of elections."
Ann Rappaport, meanwhile, confesses that she didn't think she knew "the meaning of most of the 43 advanced words that I looked up … even though, as a former speller, I recognized some of them from previous years. When you are learning the word lists as a speller, you don't have to know what they mean and it takes too long to look them all up, so basically you just memorize them. Each of us on the Word Selection Team looked up about 40 words and came up with a pronunciation, definition, and a sentence for each of them - we add about 150 new words to the master list each year though, of course, many of them won't be used for this Bee."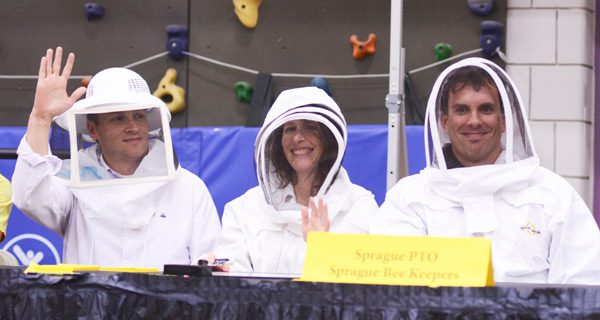 "Thank goodness for online dictionaries!" says Tong, addressing the amount of time spent on the meticulous process. "I once saw Susan [Clapham] with ten hardcopy dictionaries she was checking out of the library. I think for me, the most time is taken up with using the word in a sentence."
"It took me about three hours to look up the 43 words," adds Rappaport. "Some were readily found but others are so obscure that Google couldn't locate many relevant results. To help the spellers, I tried to find "historic" sentences where possible, which were not just recapitulations of the definitions, but would add context to the words."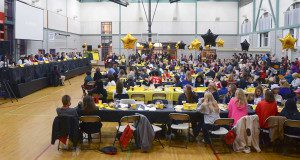 By now, if you're not wondering why these brave philologists took on this task, you'd be in the minority.
"This is my second year on the Word Selection Team," continues Rappaport. "I was a two-time Bee winner [with Pamela Posey and Katie Smith Milway], spelling for the Green Team in 2007 and 2008, and I thought it would be fun to be on the other side of the table! Plus, I know from personal experience which words are hard - for me, it is not the odd-looking advanced words, but the intermediate words where it is easy to confuse -ant and -ent or -able and -ible."
"Having participated in the Bee a few times since 1994, including being on the Green Team, which scored two wins," confesses Posey, "you soon find out how much fun it can be - for a great cause!"
Yes, she said "fun."
When asked what each of these team members likes about the Bee, Yolanda said,
"It's a great night that involves our students, schools, and community partners - what WEF is all about," says Tong.
"I love the team spirit award, as the teams have been increasingly creative with their costumes," adds Rappaport. "The Bee is a great community event, where 'word nerds' get a chance to shine! Everyone at the Bee has a blast working together to raise money for WEF, a valuable community resource. What's not to like?!"
"Every part of it is fun, even hilarious at moments, with a great mix of people onstage," reiterates Posey. "It doesn't matter if you study hard or just give it your best guess. The Bee is a great opportunity to bring attention to a worthy cause - in the Green Team's case, advocacy for sustainable design in the new high school."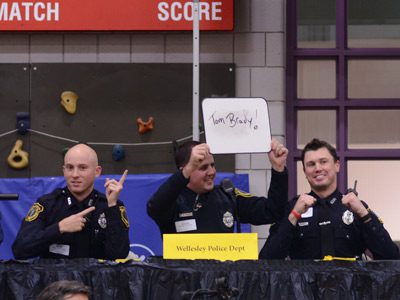 "No one can deny that Wellesley High School looks fantastic and functions even better," adds a WEF board member, "sustaining and serving students in keeping with Wellesley Education Foundation's mission - to invest in programs that enhance, enrich and maintain educational excellence and foster innovation in the Wellesley Public Schools, every day".
WEF co-president Susan Ryan sums it up: "We are all looking forward to another great WEF Spelling Bee, which brings together so many members of our community. As our most important fundraiser, it's not only a fun-filled evening, but also an event that directly helps WEF support excellence and innovation in the Wellesley Public Schools."
To donate to WEF, visit https://wellesleyeducationfoundation.org/ways-to-donate/make-a-donation.
To see the grants awarded by WEF in the last two years, visit https://wellesleyeducationfoundation.org/component/customwef/?view=approvals.
To see WEF's grants in action, visit https://youtu.be/h7mJqSikrSc.