By Peter Kougias
Hometown Weekly Intern
In August of 1977, an Italian horror movie slipped into American drive-ins and grindhouse theaters. While promoted as a sleazy exploitation flick, "Suspiria" has lived on as a dashing example of horror film class.
"Suspiria" tells the story of American student, Suzy Bannion (Jessica Harper), who travels to prestigious Tanz Dance Academy in Germany. The night see arrives, a student flees and is brutally murdered. As Suzy dances her way through the school, she embarks on a quest discovering dark forces hidden within the acclaimed institution.
Co-written by Daria Nicolodi, she based the screenplay on a story her grandmother told her. Supposedly, she attended a school that was run by black magic, so she eventually fled.
The infamous Dario Argento, who directed the film, set out to create a mature Grimm's Fairy Tale. Inspired by Walt Disney's "Snow White and The Seven Dwarfs," Argento incorporated the cartoon's color palette for a whimsical look. To achieve the aesthetic, "Suspiria" was filmed in Technicolor; it is one of the last films to utilize this technique.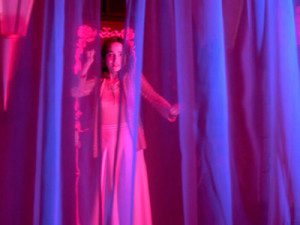 Argento originally wanted preteens to play the role of the students to reference the classic tales. However, his father and executive producer, Salvatore Argento, urged him to change the ages to 18 and higher to prevent backlash from distributors. Argento had the set door knobs placed at eye level to parallel the adults as children.
After four decades, "Suspiria" continues to cast its hypnotic spell. The extravagant neon lighting illuminates the modern setting into a fantasy world, accompanied by the eerie soundtrack by rock band, Goblin. It's the tunnel scene in the original "Willy Wonka" for the entire hour and a half - Suzy's search through the dance academy is a psychedelic trip down the rabbit hole and back.
The haunting imagery has gone on to inspire Nicolas Winding Refn's recent film, "The Neon Demon," a movie about an aspiring model (Elle Fanning) who discovers the twisted truth behind Hollywood's fame.
A remake starring Tilda Swinton, Chloe Grace Moretz, and Dakota Johnson is in production. A lavish 4k restoration by Synapse Films on Blu-ray is scheduled for fall release.
For audiences looking for the full supernatural experience, however, 20th Century Fox is re-releasing the film to theaters for its 40th anniversary.