Jim Govatsos waves his "Thin Blue Line" flag in front of a Walpole PD cruiser as he corrals the crowd from behind.
By James Kinneen
Hometown Weekly Reporter
Around the country, it seems like the police are struggling to find allies.
On the left, there are calls to defund or entirely dismantle police departments. In their eyes, the history of American policing is said to trace back to slave-catching patrols; calling the police on a person of color committing any nonviolent crime is considered needlessly putting their life in danger; and studies showing communities effectively policing themselves are consistently cited as proof the police are largely unnecessary. (Interestingly, one of the examples they most often cite is the apparent harmonious balance the inmates struck, sans guards, during the 1973 Walpole Prison strike.)
"Where are the police. Why aren't they stopping this?" is the cry often heard from the right, as they watch mobs pull down statues and uninterruptedly loot stores. Even while acknowledging mayors are issuing stand-down orders, a group that is always looking to cut taxes and privatize industries is wondering what they're paying all this tax money for.
While the police might not have many vocal supporters on a national level at the moment, they had plenty of them in Walpole on Saturday afternoon. Following a town meeting that saw a 3 percent budget increase for the Police Department, despite the ninety-degree heat, hundreds of supporters either walked or drove from the high school to the police station in support of Walpole PD.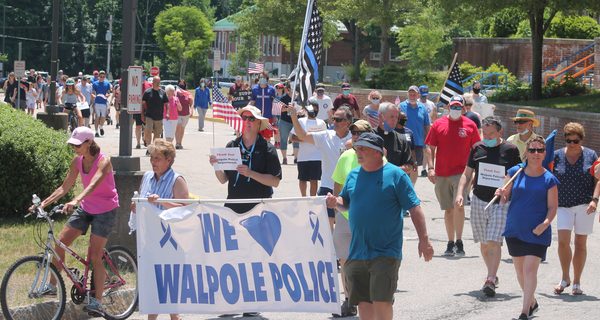 Across from the station, following a moment of silence for those officers lost in the line of duty and the COVID-19 pandemic worldwide, Fr. John Healy from the Blessed Sacrament Church said a prayer. Then, the Pledge of Allegiance was recited, and eighth grader Alex Richardson sang the National Anthem.
Event organizer Jim Govatsos then spoke about how disturbed he was with the anti-police sentiment he has seen across the country, and how he wanted to organize the march to show how much the town appreciates their police department.
"Watching the nightly news and hearing reports of how the police in our country were being portrayed in such a negative light was difficult to comprehend," he told the crowd. "The image of one wrong officer being shown hour after hour seemed to tarnish all police officers. This really upset us. The press suggested police should not be trusted and hinted it was okay to target them as some enemy of the people. Nothing could be further from the truth. They deserve our respect and support. Our WPD deserve our support and gratitude. My wife and I decided a celebration was the way to show our police department that we believe in them."
After citing that 57 police officers have lost their lives so far in 2020 and that 26 have been killed in felonious acts, Govatsos addressed potential criticisms of the rally.
"Some people suggested that we not organize this support rally or said it could be too controversial or that it's not the right time. Well, I think by looking out on this crowd, the fact that you're here says we are doing the right thing."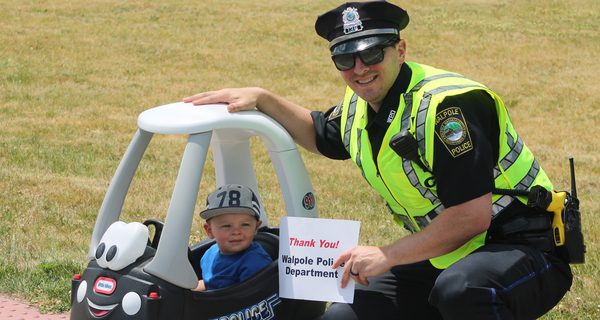 Next, David Salvatore from the Board of Selectmen gave a speech arguing that the issue with something like defunding is that salaries are effectively fixed, so the only place you could pull money from would be training. "Don't defund our police," he argued. "Give them more money, and let them get the training they need."
Critics of this "fixed salary" stance would likely point to Camden, New Jersey, where the Police Department was disbanded, unionized officers were laid off, a county-wide police force was created, and the laid off officers were rehired as county employees at much lower salaries.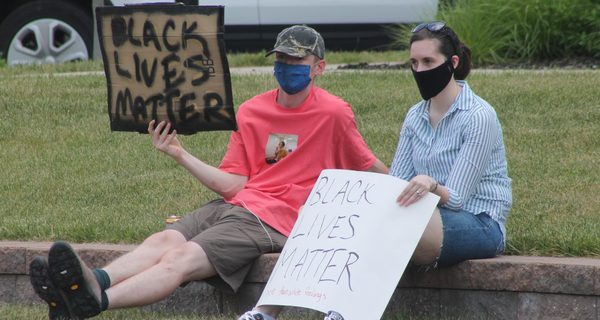 Salvatore noted that the effects of the rally may not last long in the face of some of the more hardcore negativity, but that at least the town is showing support.
"I understand the frustrations of the black community. I understand that racism is an important issue. It doesn't get fixed overnight, and it certainly doesn't get fixed by getting rid of police officers. Even in Walpole, there are people giving police a hard time, saying nasty things, making nasty gestures at them, and these guys take it to heart. They feel it. So, it was good that as a community we were able to give them a little bit of a boost. Maybe it will last a week, maybe it will last a little bit longer, but they know that we're here for them. That's what's important."
Finally, Walpole Police Chief John Carmichael was presented a plaque of appreciation and gave a brief speech about how much it meant to him. After, he noted how much he appreciated both the event and the large crowd that showed up.
"It's very heartwarming. We're very overwhelmed. Coming out of the winter and then the COVID pandemic hitting, we just continued to come to work and do our job, and kind of balance both things that were going on at the same time. I did mention the issues going on in policing right now, the willingness and desire and focus to change some of the things we're seeing out there. You have to do that as a community. The reason why we engage the community so often and so hard is for when things aren't as good, you have that support. That's what it's all about, establishing police legitimacy, and mutual trust. It was evident today that in hard times, communities like Walpole are cohesive - they come together and support each other."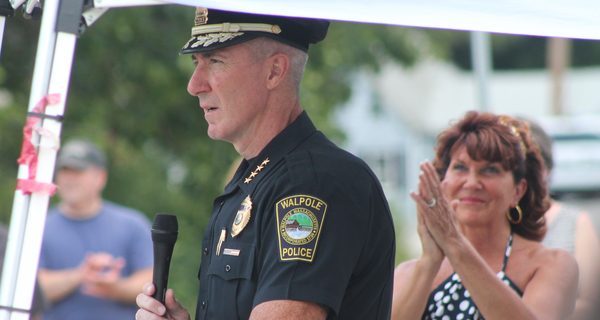 Not everyone there was looking to declare their support for police nationwide. Holding a sign that read "Black Lives Matter (more than white feelings)," Katie Dungar noted she wanted to try to keep some perspective on why the protests and calls for reform have been happening across the country.
"I'm here today because I think it's important to remember that the world of policing is larger than our community. And that across the country, black communities are protesting for their right not to be murdered. The world's bigger than us."
When asked if she heard anything she fundamentally disagreed with in the various speeches given, Dungar noted: "I think they spent a lot more time talking about how they save dogs than how they are going to empower black lives."
Speaking of dogs, if Walpole PD is looking for an easy reform they could make to gain more support from certain Walpole constituencies, there is an obvious one they might consider. Rebel, the police's community resource dog, was on hand, and given a couple of shout-outs from various speakers at the rally.
But given its connection to Confederate imagery, if Rebel is too controversial in the town of Walpole to be a high school mascot, is this really the best name for a police dog meant to provide emotional support? Carmichael said that nobody has expressed concern about the name yet, but that if it was an issue, they'd consider a change.
"I don't know. We have to look at that. It's not really related to anything; some kids picked the name when we got her, so she kind of came with the name. If people had an issue with it, obviously it would be something we'd look at."