There are more vendors than last year - and more room, should a larger number of vendors want to take part.
By James Kinneen
Hometown Weekly Reporter
Featuring vendors as varied as a Medfield restaurant, a trading card and collectible business, three farmers and the Walpole Girl Scouts, from now until October 23, the Walpole Farmer's Market will be running every Saturday from 9 a.m. to 1 p.m. While the market ran last year, this year there will be fewer rules, more vendors, and if it's opening weekend (which saw tons of people visit despite overcast weather and morning rain), larger crowds.
The manager of the Walpole Farmer's Market, Carol Johnson, noted the myriad differences between last year's market and this year's.
"We no longer have to wear masks, because it's outdoors. We have decided to offer a map this year, so if you're a full-time vendor, you have a permanent location. It's not that you show up and Carol tells you 'you have to go here this week.' We have some vendors that come occasionally, some come consistently; there's a whole variety. And we have more nonprofits this year."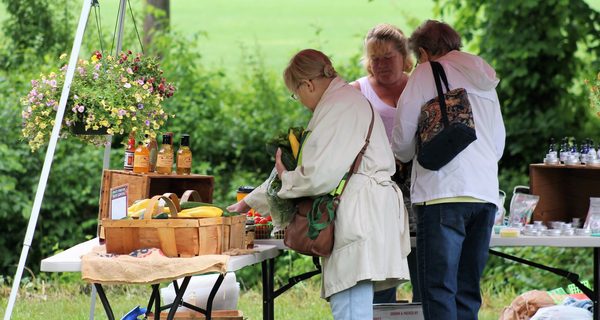 Some of those nonprofits include the Walpole VFW Auxiliary, Walpole Recycling, Teen Challenge and the Girl Scouts. Johnson very much appreciates the help she's getting from another scouting group, The Boy Scouts, who help open and close the market.
"We also have more volunteers this year," Johnson explained. "We have volunteers from the Boy Scouts who come when we open and they will help us open up, and they come when we close and help everybody break down. The Girl Scouts are here with a both, and they'll be here every week. I think it's important to recognize the scouting groups here in Walpole that do a wonderful job with our kids."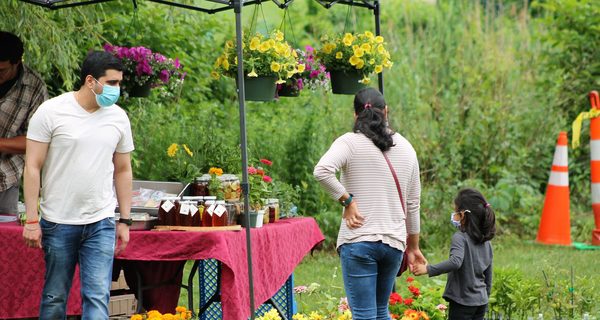 Johnson explained there are also three local farms represented, as "in order to be a farmer's market you need to have at least two farmers, and we have three that are always here. They never miss a Saturday. We could have more farmers, but I don't want the competition. They compete with each other, but each has their own specialty, too."
The very clear entrance and exit - which were put in place to facilitate social distancing, much like grocery stores began specifying which way customers were supposed to walk down each aisle - remain in place, though other COVID restrictions have been loosened. But while the clear entrance and exit points would help in the event of any possible COVID outbreak, Johnson explained another added benefit is that it makes sure shoppers are walking throughout the whole market, not just visiting to a specific vendor and turning around.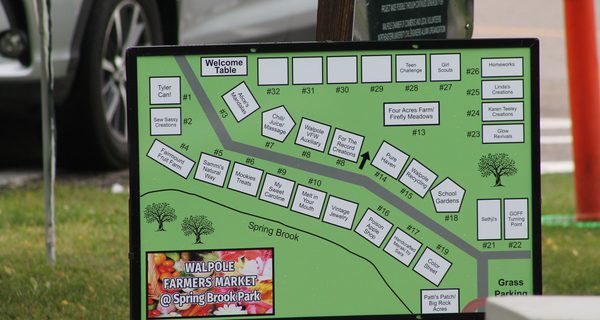 "We had to do it last year because of COVID, but another reason to do it this year is to encourage people to go through the whole market. We want a good flow so that people see who is here."
If Saturday was any indication, the shoppers at the Walpole Farmer's Market will continue to flow, week in and week out.