The Epiphany Parish pumpkin patch will run to October 31.
By James Kinneen
Hometown Weekly Reporter
So many annual traditions have gone by the wayside this year due to COVID-19, and we are fast approaching every town and family having to make a decision on whether trick-or-treating will be one of them. But if you've driven through Walpole Center lately, you've likely noticed that one of the town events people look forward to every year, the Epiphany Parish pumpkin patch, is happening right on time.
Well, very close to on time.
The pumpkins actually came a day late, so the patch opened on Sunday, October 4, not Saturday as planned. Still, this was an extremely minor hiccup when you realize how much work went into making sure the event ran smoothly.
One of the major differences this year was that the usual pumpkin offloading process did not involve a lot of people. This time, they used a forklift and forklift driver donated from a local business to replace the crowd of church volunteers.
"We usually have a lot of people here to unload, so we actually had the pumpkins delivered in bins this year, so that we were able to have them forklifted off the truck without needing a line of volunteers to pass them off the truck," said Alison DiPasca. "That was definitely different this year."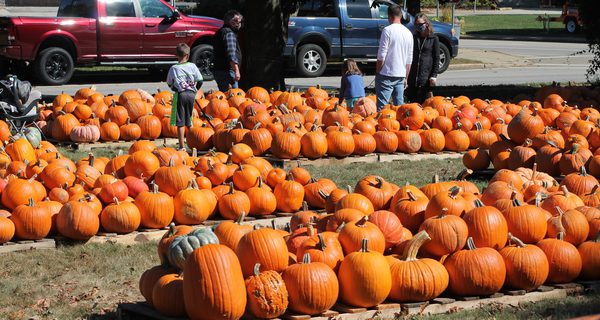 When asked how close the patch was to not happening, she replied: "We deliberated, we prayed, and we decided we needed it." Still, to make sure things went well, the church sought the help of the town board of health to device some new rules for the pumpkin pickers.
"Masks are required. We do have social distancing and mask-wearing signs in the patch. For our wagons that we use, we have people return them here, we disinfect them and return clean ones to the other side, or people can feel free to bring their own, also. We're outdoors, so that's in our favor, and we're trying to keep our spaces open. We consulted with the town health department and kind of looked at what other farmer's markets were doing. We do it not only for us, but also for the community, so we kind of felt that we all needed it, not just the church but the town. So, we hope that people will come visit us in the patch."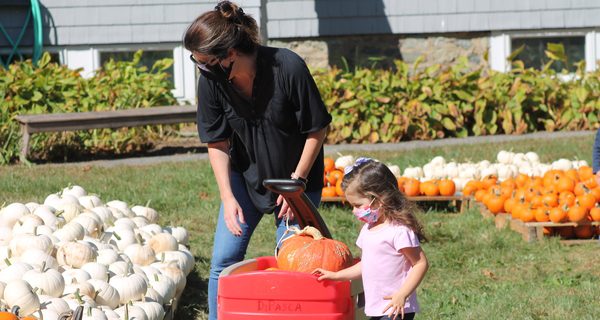 While Walpole might need the patch for a fun activity, the Navajo Nation needs it for their wellbeing. While there are corn stalks and mums from a local Walpole farm, the pumpkins are consigned from a Navajo reservation in Farmington, New Mexico, where more than 1,000 Native Americans are employed each pumpkin season.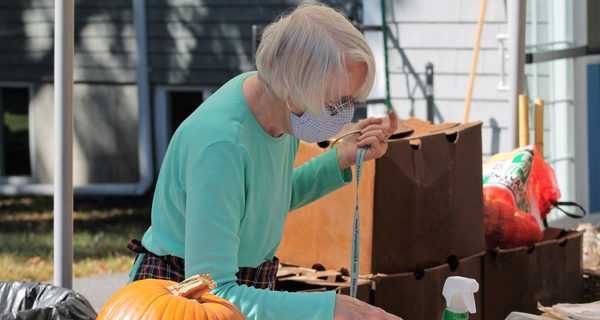 "It's a fundraiser for our church," Christen Mills explained. "We keep a percentage of the funds and then the rest goes back to the fundraising company. And then this year, we're also donating ten percent of our proceeds to charities on the Navajo Nation reservation to support ministries of the Episcopal churches there, this year."
Who knows what the next annual event to be cancelled due to virus concerns will be, and how that will impact charitable donations. For now, at least the Epiphany Parish pumpkin patch isn't one of them.