By Lauren Schiavone
Hometown Weekly staff
The Walpole Council on Aging got creative on Monday afternoon, August 1, with an Introduction to Watercolor class — a perfect fresh beginning to the new month.
This being the first introductory class of the season, instructor Mary Huck let artists explore and freestyle their work — though she typically structures class based off teaching one technique or picture. The talent in the room was palpable as artists sketched and taped reference pictures of lovely florals to their canvases for reference. Some even conceptualized their own designs and got painting right away.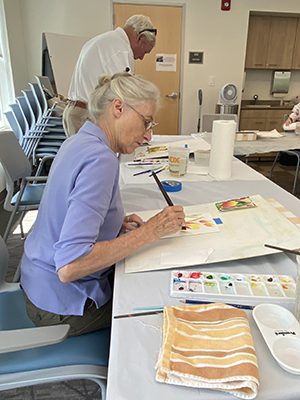 Whilst discussing travel plans and summer weather, Huck described a particularly idyllic recent trip to Bermuda. The pink sands and endless skies are, of course, something marvelous to memorialize in watercolor. Huck is also heavily influenced by Alfred Birdsey, a resident of the island. On a previous trip, she recalled: "I met Birdsey, a local artist in Bermuda. I met him at his workshop. He's a very free watercolor artist." Birdsey's technique involves light strokes and shadows of watercolor with simple black outlines.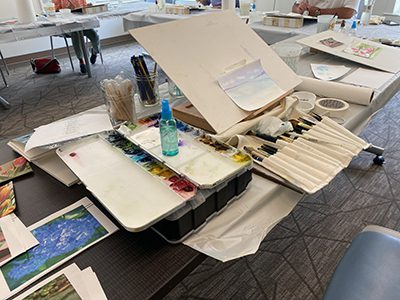 Huck takes notes of these techniques and brings them to her own classes; hydrangeas, tulips and butterfly garden photographs lend themselves to interpretation for the day.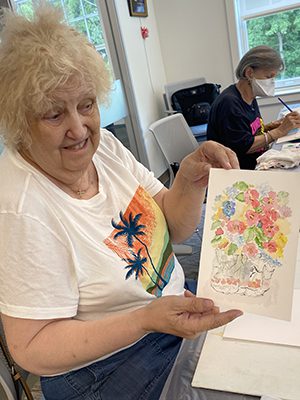 Encouraging artists to paint for enjoyment and trust the process, Huck tells the class, as she does every time: "It's your interpretation; that's what art is." The companionship is another aspect that keeps seniors motivated, in and out of art class. Patient and uplifting friends make the environment conducive to creating something special.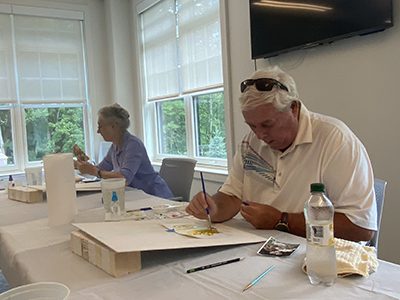 Soft jazz instrumentals played in the background on the day as seniors focused on capturing the essence of their photographs. Huck offered tools, such as drying paintings with a hair dryer used for drying painting between layers to ensure a workable canvas. These artists created beautiful works, full of color and intensely individual. Walpole Council on Aging has an accessible events calendar on their website https://www.walpole-ma.gov/council-on-aging, as well as their Facebook page.