By Lauren Schiavone
Hometown Weekly Staff
Walpole's Adams Farm, just over the border from Westwood, opened its barn doors to Matt Tremble and The Dane Street Project on Saturday, July 30. The afternoon of free music, hosted by the Friends of Adams Farm, drew quite the crowd. Guests brought lawn chairs, blankets, and their favorite snacks to relax by the barn.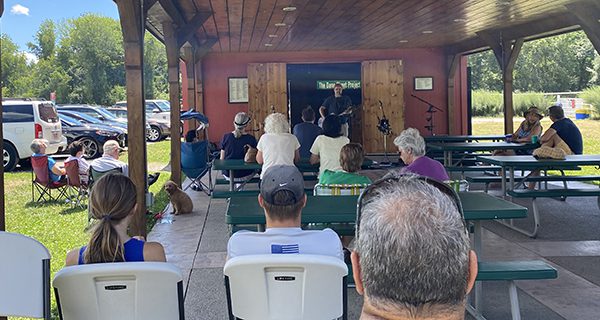 You may know Matt Tremble as one third of Groovy Situation, a local '60s and '70s cover band. Even without the aid of his bandmates, Tremble is just as masterful at entertaining an audience and storytelling through well-curated covers. The windy weather brought some laughs at Tremble's expense as the audience got a taste of his comedy, in addition to his music. While wind rattled his equipment (and friends duct-taped it to stay in place), Tremble took requests from the audience; his skilled acoustic guitar stylings and relaxed timbre on "Sweet Caroline" and '70s mash-ups could be heard all throughout Adams Farm as the audience exceeded seating at the picnic tables.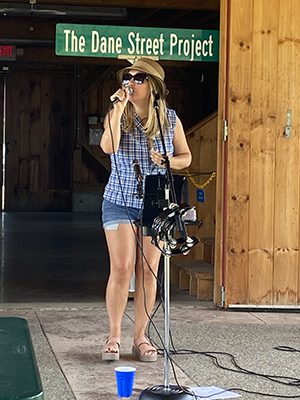 With a thank-you from the President of the Friends of Adams Farm Board Roy Noepel, The Dane Street Project began their acoustic set at 1 p.m. Comprised of husband and wife Jennifer Robinson (vocals and percussion) and Peter Wieselquist (vocals, acoustic guitar), joined with Dean Bagdasarian (vocals, bass), the band formed pre-pandemic.
"The mix of our voices, the instrumentation and the material is well-received. We're grateful for that and we're happy we can play on a regular basis," Wieselquist said. Both he and Bagdasarian have been gigging for decades. "We're influenced by sixties folk and contemporary mellow pop." The three brought heartfelt lyrics and soulful performances to folk and pop tunes. Covers filled with percussion showcased their dynamics as a unit, as well as individually. Robinson's vocals on Carly Simon's "You're So Vain" and Joni Mitchell's "Big Yellow Taxi" proved the band is extremely adaptable as they supported each other vocally.
Audience members were able to chill out on a beautiful day and enjoy some incredible music. The views were breathtaking, too, as Adams Farm is 400 acres of beautiful local scenery: hiking trails and gardens make this a go-to spot for anyone who loves to explore the outdoors and get a sense of what the community has to offer.
More information on concerts and community events can be found at https://adams-farm.com/