TJ Casey breaks out a huge fourth quarter run, but is brought down at the goal line by Jack McDaniels.
By James Kinneen
Hometown Weekly Reporter
Westwood fans clad in white wigs, white tutus, with painted white faces and bodies covered in talcum powder stormed the field on Friday night after the Wolverines won their first game of the season, 13-6, against neighboring Medfield.
But while it was nothing but adulation for the Wolverines, for the Warriors it was nothing but frustration, as despite numerous miscues including blocked punts and a bunch of turnovers, after finding a rhythm late in the game, they still had a chance to win late in the fourth quarter but couldn't convert.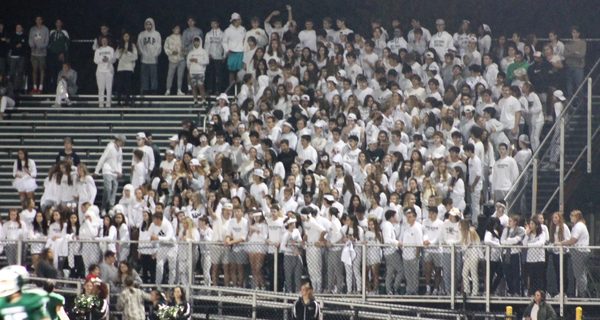 The first half was not a pretty one from Medfield. After a Warrior fumble led to a George Maroun touchdown run midway through the first quarter, Medfield's Nick Hasapidis threw an interception soon after. Not much happened after, though, and Westwood led, 7-0, with the ball around midfield after one.
After some strong runs from Maroun and Joey Toti, Brendan Donegan connected on a long pass to Tommy Kane for a touchdown. Medfield managed to block the extra point, which didn't seem like a huge deal at the time, considering Westwood seemed so dominant on defense.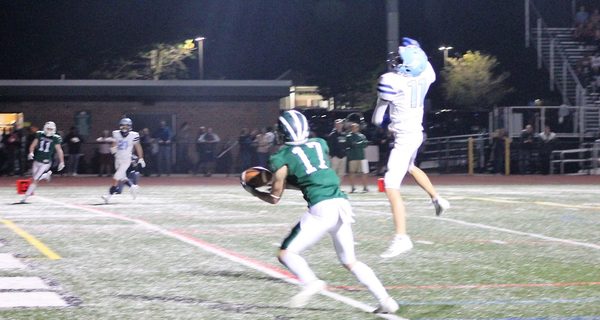 When Medfield got the ball back, a Trent O'Shea sack, highlighted by a celebratory flex, led to third-and-12. But Nick Hasapidis converted with a nice throw and catch to Nick Gangemi. After a few good runs, Hasapidis threw another interception, stopping the drive with about two and a half minutes until the half. However, after a crushing hit by TJ Casey on second down, Donegan threw an incomplete pass on third and Medfield suddenly had the ball with about two minutes left in the half. They couldn't do much with it, though, and had their punt blocked on fourth down. Luckily for Medfield, a few costly Westwood penalties forced the Wolverines to run the draw, run the clock, and go into the half up 13-0.
With Westwood seemingly dominating, the bleachers grew as various other Wolverine games ended, and a shirtless young man emerged from the crowd to help the cheerleaders hype up the crowd, eventually failing on three straight backflip attempts. The jubilant crowd, for good reason, assumed this game was a sure Wolverine victory.
That feeling continued well into the third quarter, when a chop block and a snap over the quarterback's head had Medfield looking for their best third-and-45 play. They ran a draw play and didn't convert, but Westwood couldn't do anything with the ball, either, and the game remained 13-0 after three quarters.
The fourth quarter was where the game turned.
Medfield seemed to be finding an offensive rhythm after a Will Griffin run and a TJ Casey catch -- on which he ran over a defender -- got the ball to Westwood's 33 yard line. But a sack from Colin Roper and a scramble that didn't do much meant Medfield would be going for it on fourth-and-17. They couldn't convert on a throw to TJ Casey, and Westwood took the ball at their own 44, with 6:52 left in the game.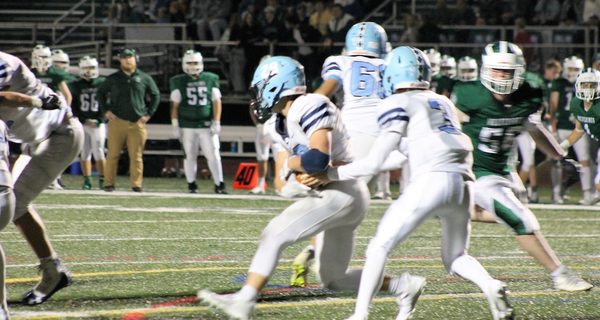 Westwood threw twice on the ensuing possession, missing both throws and not taking much time off the clock. They punted to the Medfield 19, with about 6:30 left in the game. Suddenly, TJ Casey broke off a 73 yard run, being brought down at the one before punching it in himself on the next play. After the extra point, there were suddenly over five minutes left in the game and Medfield was just one score down.
After a failed onside kick, the Medfield defense stepped up and forced a punt, giving their offense the ball on their own 37 after a Will Griffin return with about three minutes left in the game. Medfield leaned on TJ Casey, then a big catch by Cole Cloney had the ball at the Westwood 27 with 2:13 left. After two TJ Casey runs, Medfield had third-and-3 at the Westwood 21. A huge pass breakup by Ryan Pezzuto led to fourth-and-3. With the crowd screaming, Medfield ran the ball, only to see Will Griffin stopped by Mark Homsy to end the game with a turnover on downs.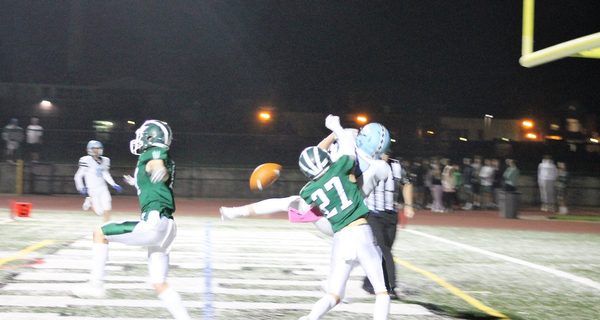 Dropping to 0-5, Medfield coach Erik Ormberg noted that the game would have been hugely different had they not played so poorly in the first half.
"I think we didn't do ourselves any favors with three turnovers and a blocked punt. We came out of the half defensively, made some adjustments and shut them down in the second half. Our offense finally woke up behind our running back, TJ Casey. And our special teams put us in a position to win, we just couldn't finish the job."
Still, Ormberg saw some great effort from many of his players, and a solid learning experience for his team overall.
"I think we're getting a really good effort out of Sam Patry, and a really good effort out of our sophomore, Will Griffin. Our offensive line held up there at the end on a couple of charges we made at the end. Cole Cloney is playing his heart out. And Max Gobin's doing a very nice job defensively for us, trying to get behind the line of scrimmage to make some tackles for a loss. Footbal's a very humbling thing. Westwood hasn't won a game in a long time, so I think they treated this like their Super Bowl. There's a lot for us to learn from this about not giving away a half like we did, but they showed a lot of perseverance at the end and that's always something you can build on at the midpoint of the season."
"Treated this like their Super Bowl" may actually have been an understatement. Winning their first game of the year to move to 1-4, Westwood's fans stormed the field and mobbed the Wolverine players, taking a while to clear out.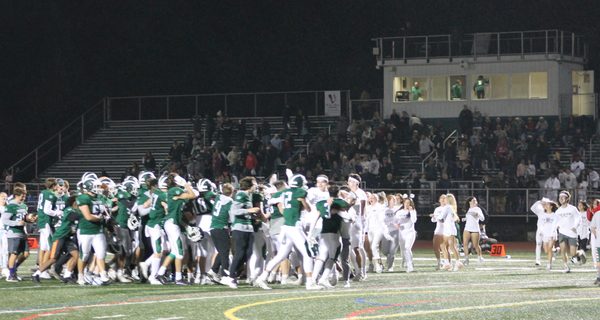 While what kind of win warrants a field-storming is a constant debate, Coach Brad Pindel was happy to see it and to see that, despite the team's struggles, the fans were still so invested in their success.   
"I think it's great. We've had a tough start to the season and it's great to have that kind of support from your peers and from the school community. They came out and they were excited for these kids who have worked so hard, and finally came out with a "W."
But while the 12th man is great, it's the eleven on the field that really matter. While coach Pindel wanted to applaud Medfield for their toughness and ability to come back and almost win the game, he explained that the victory came as a result of his team playing together.
"I thought both teams played really well. They came out and gave us everything they had. Our kids came ready to play, it was senior night, they were fired up. And they sold out for one another and came out with a big 'W.' George Maroun had a great game. Tommy Cain had a couple of nice interceptions and a nice touchdown catch. Joe Chavitz was awesome at linebacker and our D played out of their minds. They played together and did the best they could. It's that kind of teamwork that gets you a 'W.'"