Westwood had a ton of shots on goal as their pressure bothered the Raiders.
By James Kinneen
Hometown Weekly Reporter
On Wednesday night, at the end of what was a 6-0 win for the Westwood field hockey team against Dover-Sherborn, the woman filming the game for the Raiders told their coach she'd run into some technical difficulties and may not have recorded the final half of the game. Although DS Coach Molly McGill quite rightfully applauded her team's ability to keep playing hard while so far behind on the scoreboard, the tape being lost was perhaps fitting on what was a forgettable evening for the Raiders.
The first quarter was close. With both benches really involved in the game; loudly cheering from the sidelines, Westwood was dominating, but Dover-Sherborn had enough chances on the counter to keep them in the game. After a scoreless drought, with a little over five minutes left in the quarter, a pretty backhand gave the Wolverines their first goal. A nice save about three minutes later kept the Raiders scoreless, and the first quarter ended at 1-0, Westwood.
Less than a minute into the second quarter and Westwood scored again. They'd add another one on a clean breakaway soon after to go into the half up, 3-0.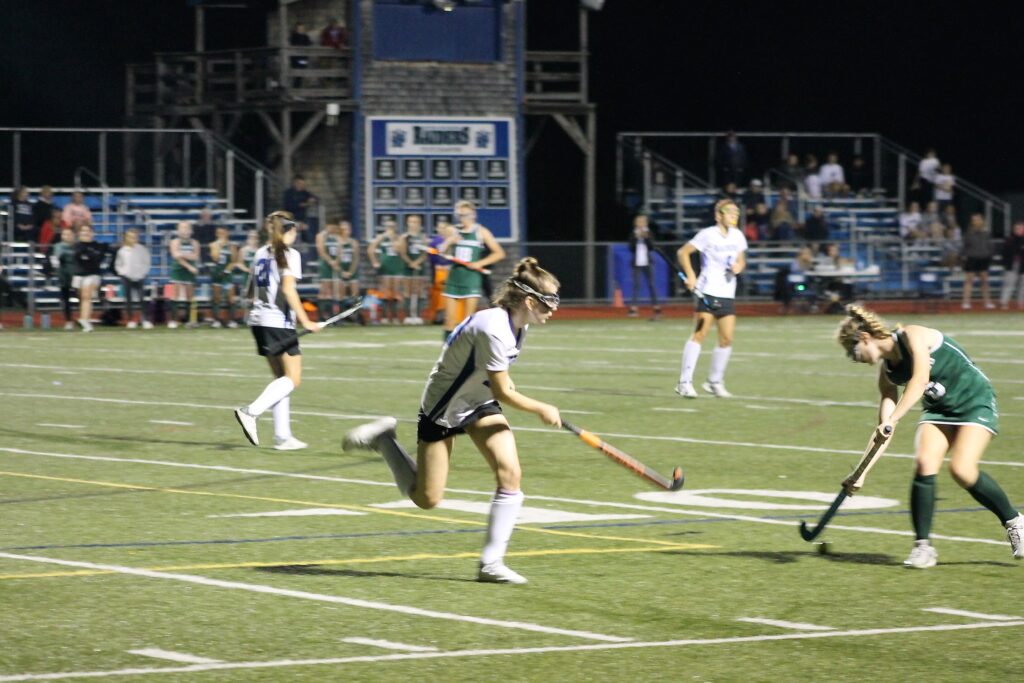 In the first five minutes of the third quarter, Westwood scored three times with few notable moments from DS, though they did play hard enough to keep the Wolverines from adding any more goals in the fourth quarter.
What went so well for the undefeated (save for a tie with Holliston) Wolverines? According to coach Heather Joyce, for the first time all year, they were really playing like a team.
"I think today we finally played like a team. We were able to use each other and play a lot smarter, instead of as individuals, than we have for the past five games. So it was nice to see them put that together."
Joyce pointed to the play of Mia O'Donnell, who had three goals and an assist, as well as Lindsey Diomede (who also scored), Kendall Blomquist (who scored as well) and Kate Deehan. She also applauded goaltender Amelia Cogan, noting "they're all seniors and they all really led their team well tonight."
Joyce also applauded DS, noting that they're a good team and that had they caught a couple breaks, the game would have been much closer.
"There were a couple times Dover had some unlucky breaks with wide balls or whatever. It didn't feel like a 6-0 game. I thought they played well, their ball movement was outstanding, and Molly is an outstanding coach. I do feel like if we played them again, it would be a much closer game."
Dropping to 5-2 (the other loss was to Westwood), DS Coach Molly McGill wasn't satisfied with the result, but she didn't think her team played especially poorly. Instead, when pressed on what happened after the game, she pointed to how well coached and athletic Westwood is.
"We all knew coming into his game that Westwood is a fantastic team. I think they're extremely athletic and really well coached. Obviously not the score I was hoping for -- I was hoping for a little bit closer of a game -- but I'm proud of my girls. They fought til the end. That's a tough situation to be in when you're down six, just keeping your head up. I'm proud of them, but this is not what I wanted."
She pointed to sophomore Drew Hasar's play as a highlight, explaining that even late in the game, when she was shifting players around down so many goals, she though the team needed her on the field. Because of her play, after the game, Hasar was crowned with a hamburger hat -- which is Dover-Sherborn field hockey's highest honor.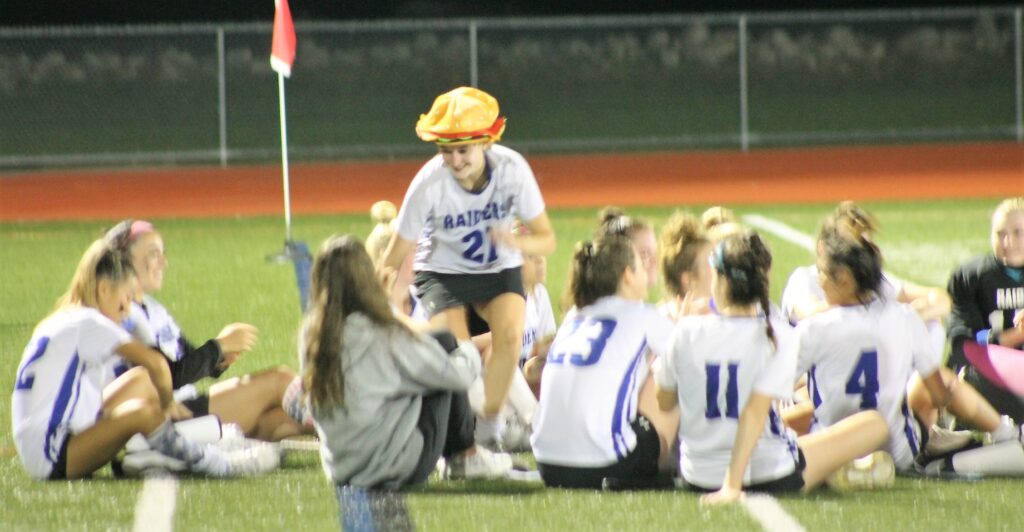 "That's our Big MAC Award. MAC stands for most aggressive competitor, and I gave it to Drew because I thought she played a really, despite the score and the situation, a really good and complete game. I was proud of her, so I wanted to recognize her for that."
Looking forward to the rest of the season, coach McGill said her team needed to have a short memory, but believed the team could grow from the loss.
"There are a lot of positives we could take away from that, and I think it's really good experience to play against such an athletic and well-coached team like Westwood."