Michael Noone's midrange jump shot put Westwood up for good.
By James Kinneen
Hometown Weekly Reporter
Michael Noone was second to none on Friday night, draining a midrange jump shot that put Westwood ahead for good with a little over eight seconds left in the game. Westwood was up, 63-62, at the time, with the jumper putting them up by three at 65-62. James McGowan would steal the inbounds and hit both his free throws after being fouled to give himself thirty points on the night immediately after, to essentially give Westwood the 66-63 victory. While the Warriors should be proud of the fight they showed, they will likely look back at some key mistakes in the final minute that cost them a home game they could have won.
That's not to say that Westwood deserved to lose. In fact, from the Wolverines' perspective, the contest should never have been as close as it was, seeing how they thoroughly dominated large stretches of it.
The game began with a James McGowan three pointer (one of four in the quarter), which combined with a Russell Dolabany three and some transition layups gave Westwood a 12-3 lead (John Bochiechio had hit a three for Medfield). After a Medfield timeout, a Colby Guarnagia put-back and a banked jump shot cut the lead to seven, where it stayed for a while. After a nice pass from Charles Katsikaris to a cutting Kevin Cronin for two was met with two McGowan free throws, Westwood had the lead at nine. But a John Bochiechio three for the Warriors ended the first quarter at 25-19, Westwood.
Medfield made its first comeback in the second quarter, with Edward Ariel proving to be too strong down low on a couple of possessions. The Warriors threatened to take the lead on a Caleb Lawson drive-by layup off a nice pump-fake and a Medfield transition layup that cut the lead to 29-27. After two McGowan free throws were answered by a Reis Hanna three, Medfield trailed by only one at 31-30, before both teams suddenly hit a lull. After a Cronin pass to Nathaniel Baacke for a reverse layup, Cronin was fouled and hit one of two free throws to tie the game at 33. After a McGowan three for Westwood was answered with a nice pass from John Bochiechio to a cutting Brett Nickerson for two, the half ended with Westwood up only one point, 36-35.
The trend of Westwood dominating the odd-numbered quarters continued in the third, with the Wolverines jumping out to a nine point lead after two McGowan threes and steal that led to a layup. Suddenly, it seemed, Westwood was up 54-39 with about 2:10 left in the quarter. However, a timeout from Medfield did a lot of good for the team's composure, with a John Bochiechio midrange jump shot and steal that led to two made free throws, an Ariel steal in the backcourt that led to an easy two, and an Ariel three out of a scramble bringing the game within six points, 54-48, at the end of the third quarter.
The fourth quarter was a fascinating one. After Medfield's zone press gave Westwood some trouble early on, at 2:48, a spin move and basket from Colby Guarnagia led to the game being 60-57, Westwood. From here, John Bochiechio took over, with a drive for a basket, a block, and a three, on three straight straight possessions. Suddenly, seemingly out of nowhere, Medfield was up, 62-60, with 1:35 left in the game.
After great defense by Cronin on McGowan following a switch off a pick-and-roll, Westwood missed a corner three and Medfield had the ball up two, with 1:13 left on the clock. On the ensuing possession, Kyle Murray (who had 18 points on the night) went for the steal and the ball seemed to bounce off his foot. However, after a meeting, the referees determined it went off Medfield, and Westwood had the ball with 53 seconds left in the game.
After a quick McGowan midrange jump shot missed (presumably, he saw the shot clock and was trying to go two-for-one), Medfield again had the ball with 48 seconds on the clock. Medfield couldn't kill the clock completely, but they could get it into the teens if they tried to take the air out of the ball. Instead, John Bochiechio drove, was fouled, and hit one of two free throws. Westwood now had the ball down three, with 37.6 seconds left in the game.
In what was likely the most pivotal moment in the game, Russell Dolabany drove and crashed into Caleb Lawson, with his shot bouncing in while the two were on the ground. The referee determined he was fouled in a very tight block/charge decision. After a timeout, he missed the free throw, but the ball bounced off Caleb Lawson's hands, thanks to some tough fighting from Brendan Donegan. Now, the game was 63-62, Medfield, with 25 seconds left. Westwood had the ball.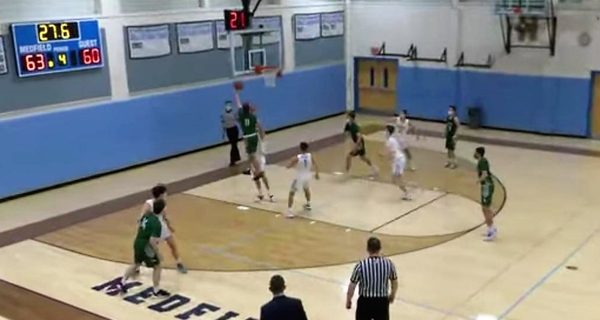 After a timeout, Westwood had a play drawn up. Michael Noone set a screen for McGowan, who drove from the top of the key and drew a ton of Medfield attention. McGowan tried to pass to a cutting teammate, but the ball bounced off a Medfield defender and went straight back to McGowan, who found Noone in the corner. Bochiechio closed him out strongly, launching himself in the air when Noone pulled the ball back to think about shooting. Noone stepped by him, hit a midrange jump shot, and after being in control of the game with under a minute left, Medfield was in some serious trouble.
With five seconds left in the game, McGowan stole the inbounds pass and was fouled. Up 64-63, Westwood opted to hit both free throws to go up three (rather than miss the second intentionally to prevent Medfield from setting up and inbounding the ball), but Medfield's long baseball pass inbounds hit the gym roof, and the game ended.
The Warriors will likely look back at the final minutes of the game and realize how easily they could have won it. Westwood will likely look back at how many big leads they squandered and try to figure out what happened. But in the end, Westwood will be the happier team watching the tape of a tough victory over an extremely game opponent.