By Michael Flanagan
Hometown Weekly Sports Editor
The hockey world lost one of its gems this past week with the passing of Boston Bruins legend and Needham and Westwood resident, Milt Schmidt. The cause of death according to his family was a stroke. He was 98 years old.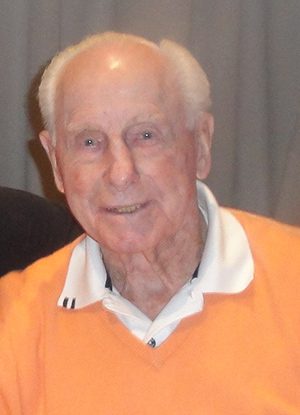 Earning the nickname "Mr. Hockey," Schmidt is the only player in the history of the Boston Bruins franchise to serve as a player (1936-1955), coach (1955-1966), and GM (1967-1975) of the team. Schmidt won two Stanley Cups as a center with the Bruins in 1939 and 1941, and despite missing three full seasons due to his service in the Royal Canadian Air Force during World War II, Schmidt attained 229 goals and 346 assists during his playing career with the black and gold.
As a coach, Schmidt led the Bruins to two Stanley Cup Finals appearances in 1957 and 1958. After being named GM of the team in 1967, Schmidt became the architect of the Bruins' reign during the early 1970s, drafting and trading for players that would help bring two Stanley Cup Championships to Boston in Phil Esposito, Ken Hodge, and Fred Stanfield. Schmidt later left the Bruins following the 1974-1975 season to become the GM of the NHL's newest expansion franchise at the time, the Washington Capitals.
After his playing career ended, Schmidt was inducted into the Hockey Hall of Fame in 1961, and a new plaque has since been added in Toronto focusing on his success as a coach and GM. The Bruins retired Schmidt's number 15 uniform in March of 1980, hanging it from the rafters next to other iconic Bruin legends' numbers such as Eddie Shore and Lionel Hitchman.
Originally from Kitchener, Ontario, Schmidt retired from the NHL completely in 1977 and stayed in the Boston area, where he became a big contributing member to the Bruins' alumni foundation.
At the time of Schmidt's passing, he was the oldest living former NHL player, as well as the last surviving member of both the Bruins' 1939 and 1941 Stanley Cup Championship teams.