[ccfic caption-text format="plaintext"]
By Michael Flanagan
Hometown Weekly Sports Editor
The Westwood High School boys varsity hockey team earned a pair of victories this past week to enter the holiday break at 3-1-0 after handling non-conference opponent Boston Latin 4-3 at Canton Ice House last Saturday night, December 17, followed by a 4-1 victory over Canton on Wednesday evening.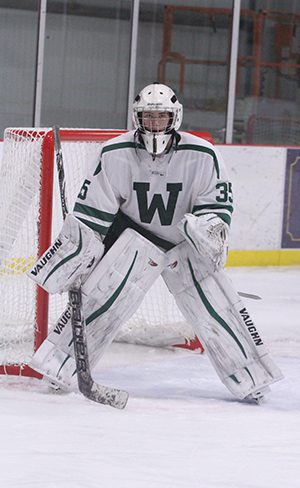 In the win over BL, the Wolverines were led by a tandem of seniors, which included Ben Lewis, Trevor Fahey, and Sam Murphy, with goals coming from each of the three. The biggest goal of the game, however, came from sophomore forward Owen Heidelberger, whose third period tally to put Westwood ahead at 4-2 ended up being the game-winner for the Wolverines.
Junior goaltender Justin Anderson was solid in net once again for Westwood on Saturday, and despite giving up a pair of early goals to the Wolfpack, Anderson was able to lock down the crease in the final two periods and preserve the team's second win of the season after thwarting a late onslaught of Latin scoring opportunities.
On Wednesday, the Wolverines were again led by stellar play from Heidelberger, as the high-flying sophomore netted two goals (one empty netter) in the 4-1 victory. Seniors Sam Murphy and Ben Lewis also scored for the second consecutive game, with Lewis's coming on the short-hand midway through the third period to give Westwood a 3-1 lead and end any possible turn of momentum after Canton went on the man-advantage down a goal. Justin Anderson turned away 18 of 19 shots faced against the Bulldogs, and put together arguably his best performance of the season.
With two consecutive wins under their belt and a 3-1 record heading into the holiday break, the Westwood Wolverines are surely trending in the right direction as they get set to take on the bulk of their schedule.
At the time of print, the Wolverines will take to the ice next on December 28 in a non-conference matchup against Pembroke.