[ccfic caption-text format="plaintext"]
By Michael Flanagan
Hometown Weekly Sports Editor
The Westwood girls volleyball team hosted Bellingham on Friday night in their season and conference opener.
The Wolverines (1-0) grabbed the first two sets (25-14, 25-18) before dropping the third (25-22). Westwood rebounded and won the third set, 25-12, to take home the victory and start the season on the right note.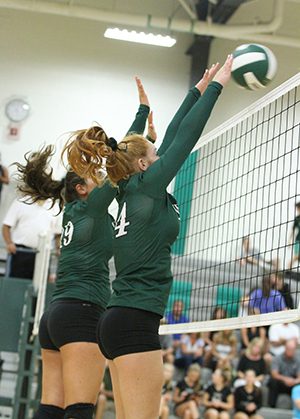 Outside hitter Shea Farrell led the way for Westwood with nine kills, 10 serve receptions and five digs throughout the match. Farrell's coach, Jennifer Murphy, praised Shea's efforts following the big win.
"Shea was the MVP of this game," said Murphy. "She did an amazing job up at the net, she served well, and she was consistent throughout the entire match."
The Wolverines also saw production from setter Sara Cweika (19 assists), as well as libero Kelly Buonato (four aces, 11 digs).
Defensive specialist Allie Morin allowed Bellingham no free points with zero errors in nine serve receptions to go along with eight digs.
The team's middle-hitter, Carly Sugrue, made 20 good serves and also handed down one block kill.
Coach Murphy also says that a long delay during a discrepancy with the Westwood lineup and the scorekeeper during the fourth set may have actually played into her team's favor.
"The officials made the call in our favor and the girls took it and ran with it," said Murphy.
"Every player on the court lit up after play resumed and they were all on their A-game and playing together beautifully. It started with Yara Nassif going on a four-serve run, and everything else fell into place after that. I saw my team in that fourth set - they played their game. We took a lot away from this win and can really use it to focus in on our weaknesses in preparation for Millis and Medfield next week.