By Rama K. Ramaswamy
The Wellesley High School girls swim and dive team enjoyed an undefeated regular season, capping it off with first place at the Bay State Conference Championship meet at Wellesley College.
The WHS team beat rivals Needham and Framingham, who, according to WHS team captain Emma Petrovich, "were close behind in 2nd and 3rd place.
"The title is important to [the team] because last year, we came in second to rivals Newton North, and the girls swim and dive team has not placed first since the 1990s."
Highlights of the day included the breaking of many school records.
Molly Jordan, a junior who broke a school record last year, broke it again in the 500 free by six seconds, crushing her previous personal best.
The 200 Free Relay team consisting of juniors Keleyia Rochelle, Isabelle Boegholm, and Nellie Thompson, as well as sophomore Valerie Passinisi, broke the school record by over a second.
Almost every swimmer ended the meet with a personal best, an achievement in and of itself.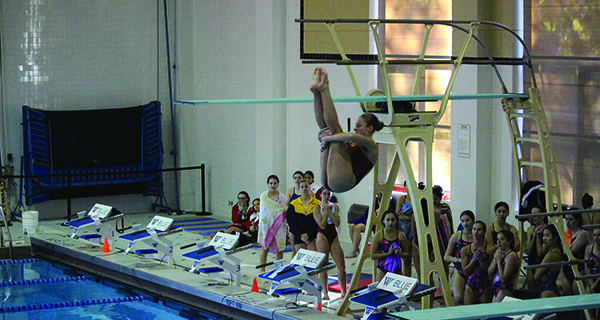 As for the WHS divers, captain Emma Petrovich came in first place with a score of 300.5. Bliss Vernon, a sophomore, came in seventh, and Megan Gillooly, also a sophomore, took ninth place.
"The Raiders have certainly had their challenges this year, battling illness and injury," noted Petrovich, "but their motivation and energetic team spirit has carried them through!"
The Wellesley community is sending its best wishes to the Raiders for their next meets: the South Sectional Meet at MIT, and the Division II State Championship meet at Harvard.